Apple's Macbook Air is the perfect laptop for a college student. It has a super slim and light design which allows you to easily carry it to class, along with fantastic 12-hour battery life, meaning you can take advantage of those rare breaks between classes to explore other things you enjoy without worrying about the battery life.
In this battle of two popular laptops from Microsoft and Apple, MedCPU will examine the pros and cons of the Surface Laptop 2 Vs Macbook Air and then compare them to determine which product may be best for you. Let's dive in!
About Surface Laptop 2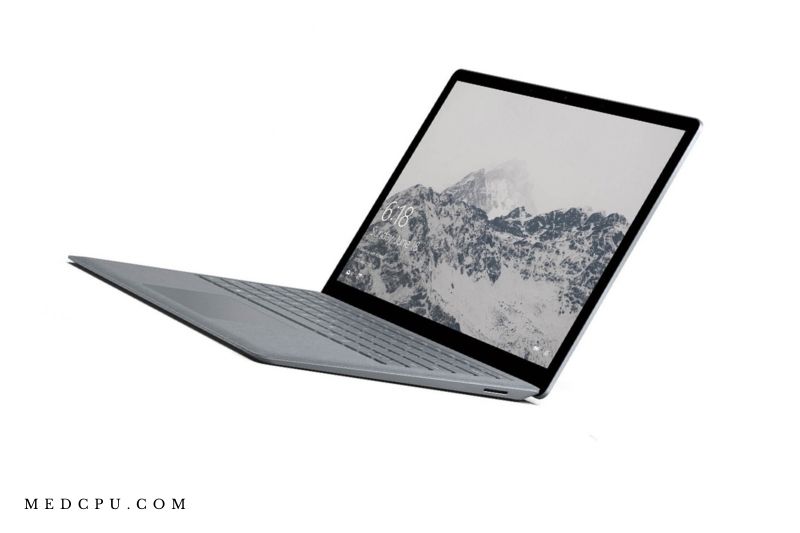 Surface Laptop 2 is identical to the original except for the new black paint job. However, the most important updates are below. The Surface Laptop 2 is now faster and has longer battery life. It still features a stunning touchscreen.
Pros:
Latest generation quad-core processor
Gorgeous design
Amazing touch-enabled display
Excellent build quality
Cons:
Alcantara keyboards will quickly get dirty.
USB-C is not supported
There are not all colors in all configurations.
Related posts:
About MacBook Air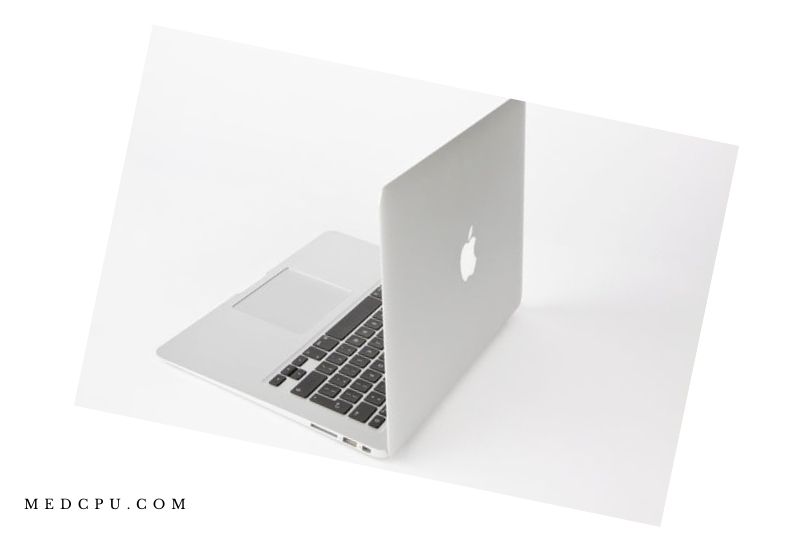 Although the Apple MacBook Air has been updated recently, it is worth looking at again. However, the Surface Laptop 2 still offers better overall value unless you are tied to a Mac.
Pros:
Apple's distinctive design and build quality are legendary
Gorgeous Retina display
Force touch trackpad 3 USB-C
eGPU Support
Cons:
Dual-core processor
Graphics with less power
Entry price higher
No legacy ports
MacBook Air vs Surface Laptop – tech specs
It was difficult to recommend anyone buy an Apple MacBook Air instead of the Surface Laptop 2 until the latest refresh. Apple has brought back its beloved laptop. The new MacBook Pro has a stunning display and current hardware. It also comes in an attractive design, just like the Surface Laptop 2.
Surface Laptop 2
MacBook Air
Processor
8th Gen Intel Core i5 or i7 (quad-core)
8th Gen Intel Core i5 (dual-core)
Graphics
Intel UHD 620
Intel UHD 617
Display
13.5-inch PixelSense
2256 x 1504
13.3-inch Retina
2560 x 1600
RAM
8GB or 16GB
8GB or 16GB
Storage
128GB, 256GB, 512GB, or 1TB
128GB, 256GB, 512GB or 1.5TB
Design
The Surface Laptop 2 and MacBook Air are slim, beautiful aluminum devices that can be customized in many colors.
The Surface Laptop 2 features a matte chassis in Platinum, Black, and Cobalt Blue. The MacBook Air made 100 percent from recycled aluminum, features a soft finish and more rounded corners. It is also available in Space Gray, Silver, or Gold.
The Surface Laptop 2's interior is entirely different. It features an Alcantara fabric, which makes it feel as if you are typing on a cloud. The MacBook Air, on the other hand, has an aluminum interior and a larger touchpad. It looks slightly better than the Surface. Two laptops have thin bezels.
The size and weight of these two machines are almost identical, but the MacBook Air has slightly larger dimensions. The MacBook Air is 2.8 lbs and measures 12×8.4×0.6 inches. Surface Laptop 2 weighs in at 2.7 lb and measures 12.1×8.8×0.6 inches.
The Surface Laptop 2 and MacBook Air are premium products that go toe-to-toe in design.
Performance
The Surface Laptop 2's Intel Core i5-8250U CPU dominated the MacBook Air's Intel Core i5-8210Y processor. The U-series chips have four cores, while the Y-series have only two.
The Surface Laptop 2 scores 12,744 on the Geekbench4.1 comprehensive performance test. This is an improvement over the MacBook Air's 7,871.
It took the Surface Laptop 2 1 minute, and 15 seconds to match 65,000 addresses and names on our Excel test. This beats the MacBook Air's 3 minutes and 26 seconds.
The Surface Laptop 2 could transcode a 4K video to 1080p within 17 minutes and 30 seconds using HandBrake. The MacBook Air was slow at 37 minutes and 24 seconds.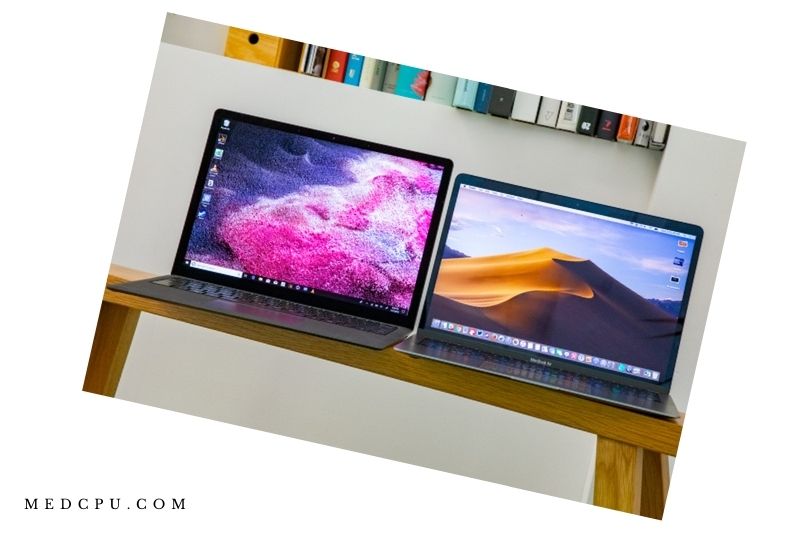 The MacBook Air is playing catch-up with its 256GB SSD. It copied 4.97GB at an alarming rate of 2.1 gigabytes per sec. This destroys the Surface Laptop 2's 256GB SSD at 203 MBps and crushes our premium laptop's average of 500 MBps.
The Surface Laptop 2's Intel UHD 620 GPU performed well at 82 frames per second in Dirt 3. The MacBook Air's Intel UHD 617 GPU managed only 22 frames per second, which puts it below the 30-fps playability threshold.
To read also our comparison guide about Hp Vs Apple laptops, click here.
Display
The display on the Surface Laptop 2 is 13.5 inches, and the MacBook Air is 13.3 inches. This means that you have slightly more screen real estate. The MacBook Air (2560x 1600) has a higher resolution than the Surface Laptop 2 (2256×1504).
Bryan Cranston and Kevin Hart paraded in The Upside's trailer. The walls were bright yellow, and Cranston's blue shirt stood out on the Surface Laptop 2 panel. The MacBook Air panel was not bad, but the yellow walls and orange flowers in the background were not.
The MacBook Air was able to cover 109 percent of the entire sRGB gamut in our tests. This is just short of the 116 percent premium laptop average. The Surface Laptop 2 managed to cover a staggering 176 percent.
Our tests showed that the Surface Laptop 2's display was brighter than the MacBook Air's 234-nit brightness (our average is 317). The Surface Laptop 2's viewing angles were also more generous than the MacBook Air, which darkened at 45 degrees to either left or right. However, the Surface Laptop 2 had the same effect.
Both two laptops have sharp screens, but Surface Laptop 2 is the winner for overall quality.
Ports
Although the port selections on the Surface Laptop 2 as well as the MacBook Air are a little limited, this is to be expected with thin and light laptops.
Surface Laptop 2 features USB 3.0, a mini DisplayPort, a Surface Connect port, and headphones. The MacBook Air has two ports, both are Thunderbolt 3 ports that have a USB-C connection. Thunderbolt 3 provides the fastest connectivity and supports external displays and power, which is something that standard USB-C connections can't.
Although the Air offers USB-C, charging your laptop will only be possible with one port. Although the Surface has only one USB port, it can be used with all peripherals. Surface Laptop 2 has a Mini DisplayPort. However, the Air's Thunderbolt 3 ports are also available for connecting to displays. These laptops have very few connections overall.
Keyboard and Touchpad
Apart from the outrageous price, the cost of entering the macOS world is the difficulty of getting used to the touchpad and keyboard. Apple's new Butterfly switches have been integrated into the MacBook Air. They only provide a mere 0.6 millimeters of key travel, a far cry from 1.5 to 2.0 millimeters. Although the keys were very well-spaced, it felt almost like I was typing on a hard surface.
The Surface Laptop 2 has one of the most comfortable palm rests that I have ever used, making typing effortless. Although the key travel of 1.0mm was not up to our standards, it felt real.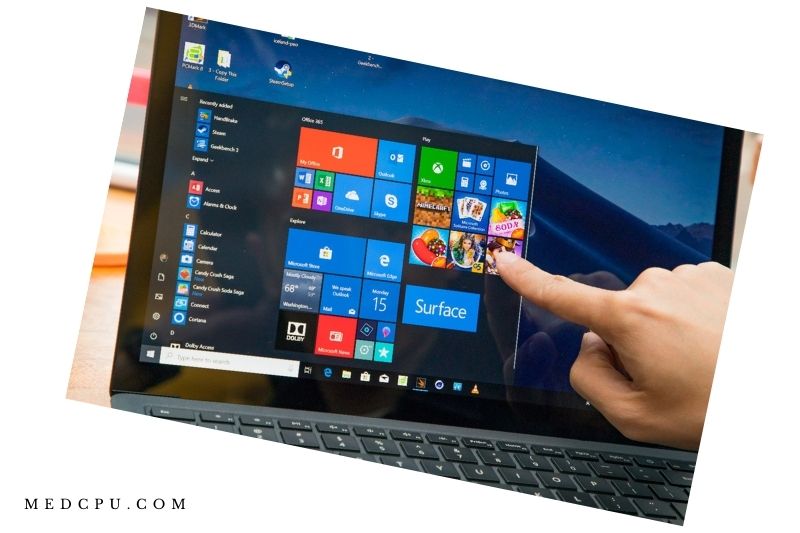 Surprisingly my typing results on the 10fastfingers.com typing tests were very similar. I typed 65 words per hour on the MacBook Air and 66 words per minute on the Surface Laptop 2. The MacBook Air's speed could explain how the keys are positioned, even though they have very low travel.
Apple's Force Touch touchpad is featured on the MacBook Air. It uses haptic feedback instead of a physical click. The Microsoft Surface Laptop 2 features a smaller touchpad and a more substantial click.
Battery life
The battery life of the Microsoft Surface Laptop 2 vs MacBook Air is very similar, considering that the Surface uses a lot more power because it has a U-series chip. The MacBook Air was able to continuously surf the internet at 150 nits brightness for 9 hours and 32 mins, surpassing the 8:09 average. The Surface Laptop 2 was not far behind at 9 hours 22 minutes.
Value
The Surface Laptop 2's starting price is $999. This includes a Core i5 U series CPU, 8GB RAM, and a 128GB SSD. The MacBook Air is priced at $1,199. It comes with a Core i5Y series CPU, 8GB RAM, and a 128GB SSD. The Surface Laptop 2 offers nearly twice the performance for a much lower price.
The Surface Laptop 2 costs $2,749 when fully loaded. It features a Core i7 U series CPU, 16GB RAM, and a 1TB SSD. The MacBook Air's maximum configuration at $2,599 includes 16GB RAM and a 1.5TB SSD. However, it still uses the Core i5 CPU.
The MacBook Air offers more storage options than the Surface Laptop 2, but the Surface Laptop 2 offers more power and value for money.
FAQs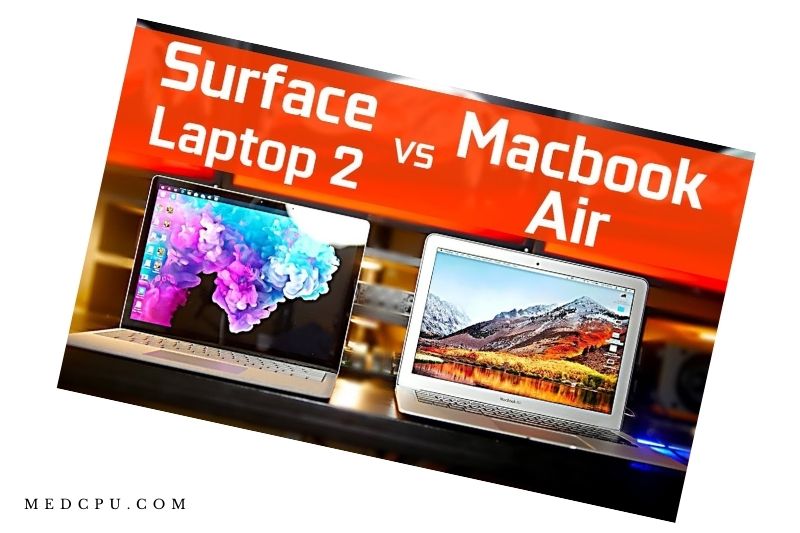 Is MacBook Air Touch screen?
The MacBook Air is not a touch-screen laptop, so you can't interact with it using your finger. Apple has recently released the new MacBook Air which has a Retina display, but it's still just a regular laptop.
Are surface laptops good?
The surface laptop 2 is good for some people, but not for everyone. The Microsoft Surface Laptop 2 is very expensive for some people, but some people might find it worth the money. You should also think about the quality of the product before buying it because some products are cheaply made.
Do MacBooks last longer than Windows laptops?
No, MacBooks do not last longer than Windows laptops. Windows laptops have a longer life span because they are more affordable and offer a better price-to-quality ratio. MacBooks are often priced higher and provide a much less robust operating system in comparison to Windows computers.
In fact, some MacBooks have a shorter life span than Windows laptops. For example, the Microsoft Surface laptop has been around for three years while the MacBook Air was just introduced in 2008.
Is 8GB RAM enough for a laptop?
It seems like 8GB RAM is not enough for laptops anymore. The new Macbook Air has 12GB RAM, which is the minimum amount you should look for in a laptop. It also has a better keyboard and a higher-quality screen.
However, only 8GB RAM is enough for many people. Even though 12GB RAM may be better for some applications, I do not think it is really worth the price.
Which device is better for professional use?
As a business professional, it is important to stay on top of the latest and greatest technology in order to provide clients with the best service possible. Microsoft and Apple devices offer a significant difference in software and hardware experiences, and while the Surface Laptop 2 and Macbook Air each have pros and cons, one device seems to be more appropriate for the professional setting.
I have used both the Surface Laptop 2 and Macbook Air for daily professional use. I found that the MacBook Air is more appropriate for professionals in certain ways.
Does Surface Laptop 2 go with surface pen support?
The Surface Laptop 2 can be bought with or without a Surface Pen, but most people would say the pen is an essential purchase. Microsoft is also offering a purchased bundle for the pen and the laptop, which seems like a better idea. That depends.
Does the Surface Laptop 2 have any upgradable parts?
The Surface Laptop 2 does not have any upgradeable parts. This includes the display, the keyboard, or the trackpad.
Conclusion
The Surface Laptop 2 are ultraportable laptops that can replace any MacBook. The Surface Laptop 2 is a fantastic device. It is an improvement over the original Surface Laptop because it has a better battery life, and better performance and the keyboard has been redesigned to be quieter.
It has a large display which can be useful if you use your laptop for entertainment. The Macbook Air is also a good choice. It is not as fast or reliable, but it does have a cheaper price.
Thanks for reading! If you have any thoughts about this or want to ask anything, don't hesitate to leave a comment! You can also check out my other reviews.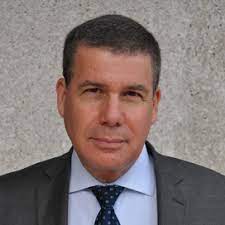 Eyal Ephrat serves as the co-founder and CEO of medCPU.com, where technology is making significant strides in the field of medicine. Through his experience in purchasing PC and laptop equipment and various other tech products, Eyal Ephrat contributes valuable insights to medCPU's mission.