With so many PC manufacturers vying for dominance in the marketplace, it can be tough to decide which company to buy your next laptop from. This article will compare the different components between Razer Laptop Vs Alienware.
Razer is a company that specializes in manufacturing hardware such as PC gaming peripherals, tablet computers, and laptops. While Alienware is a company that manufactures laptop computers, while also selling customization and adding other hardware. Read on for more details about the differences between the two companies' laptops.
Alienware Pros & Cons
Pros:
Numerous ports
Maximum gaming performance
Stylish designs
Great aesthetics
Excellent cooling system
Cons:
It is not possible to upgrade RAM.
Battery life could be improved.
Razer Pros and Razer Cons
Pros:
Stylish metal design
Multiple ports
Upgrade your RAM.
Durable
Amazing graphics and processors
Cons:
This is not for those with low budgets
It could have been more long-lasting.
Razer Laptop Vs Alienware Comparison
Comparison Table
| | |
| --- | --- |
| Razer Blade 15 | Alienware |
| Only one processor option CoreTM i7 | Available with CoreTM i7 and CoreTM i9 |
| Offers only NVIDIA GPUs | Supports both AMD and NVIDIA GPUs |
| The advanced model has an SD card slot but no ethernet jack. The Base model offers an ethernet jack but no SD card slot. | Have all ports |
| No Tobii Eyetracking Technology | Built-in Tobii Eyetracking Technology |
| Large and precise trackpad | Trackpad is smaller |
| Top-mounted speakers | Front and bottom facing speakers |
| Synapse for customization (Keyboard, GPU, Fans) | Alienware Command Center for Customization (Keyboard, GPU, Fans) |
| RAMs are expandable | RAMs are soldered with the motherboard |
Built
Razer Blade's unibody minimalist aluminum design gives it a premium appearance and feel. On the other hand, Alienware comes with a Magnesium Aluminium Alloy body with a fantastic design. Alienware is lighter than Razer Blade. Alienware weighs 9.7 lbs and Razer Blade 4.73 lbs. This is a significant difference. Alienware is 360x276x 19.9 mm, while Razr Blade is 355.0×234.95x 17.78mm.
Both laptops are very well built, but Razer Blade is more convenient to carry around.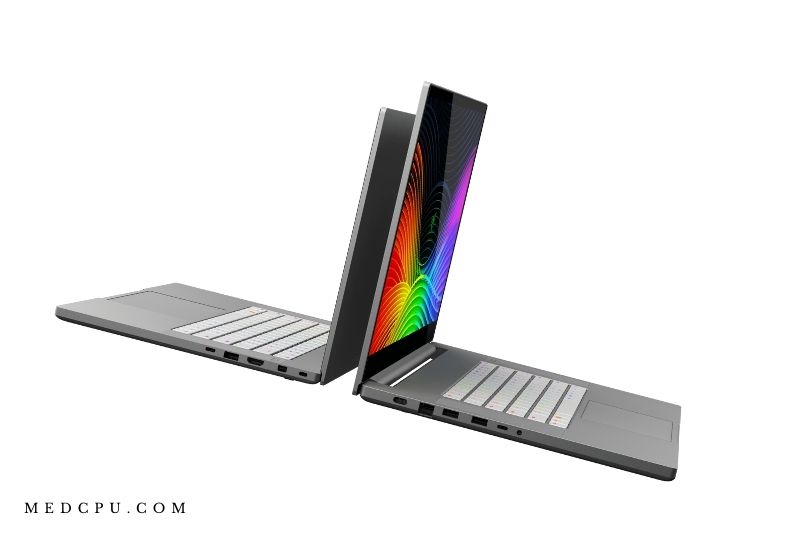 Gaming laptops can be a little thicker than other laptops. Companies are looking at ways to make gaming laptops thinner. This is a crucial characteristic of a gaming laptop. The Advanced Model of Razer Blade is 17.7mm (0.70inches) thin, and Alienware is 23mm (0.91inches) thin.
Razer Blade laptops have top-mounted speakers. They are decent but not great. Alienware 2020 has introduced changes to the speaker placement. They also added 2 additional front-facing speakers and 2 more under the hood speakers. These speakers are a welcome addition.
Displays
High refresh rates are essential for gamers to have a smooth gaming experience. Alienware has FHD (1920×1080) OLED Displays with a refresh rate between 300-144Hz for CoreTM I7 configuration. CoreTM i9 OLED displays will be UHD (3840×2160), with 300-144Hz.
Tobii Eyetracking Technology (for CoreTM i9 Configure) is another important technology integrated with these displays. Tobii Eyetracking technology monitors the movement of the eyes and renders more specific graphics to the location where the eyes are looking.
Razer Blade has two configurations available for 4K OLED and FHD displays. The Advanced model has a maximum refresh rate of 300Hz, and the Base model has 144 Hz.
Read also our comparison guide between Gaming Laptop vs Desktop, click here.
Graphics
GPUs dominate gaming machines. Because games are all about graphics processing units, the GPU renders most of the geometry. Razer Blade and Alienware offer high-end GPUs.
Razer Blade laptops have NVIDIA GPUs, while Alienware has both AMD AND NVIDIA. Which GPU should I get? Your personal preference will determine which GPU you choose; however, AMD GPUs don't offer ray-tracing functionality. Let's take a look at the different GPUs available.
Razer Blade: Base Model
NVIDIA GeForce RTX 2070
NVIDIA GeForce RTX 2060
NVIDIA GeForce GTX 1660Ti
Razer Blade Advanced Model
NVIDIA GeForce RTX 2080 Super
NVIDIA GeForce RTX 2070 Super
Alienware M15 R3
AMD RadeonTM RX 5500M (Inter CoreTM i7)
NVIDIA GeForce GTX 1660Ti (Inter CoreTM i7)
NVIDIA GeForce RTX 2060 (Intel CoreTM i7)
NVIDIA GeForce RTX 2070 (Intel CoreTM i7)
NVIDIA GeForce RTX 2070 Super (Inter CoreTM i9)
NVIDIA GeForce RTX 2080 Super (Inter CoreTM i9)
Keyboard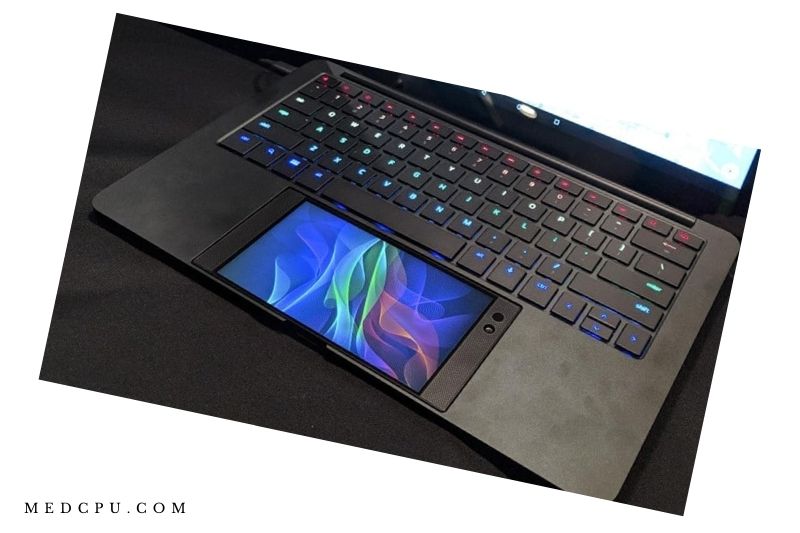 Both laptops have RBG-style keyboards. They also offer good key travel. The keys are perfectly spaced. Alienware uses anti-ghosting technology to prevent keystrokes from being added.
You can personalize the lights on the keyboards. You can customize these lights using Alienware's Command Center and Razer Blade's Synapse. These programs control various hardware functions, including fan speed, keyboard lights, and GPU performance.
You can customize each key on both the Alienware Advanced Model and Alienware models. This functionality is not available in Razer's base model.
Ports
Since many laptop manufacturers have been removing ports, ports are essential. Alienware and Razer Blade both include a lot of ports.
Razer Blade features 3 USB Type-A ports, 2 USB Type C ports, and one port of Type C port, ThunderBolt3. One HDMI, 2.0b port, is available, as well as a 3.5mm headset jack.
One difference is that the base model has an Ethernet port but no SD card reader. The advanced model, however, has an SD slot and has an SD card port.
Alienware boasts 3 USB 3.1 ports, 1 ThunderboltTM3 port, and 1 HDMI 2.0b port. Alienware has one graphics amplifier port and an HDMI 2.0b. There's also a mini display port, HDMI 2.0b, a micro SD card reader, and a 3.5mm headset jack. Alienware offers all the ports you need for your laptop.
Innovation
Razor laptops are designed for gamers. Advanced features are a result.
They use the eighth-generation Intel Core i7 processors. You can choose between dual or quad-core. Their gaming laptops offer more speed.
They use NVIDIA GeForce GTX Max Q graphics for graphics. It is an excellent choice because it has 16GB RAM and a 4K touch display.
These laptops include Razor Blade 15 Advanced Gaming laptops with Thunderbolt 3 unique and offer impressive speeds.
Advanced features are available on the New Alienware M15 R1 laptop. Turbo Boost technology allows for faster data transfer and more power.
The display measures 15.6inches in width, which is sufficient for most screen activities.
32GB RAM is enough to make a great laptop. This gives you more storage space for your laptop. AlLIENFX lighting and the keyboard make the visuals stunning.
The Cryo-Tech V2.0 cooling system keeps your laptop cool while in use.
It is already controlled automatically, so you don't have to do much. You don't have to alter settings or configurations.
It offers excellent connectivity features. These features are innovative and make it difficult to choose the best laptop brand.
Check out our list of the Best Gaming Laptop Under 1500 in 2021, click here.
FAQs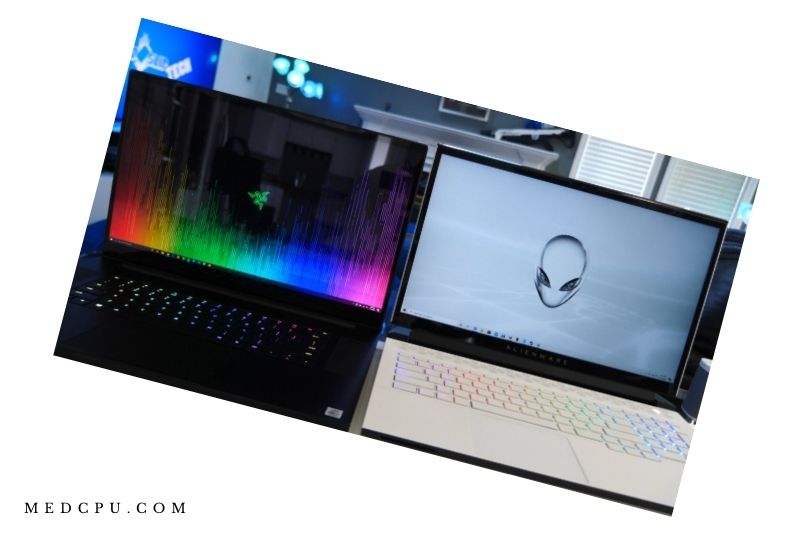 Is Razer a good laptop brand?
Razer is a much newer laptop brand that is trying to make a name for itself in the gaming industry. Their laptops are thinner and lighter, which is great for gamers who prefer to take their laptops to LAN parties. They have a wide range of different gaming options available, so gamers can find the perfect computer for their needs.
They also have great customer service, so they can provide any help you may need with your laptop.
Which brand has the best warranty?
Alienware has the best warranty out of all the laptop brands, especially when compared to Razer.
Alienware has lifetime coverage for their laptops, which means if the laptop is no longer under warranty, you can simply return it and they will cover the costs of a new one.
Why are Razer mice so expensive?
Razer mice are so expensive because they are high-end, gaming-grade mice. They are made with mechanical switches that do not wear out, their sensors are the best, and most importantly they are made for serious gamers.
Is Alienware Area 51 worth it?
Yes, Alienware Area 51 is worth it. The laptop is light, fast, and has all the specs you need. It's better than some of the high-end gaming laptops with only half the price!
What is the best laptop for top-end gaming?
You should definitely get the Alienware Area 51, which has a Core i7 processor, a discrete NVIDIA GeForce GTX 1070 video card, and an Intel Core i7 Extreme Edition-6900K.
There is no doubt that Area 51 is very powerful and it will handle most games. It's a great gaming laptop for new users, but veteran gamers should consider an even better gaming laptop called the Alienware 15, which has a Core i7-7820HK, a Core i7-6820HK processor, a GeForce GTX 1080 video card, dual AMD FirePro W5130M video cards, and a 16GB RAM.
You should also consider the Alienware 17 with the same configuration as the Area 51, but you can get it for $1000 less.
Is the processing power on a razer laptop better than an Alienware laptop?
The answer to the question about which laptop has better processing power depends on what you are looking for in a laptop. The Alienware laptop is known for being able to handle high-end games, while the Razer laptop is less expensive and has a better design.
What's the best graphics card to use with the razer blade laptop?
Razer laptops are designed to be sleek and powerful. With the right graphics card, your Razer laptop can be one of the most powerful laptops you've ever owned. The best graphics card for the Razer Blade is the NVIDIA GTX 1060 with 6GB or more of graphics memory.
Conclusion: razer laptop or Alienware?
If you want an upgrade from a typical laptop and want something with the power of a desktop, you should get a Razer laptop. Though it is not as powerful as Alienware, it does have advantages.
The Razer Blade laptops are hard to beat when it comes to speed, sturdiness, and overall quality. Alienware has been known for being able to meet all of these standards, but when it comes to performance, it can't compare to a razer blade. Alienware laptops can be very fast, but in comparison to a Razer Blade, it doesn't have the same smoothness. razer has allowed their laptops to be fast and high quality at the same time.
I hope MedCPU's guide has been able to help you choose the best laptop between the razer laptop and Alienware laptop. If you have any questions about the hardware of the laptop, please comment below.
Video: