Today, getting yourself an extra monitor is not as pricey as it used to be, together with the quick and easy setup, it is the perfect time to think of an ultrawide dual display to immerse yourself in your game world. However, if you are new to dual display gaming and never set up one before. you may still need some guidelines and tips to get the best out of your double monitor settings. In article of medCPU will a step-by-step guide on how to setup dual monitors for gaming.
How to setup dual monitors for gaming?
Choosing your monitor?
If you want a seamless gaming experience, with little to no glitches or weird displays, then two similar monitors with the same types of ports is the most ideal. This will ensure your application runs much smoother, as they are perfectly compatible in terms of resolution, size, and connection. Even though any screen size will work just fine, you may find it troublesome to set the monitors in a parallel setting if the display is too big or small compared to the other. Another thing to remember is that when you don't have the necessary ports, setting up a dual monitor will be much more complicated than it should be. Therefore, ensuring that each monitor allows HDMI or DisplayPort is the minimum requirement. Another common port is DVI, which is a must-have if you want to get a good frame rate out of your 1080p display.
It is also advisable for monitors to support the same features, such as different refresh rate options or graphic syncing (G-sync and FreeSync). Not knowing this can downgrade the visual quality of your game, as your second display looks noticeably in contrast with your main.
Last thing to keep in mind, you want to have enough graphic card ports for your double monitor setup. This is great for upgrade needs, as it allows you to set up not just double, but multiple monitors if needed. It will work perfectly fine if your monitor and GPU don't have the same ports, as HDMI will do the job when connected to DisplayPort. But again, the magic formula is to try to hook your one port with another of its kind, hence a much better connection. For instance, at least two ports for your gpu is required if you are having two 4K displays ready to use.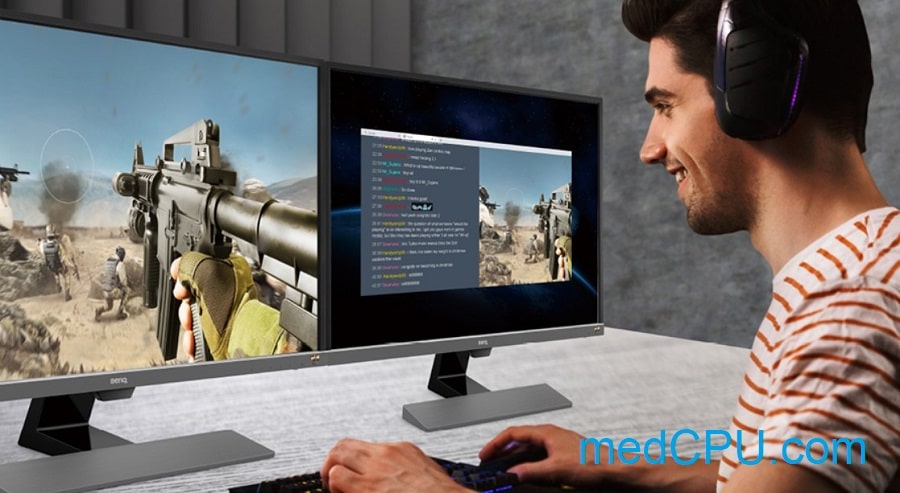 >>> Read also: 4K Vs 1080P Laptop – Is a 4K Laptop Worth it in 2022?
Hooking your ports:
Gaming is a demanding task on your graphics card, since it needs a stable refresh rate while calling for good resolution, as well. Therefore, your GPU should not only have the right ports, but adequate ports of the same right kinds, also. DisplayPort is among the most common ports today, and it is perfect for gaming in 4K, too. So you might want to go for such ports in most cases, while keeping in mind that VGA, HDMI, and DVI are also probable options. If those conditions are checked, the step is actually quite simple. Now, you just have to plug the cables into the correct ports of your monitor and graphic cards, and be careful to make the cable connections firm and steady.
It is very likely now that your other screen will have connection problems or issues about display that make it unusable. They are, however, quite easy to fix with the help of some guides on the internet. In some cases, switching the ports or updating display drivers will do the job. At this point, it just takes one more step before you could enjoy that ultrawide gaming screen.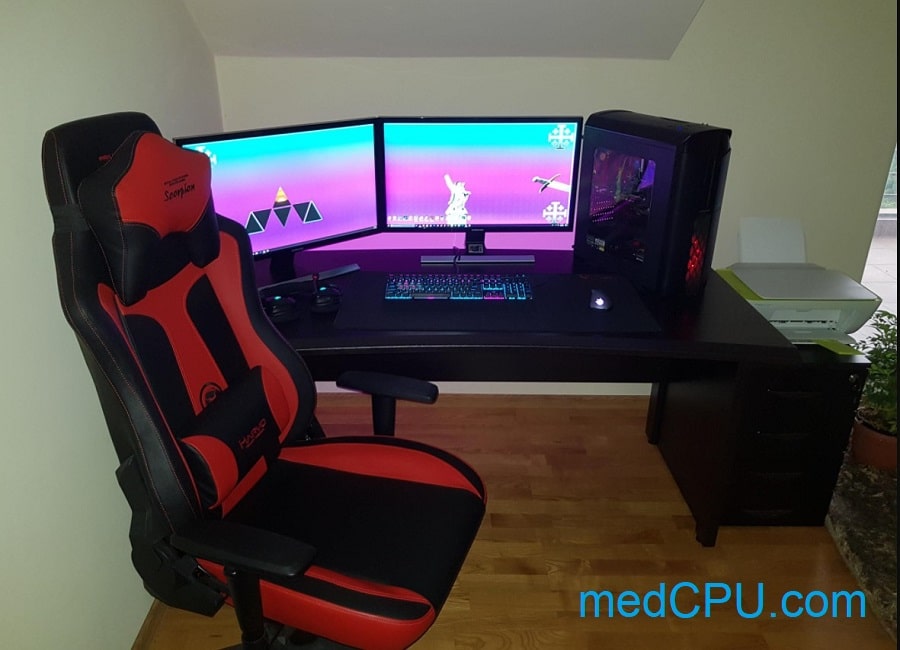 >>> Read more: How To Start A Gaming Channel?
Setting up monitor
Nowadays, most graphic chipsets companies manufacture their product understanding customers' wants on multi monitor settings. For example, Nvidia and AMD – two big players in the GPU market – have a control panel, which gives you access to numerous settings, together with multiple monitor adjustments. However, the windows control panel could be useful if you want a quick and basic setup for your dual screens.
First you need to make sure all the ports are connected, and your computer has recognized both monitors (don't worry as the monitor's drives will be installed automatically after plugged). Then, right click on the desktop and choose 'display settings' for windows 10 or 'screen resolution settings' for older versions like 7 or 8. Now, two small rectangles representing your main and companion monitors will appear, labeled as 1 and 2 respectively. You should position these rectangles the same way you arrange your desks, simply by dragging them to the desired area on the screen. If you want to switch your secondary display into your main, then click on it and check the 'make this my main display' box. Another thing you can do is setting the orientation for each display.
Normally, you may use 'landscape' orientation for two monitors sitting side-by-side. However, you may choose 'portrait' as you wish when either each or both monitors are rotated by 90 degrees.
A suitable resolution setting is another important aspect for better game play. Windows will normally adjust the resolution for the monitors for you. If both monitors support 1080p display, then Windows will go for 1920×1080 resolution. With that said, you can still tweak the resolution of each monitor provided it has higher or lower options.
Another adjustment to make before jumping into your game is refresh rate. Click on 'advanced settings' on the 'display settings' box, and another window will appear on top. Click on the 'monitor' tab and look for 'Screen Refresh Rate' settings, with many refresh rate options for you to pick from. A 144 Hz refresh rate is a must-have if you want an edge in competitive multiplayer or action games. But, you can still go by with the standard 60 Hz to keep your GPU performance on top.
>>> Read also: 24 vs 27 monitor 2022
FAQ
Here are answers to commonly-asked questions:
What should I do when my graphic card doesn't have enough ports, and I don't want to purchase another?
You may consider buying a splitter to make up for the missing ports. However, the process may be more complicated. If you don't mind putting in some extra work, then a splitter could be a good alternative.
Can I connect my 19 inches monitor with one that comes in 27 inches, as they are too different in size?
Yes you could. However, because their sizes are quite distinct, you should use the smaller monitor for a different use than displaying your game. But again, with some time exploring options, you could still figure out ways to turn the monitors into a good game display.
What should be considered when choosing a secondary display?
Ideally, new models with the same size and connection ports are the top choice. However, old models will work just fine as long as each of them works fine as a display, depending on your needs and what games you choose.
>>> Read more: https://sandstormit.com/5-things-to-consider-when-buying-a-new-monitor/
Conclusion
All in all, setting up dual monitors for gaming is just as simple as plugging in the right ports or choosing the right display resolution. With a bit of patience and some technical know-how, you are well on your way to combat. And, this time, you have gained an edge over fellow players who don't have an extra display as yours.