Buying a new graphics card is so tough, particularly a high-end graphics card. Nvidia has announced its new  Nvidia GeForce RTX 2080 Ti vs 2080 Super graphics cards for gamers and enthusiasts. Whether you're an ultra-high-end enthusiast or just a casual gamer that wants the best performance possible, these new RTX graphics cards should be fascinating.
In this article, we will compare the two graphics cards side-by-side in terms of performance, Hardware, and Price,…Let's dive in!
Nvidia Geforce RTX 2080 Ti vs 2080 Super Comparison
These parameters include the number of shaders and GPU core clock speeds, boost clock speeds, manufacturing processes, and texturing and calculation speeds. These parameters are indirect indicators of performance.
However, you will need to look at their benchmark and gaming results for a more precise assessment. Some graphics cards may consume more power than their nominal TDP, especially if they are overclocked.
| | | |
| --- | --- | --- |
| | NVIDIA GeForce RTX 2080 Super | NVIDIA GeForce RTX 2080 Super |
| Pipelines / CUDA cores | 4352 | 3072 |
| Core clock speed | 1350 MHz |  1650 MHz |
| Boost clock speed |  1545 MHz |  1815 MHz |
| Number of transistors | 18,600 million | 13,600 million |
| Manufacturing process technology | 12 nm | 12 nm |
| Thermal design power (TDP) | 250 Watt | 250 Watt |
| Texture fill rate | 420.2 |  348.5 |
Performance
Nvidia GeForce RTX 2080 Super and 2080 Ti are exceptional in gaming. Both cards are capable of handling the most recent games at ultra settings and 2K resolution. Many games can also be played on 4K settings. Both cards are faster than the GTX 1080 Ti, the fastest card in the previous generations.
We all know that the 1080 Ti is a card beast and could handle any game on ultra. These cards are much faster than the 1080 Ti, and they also support Ray Tracing, which the 1080 Ti did not support.
Let's look at Control, a well-known game. This was the first game to support ray tracing. Control only gives around 15-20 frames per second on ultra settings with 2K resolution. Ray Tracing is disabled on the GTX1080Ti, as it doesn't support hardware ray tracing.
The Nvidia Geforce RTX 2080 Super, on the other hand, gives 60-70 fps with the same settings. This is a significant leap in Ray Tracing games. The 2080 Ti offers more than 80 fps using the same settings.
This illustration clearly shows the differences between the two generations as well as the power of hardware-ray tracing.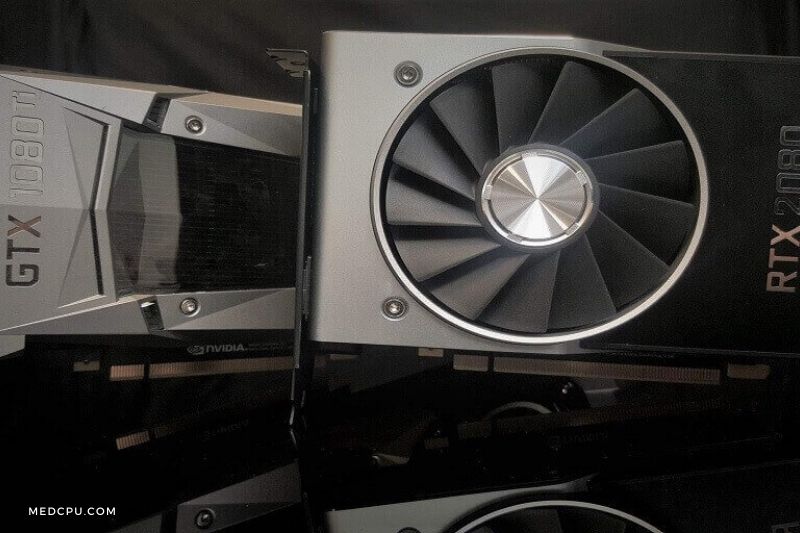 Let's now take another example.
Division 2 can deliver between 55-60 fps at ultra settings and 2K resolution. The GeForce RTX 2080 Super can deliver around 80 fps at the same settings. This is a good jump considering that the 2080 Super isn't the highest-end card in its generation, while the 1080 Ti was.
The 2080 Ti is a step forward, delivering 100+ fps at the same settings that the previous two.
Memory:
The 2080 Ti graphics card has 11GB of memory, which is sufficient for modern games at 4K resolutions. The Super edition, on the other hand, has 8 gigabytes which are sufficient for modern games.
2080 Ti's memory speed is 14 Gbps, compared to 15.5 Gbps for the super edition. However, this does not make the Super edition superior to the other.
The memory interface width for the Ti edition is 352-bit, and the Super edition is 256-bit.
Memory bandwidth speed is an essential aspect of memory. It is 616 GB/s for the Ti edition and 496 GB/s for the Super edition.
Both cards offer excellent memory configuration. Both cards have some distinct features, including differences in price and performance.
Ports:
Different editions of each card have different ports selections. These cards are often rebranded by different companies and modified in some way. Most cards have at least two Display Ports and two HDMI ports, and a USB port for VR.
Some models also include up to four Display Ports and one HDMI port. You should research the model you are considering and determine how many displays and resolutions you will use with it. Then, you can make your final decision.
Features:
Nvidia Turing architecture is the basis of the RTX 2000 series. It is claimed to be six times faster than the previous generation and has real-time ray tracing powers that were not possible with the previous generation.
The card's hardware ray-tracing cores provide fast, real-time ray tracing with physically precise shadows, reflections, and refractions. This will give you an unparalleled gaming experience.
Nvidia DLSS 2.0 is an AI-powered technology that significantly improves gaming performance.
Variable Rate Shading is also available in the series. This focuses processing power on areas rich in details. It increases overall performance and doesn't affect perceived image quality.
You also have Mesh Shaders, advanced geometry processing that allows you to create rich graphical scenes.
Concurrent Processing allows concurrent floating-point/intelligible processing, allowing the GPUs to run modern heavy games efficiently.
Read also our comparison between RTX 2060 vs GTX 1070: https://medcpu.com/rtx-2060-vs-gtx-1070/
Hardware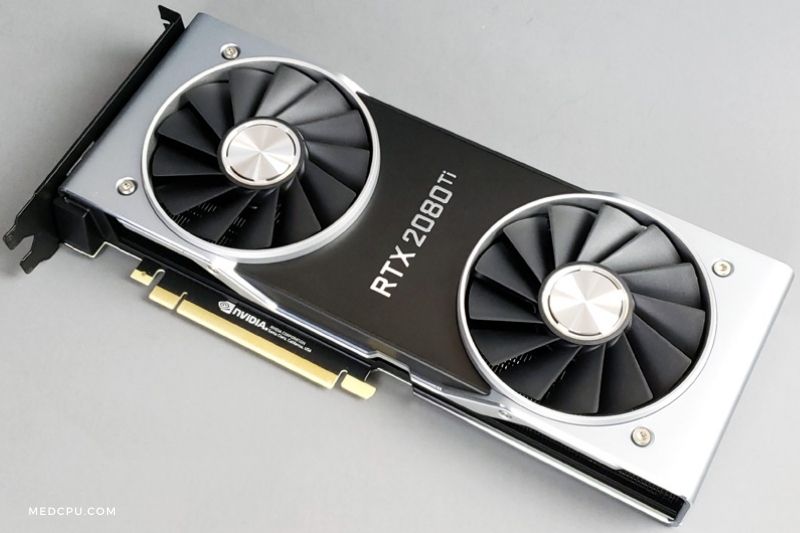 These GPUs are part of the GeForce 20 lineup. They are based on Nvidia's 12nm Turing microarchitecture.
Both come with real-time ray tracing capabilities, and both use GDDR6 RAM.
There are, however, some significant differences when it comes to hardware.
The GeForce RTX 2080Super is a newer and more advanced version of the 2080 Ti.
The Ti was launched with RTX2080 in September 2018. The Super was released in July 2019 and is an updated version of the original RTX2080.
Although the Super variant is stronger than the original RTX-2080, the specs can't be compared to the Ti.
The Super clock speeds are faster than the Ti, but it beats the Ti in all other departments.
Price and value
Nvidia's lack of competition at the top end has made them notorious for their high prices. The GeForce RTX 2080Ti is a prime example.
The official MSRP for the RTX 2080 Super GPU is $699. This is about the same price range as Nvidia's earlier high-end GPUs, such as the GTX 1080 Ti and GTX 1080 or the GTX 980.
The RTX 2080 Ti is $1199 for the Founders Edition, while most models with proper cooling are much more expensive. The RTX 2080 Ti, however, is almost as expensive as Titan models a few years back, such as Titan Xp or Titan X.
If you wanted to purchase an RTX2080 Ti instead, it would cost you about $500 more. This would give you a performance boost of between 10% and 20% depending on what game you are playing and the resolution.
This is not an excellent game, and the Nvidia GeForce RTX 2080 Ti feels more like a desktop GPU than a gaming GPU.
Check out our comparison guide between RX 580 vs GTX 1060 Cards: https://medcpu.com/rx-580-vs-gtx-1060/
Conclusion
The 2080 super graphics card is better than the 2080 ti because it is cheaper and performs just as well. If you can afford it and need more performance, get the 2080 super and enjoy the speed and ray-tracing capabilities of the RTX series.
If you can't afford the 2080 super, then get the 2080 ti and enjoy a solid 1080 ti that should be a better value for money than a 2080 super (but will likely cost more too).
Anyone who needs the extra performance of the ray-tracing card. If you are playing games that do not require ray tracing, don't buy the 2080 ti as you will not benefit from the extra performance.
Thanks for reading, and I hope you found this helpful information. Feel free to comment below if you have any questions or feedback.
Video: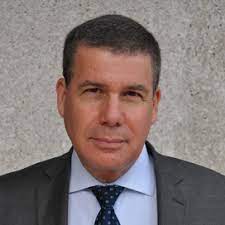 Eyal Ephrat serves as the co-founder and CEO of medCPU.com, where technology is making significant strides in the field of medicine. Through his experience in purchasing PC and laptop equipment and various other tech products, Eyal Ephrat contributes valuable insights to medCPU's mission.