Cards like the RX 580 vs GTX 1060 are top-rated among gamers looking for a graphics card that won't break the bank. They are both capable of playing AAA games in high-quality settings.
It's hard to go wrong with either one, but this article will compare these two specific cards so you can better understand how they compare to each other. Keep reading to find out more about these two popular cards.
Comparing Nvidia GeForce GTX 1060 and AMD Radeon RX 580
Graphics Card
| | RX 580 | GTX 1060 6GB |
| --- | --- | --- |
| Bus Interface | PCIe 3.0 x16 | PCIe 3.0 x16 |
| Generation | Polaris (RX 500) | GeForce 1000 |
| Launch Price | 229 USD | 199 USD |
| Production | Active | Active |
| Release Date | Apr 18th, 2017 | Mar 8th, 2018 |
Dimensions
It's not something you want to do. The GeForce GTX 1060 has a PCI Express 3.0×16 interface and measures 250mm in length by 111mm in width. The cooling system is dual-slot.
The Radeon RX 580, on the other hand, uses a PCI Express 3.0×16 interface. It measures 241 mm long. It also has dual-slot cooling, just like the GeForce GTX 1060.
Features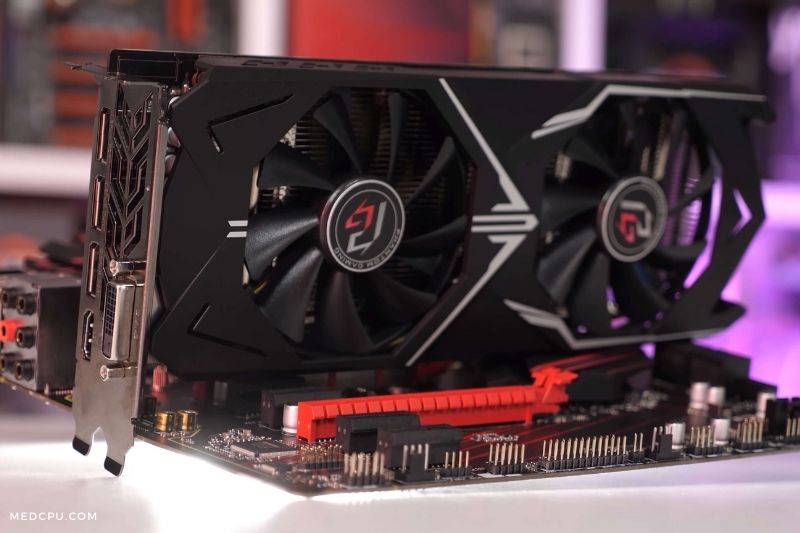 Both support the essential technologies, including Vulkan and DirectX 12 graphics APIs, DisplayPort 2.0b monitors, and 4K/HDR content. This means that you can play current games on modern monitors and not worry about compatibility issues.
The GTX 1060 is a member of Nvidia's Pascal generation and includes various modern features such as support for G-Sync monitors. Ansel game photography, Nvidia Shield streaming, ShadowPlay record, and more.
Nvidia recently added support to FreeSync monitors. This allows GTX 1060 owners the ability to buy cheaper monitors without sacrificing variable refresh rate support. We've also recommended the best FreeSync monitors available for Nvidia GPUs.
The RX 580 is still part of the Polaris graphics card line but has been superseded by AMD's later Vega GPUs. Polaris supports valuable features like FreeSync monitor support and the AMD Link system monitoring app, Eyefinity multi-display gaming, and many more.
It's difficult to pick a winner in this case since most features found on one card will also appear on the other. Sometimes, they even have a different name.
Nvidia might have a few technologies, like Ansel, that AMD has yet to match, but FreeSync monitors supported by RX 580 cost significantly less than G-Sync alternatives supported by GTX 1060. This should make AMD's decision quite radically.
Ray-Tracing
Ray tracing allows you to imitate light and shadow effects in a game. This creates a more immersive experience. Unfortunately, the hardware required to enable ray-tracing is not available on any cards, especially in today's games.
This may not be a significant issue considering the current lack of raytracing support games. If ray-tracing is a priority, we recommend that you consider the one with the proper hardware, such as one from Nvidia's RTX series.
VRAM
Nvidia has provided the GTX1060 with a 192-bit interface and 8gbps GDDR5 modules. The GTX 1060 has a total bandwidth of 192GB/s. This configuration limits the GTX1060 to 6GB VRAM. It is, therefore, better suited for 1080p and 1440p gaming.
The RX 580, on the other hand, was built using the same core as RX 480. It has 2304 GPU cores, 144 texture mapping units (TMUs), and 32 render outputs. It is a powerful GPU with 256GBps memory bandwidth and 8GB RAM. It is well-suited for handling both 1080p and 1440p gaming as well as 4K.
The GTX 1060 is a fantastic overclocker. Nvidia claims that the GTX 1060 can easily be overclocked up to 2GHz with a base clock of 1,506MHz and a boost clock of 1,809MHz. This allows for up to 15% more performance. This is in contrast to the RX 580's base clock at 1366MHz. It offers moderate overclocking capabilities, but you will need to keep temperatures down below 85 degrees celsius.
Read also our comparison guide between GTX vs RTX in 2021: https://medcpu.com/gtx-vs-rtx/
Benchmarks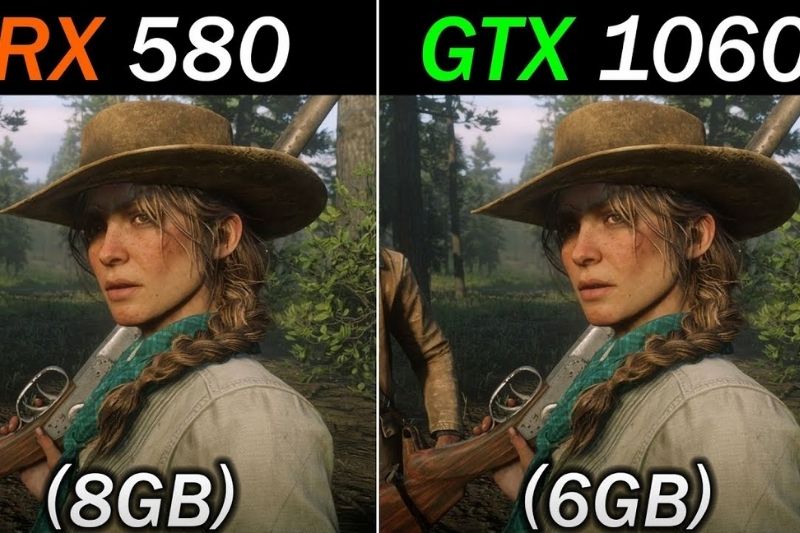 Each benchmark will include a YouTube video showing the game and an in-house benchmarking widget. You can watch the card's performance in real-time as soon as you start the video.
You can choose and deselect various benchmarks; you may want to see how a card handles the game at different resolutions. Scroll down to see a bar chart-format graph showing the entire run's results. Click on this link to switch between frame-rate or percentage differentials. The latter may be more informative.
Our tests were performed with a Sapphire Nitro AMD Radeon 580 8GB and a reference Nvidia GeForce GTX1060 6GB. It is worth noting that there is no RX 580 reference model. We chose to test the fastest RX 580 that we knew of. Stable overclocking adds only 20MHz to the core (!). This means that you can expect slightly less performance from RX 580 models operating at slower clock speeds; your mileage might vary.
Prices and Models
Although the RX 580 8GB and GTX 1060 6GB are in the same mid-range, the ongoing cryptocurrency bubble has caused prices to fluctuate. The GTX 1060 6GB model is usually around $210 (PS200), while the RX 580 8GB is typically around $190 (PS180).
A free game or two might be included with your graphics card. At the time of writing, AMD is offering two copies of Resident Evil 2 and Devil May Cry 5. Nvidia is saving promotions for the GTX 1660 Ti. This gives the AMD card a clear advantage.
Prices can vary depending on the manufacturer, clock speed, and cooling solution, as well as form factor. You may find bargains at prices that are substantially lower than those we have quoted. However, be aware that these models may come with half the standard assortment of VRAM.
For example, the GTX 1060 has 3GB, and the RX 580 has 4GB. Budget cards have significantly lower performance than full-fat models. A Chinese-only RX 580 model ships with 2048 compute units, compared to 2304 standard, which is also not worth it in our eyes.
We recommend paying attention to brands such as Asus, Gigabytes, MSI, MSI, and Zotac. This is not a comprehensive list of brands you should trust. Other brands can also produce unique cards.
Check out our comparison between Nvidia GeForce GTX 1660 vs 1060: https://medcpu.com/1660-vs-1060/
Conclusion
Both of these graphics cards are on the more affordable end of the spectrum, but if you're deciding between the GeForce GTX 1060 and the Radeon RX 580, there are some things you should know. First, the RX 580 has a higher base clock speed and the prices for the GTX 1060 and RX 580 cards, and it's tough to recommend one over the other.
However, the decision between the two is based more on power consumption and how you plan to use your graphics card. The GTX 1060 doesn't require as much power, but it can be a bit more expensive than the RX 580. There's no definitive winner here because they both perform pretty well in most modern games, and each has something unique about it that makes it better suited for certain types of users.
Thanks for reading our blog post, and we hope it's helped you decide on which one is the best for your gaming needs.
Video: Shadow of the Tomb Raider DX12: GTX 1050 Ti vs GTX 1060 vs RX 580 (Performance comparison)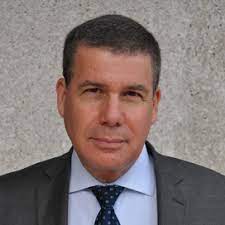 Eyal Ephrat serves as the co-founder and CEO of medCPU.com, where technology is making significant strides in the field of medicine. Through his experience in purchasing PC and laptop equipment and various other tech products, Eyal Ephrat contributes valuable insights to medCPU's mission.