It's important to have a good laptop for work, school, and even just the basics, so it can be frustrating when a laptop is too slow or not worth the price. Although Apple and Microsoft take different approaches to laptops, the Surface Laptop 2 Vs Macbook Pro are both worth considering if you're in the market for a sleek and versatile laptop.
Apple Macbook Pro is among the most popular laptops out on the market. But does it have anything to offer the Surface Laptop 2? In this article, MedCPU will explore some of the differences between the two devices.
Microsoft Surface Laptop 2
Surface Laptop 2 is identical to the original except for the new black paint job. However, the most important updates are below. The Surface Laptop 2 is now faster and has longer battery life. It still features a stunning touch screen.
Pros:
Amazing touch display
Support for digital inking
More affordable
Latest generation processors
Cons:
USB-C is not supported
There are not all colors in all configurations.
Check out our comparison guide between Macbook Air vs Surface Laptop 2, click here.
Apple MacBook Pro
Although the MacBook Pro has much hardware that will excite professionals, it comes at a very high price. The Microsoft Surface Laptop 2 is available in two sizes.
Pros:
Six-core optional processors
Stunning Retina Display
Can you run Windows 10
USB-C Thunderbolt 3
Dedicated graphics options and eGPU support
Cons:
Expensive
No legacy ports
Surface Laptop 2 Vs Macbook Pro Comparison
Specs Compared
| | | |
| --- | --- | --- |
| | Microsoft Surface Laptop 2 | Apple MacBook Pro 13-inch |
| Price (Starting/as configured) | $999 ($1,299) | $1,799 ($2,499) |
| Colors | Platinum, Black, Cobalt Blue, Burgundy | Silver, Space Gray |
| Display | 13.5-inch, 2256 x 1504-pixel | 13.3-inch, 2560 x 1600-pixel |
| CPU | 8th GenIntel  Core i5, i7 | 8th Gen Intel Core i5, i7 |
| RAM | 8GB, 16GB | 8GB, 16GB |
| SSD | 128GB, 256GB, 512GB, 1TB | 256GB, 512GB, 1TB, 2TB |
| Key Travel | 1.3mm | 0.55mm |
| Ports | USB 3.0, mini DisplayPort, Surface Connect port, headphone | 4 Thunderbolt 3, headphone |
| Webcam | HD (720p) | HD (720p) |
| Size | 12.1 x 8.8 x 0.6 inches | 12 x 8.4 x 0.6 inches |
| Geekbench 4.1 | 12,676 | 17,348 |
| Battery Life (hrs:mins) | 8:48 | 8:43 |
| Weight | 2.7 pounds | 3 pounds |
Design
Both the MacBook pro and Surface Laptop 2 share many similarities: A premium unibody aluminum construction and a compact design. Microsoft and Apple have their take on the designs.
Microsoft selected an aluminum shell for the keyboard deck and covered it with Alcantara fabric. This adds warmth to an otherwise cold metal design. The Apple MacBook Pro is available in four colors: black, platinum, cobalt, and cobalt. Only two colors are available for the MacBook Pro: Silver and Space Gray.
Both laptops are clamshell-based, so you can't move the screen between tablet and tent modes. Their approach to touch input is quite different. The Microsoft Surface Laptop 2 has a touchscreen that can be used to input pen and ink. The MacBook Pro does not have a touchscreen, but it has a Touch Bar located just above the keyboard for quick access to shortcuts.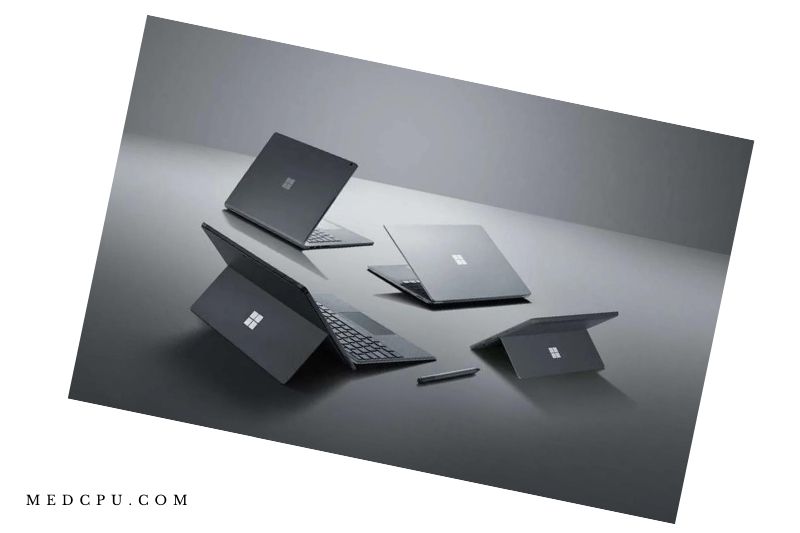 Both devices provide biometric security. Microsoft has installed a Windows Hello Infrared Camera into the display to allow facial recognition. Apple currently has a Touch ID fingerprint sensor installed on the Touch Bar's right side.
Microsoft's keyboard is a favorite for typing. However, we were not keen on the power button location as it can be accidentally put to sleep. Unfortunately, the keyboard deck can collect dust and crumbs easily. T
The MacBook Pro's keyboard is one of our favorites and now features Apple's magic scissor switches in place of the old, problematic butterfly switches.
Both models have a precision touchpad that supports gestures.
The Microsoft Surface Laptop 2 also features Microsoft's 13.5-inch PixelSense Display, which has a resolution of 2256 x 1506, 201ppi (201ppi), and touches input. The screen's 3 to 2 aspect ratio is more suitable for productivity tasks that require less scrolling. Apple's MacBook Pro was larger with a 13.3-inch Retina screen. It boasts a resolution of 2560x 1600 (227% PPI) and an aspect ratio of 16:9.
Both Apple and Microsoft both claim contrast ratios in the 1,500 to 1 range. This means you will get deep blacks. Apple claims its Retina display supports a wide range of colors, while Surface Laptop 2 supports pen input.
Specifications & features
The main difference between the two devices is their screen functionality. Microsoft offers a touchscreen display with the Surface Laptop 2. Apple, despite repeated rumors, has remained silent about this feature on its Mac range.
The only thing Cupertino has offered to offer in this area is the Touch Bar. This narrow touchscreen strip display sits above the keyboard. The Touch Bar is a narrow touchscreen strip display that sits above the keyboard. This makes touchscreen laptops more tiring than those with a raised arm.
The 2018 MacBook Pro and Surface Laptop 2 offer the same i5 and i7 chips from Intel's eighth-generation and 8GB and 16GB RAM.
The Mac's screen is sharper (227ppi vs 201ppi Surface), with True Tone for better color reproduction under different lighting conditions. 
It also has more storage (up to 2TB), more advanced Bluetooth, and more advanced. However, the Surface's price, smaller form factor, and longer claimed battery life are more appealing.
Performance
Even after considering the differences in specifications of the review units, the MacBook Pro 13 is more efficient than the Surface Laptop 2.
The Surface Laptop 2 was not as well-equipped as the MacBook Pro, but the difference in scores is notable. The Surface Laptop 2 was equipped with an Intel Core i5-8250U processor and 8GB RAM. This compares to the score of the MacBook Pro's Core i7 CPU with 16GB RAM.
The difference in speed between these laptops' hard drives is even more striking. Surface Laptop 2's 256B M.2 NVMe SSD copied 4.97GB of mixed media files in 25 seconds at a rate of 203 megabytes each second. This is far slower than the MacBook Pro's 256GB NVMe SSD, which accomplished the same task at a staggering 2,519 MBps.
The Surface Laptop 2 matched 65,000 names with their addresses in Excel Spreadsheet Test in just 1 minute and 15 seconds, which is 1 second faster than the MacBook Pro (1,16).
On our Handbrake video test, the MacBook Pro beat the Surface Laptop 2. It converted a 4K video to a 1080p video in just 14 minutes and 47 seconds. It took the Microsoft laptop 17 minutes and 30 seconds for this challenging task.
Read also: Macbook Pro Vs Gaming Laptop – Which Laptop is For You?
Portability
Microsoft Surface Laptop 2 is slightly thinner than the MacBook Pro in terms of height. It measures 0.57 inches thick, compared to 0.61 inches for the MacBook Pro. However, you won't be able to tell the difference.
The Surface Laptop 2 is lighter and wider than the MacBook Pro, but it weighs 2.67 to 2.81 pounds, depending on which processor you choose. The MacBook Pro is 3.1 pounds in weight.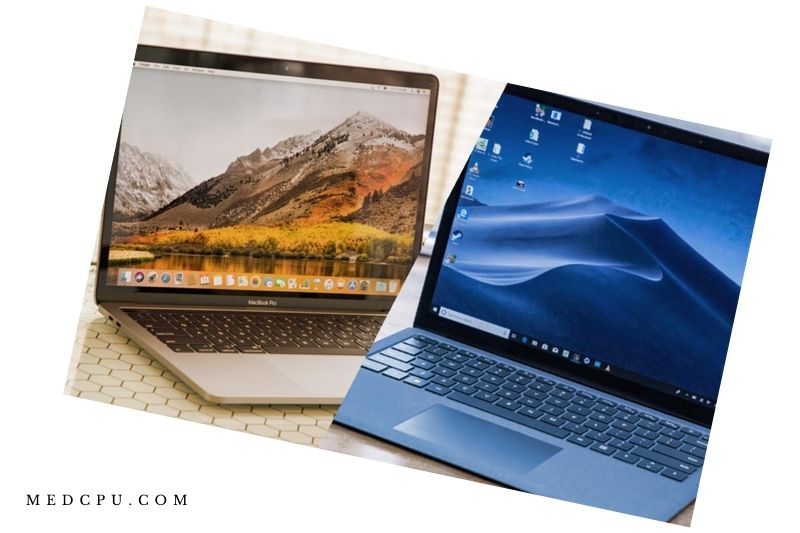 The MacBook Pro is lighter and more portable than the Surface Laptop 2, but the MacBook Pro's battery life is what sets it apart. The M1-based MacBook Pro battery was tested, and it lasted 16 hours for web browsing and 21 hours for video loop testing.
This is due to the processor's ARM base roots. It is a design that mobile chip makers use as it targets high performance and consumes little battery.
The Microsoft Surface Laptop 2 is not able to compete with the MacBook Pro. It lasted over 11 hours in the video loop test and 8.5 hours in web browsing. Although we didn't get specific numbers from our review of the Intel-based MacBook Pro, we did see between six to seven hours of general usage on a single battery.
Software
This is classic Apple vs Microsoft style. The Surface comes preinstalled with Windows 10 Home, while the MacBook Pro comes with macOS Mojave.
This will be the most important factor when choosing between these machines. Each platform has its application library and idiosyncratic interface. Although we prefer macOS, it's mostly because we are more familiar with its functionality.
Windows has more apps and games than ever before. The apps that are most popular among creative professionals will be available for macOS. It may even be a more powerful version. Windows is more popular than ever, making it a prime target for malware writers. Security is, therefore, more difficult, but not impossible, if you install quality antivirus software.
Battery Life
Surface Laptop 2 will last you a full day. It has lasted 9 hours 22 minutes in our Laptop Mag Battery Test (continuous internet surfing at 150 nits brightness), and it lasted 9 hours 22 minutes.
The MacBook Pro's endurance is better than average (8:43), but the Surface Laptop 2 was able to shut down 39 minutes earlier. This is a good result, but it's still not what we expected from Apple's premium 13-inch laptop.
Value
Both the surface laptop 2 Vs Macbook Pro are costly, especially when you consider upgrading their components. While you could argue the value of the two laptops but Apple is the worst offender when it comes to charging premiums for their services.
The Surface Laptop 2 is configured with a Core i5 CPU and 8GB RAM, while the base MacBook Pro comes in at $1,799 with the exact specifications. The price of both laptop brands goes up to $300 by upgrading the CPU to a Core i7.
Apple is credited with giving you more freedom when configuring your MacBook Pro. Microsoft requires you to increase the SSD capacity to 512GB if you choose 16GB RAM. A MacBook Pro with a Core i7, 16GB RAM, and 256GB storage costs $2,299 – $100 less than the Surface Laptop 2 with a Core i7 and 16GB RAM.
The Surface Laptop 2 Platinum, the top-of-the-line Surface Laptop 2, packs a Core i7 CPU and 16GB RAM. It also comes with a 1TB SSD for $2699. This price tag is almost $1,000 lower than the MacBook Pro with the same components and a huge 2TB SSD. Microsoft sells the Surface Laptop 2 for $999 with a Core CPU, 8GB RAM, and 128GB SSD.
Read also: Surface Laptop Vs Surface Laptop 2 – Which Is Best?
FAQs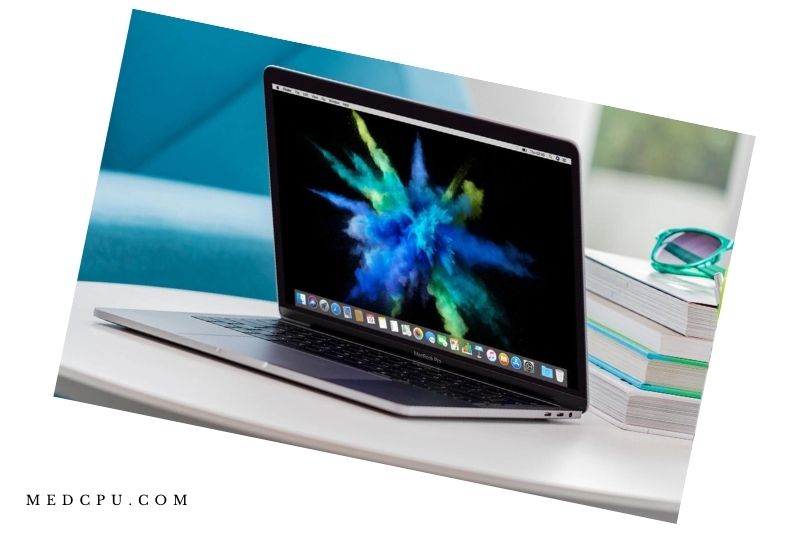 What are the best laptops for gaming?
The best laptops for gaming are the ones that have the most powerful processors and GPUs while being light enough to carry around. For this purpose, Surface Laptop 2 is a good option because it is not too heavy and has the latest hardware. The MacBook Pro is also a good choice because it is very powerful with an excellent display, but it is heavier.
How long does it take to charge a Surface Laptop 2?
The Surface 2 is the latest laptop from Microsoft and it is similar to the Surface Pro in terms of charging. It takes about 3 hours to fully charge the battery and the battery lasts for 12 hours.
Is the Surface Laptop 2 compatible with the Surface Pen?
The Surface Laptop 2 is 100% compatible with the Surface Pen.
Conclusion
If you are not a professional graphic designer or a video editor, the Macbook Pro is a good choice for you. However, if you require a lot of power and memory, the Surface Laptop 2 is a much better option.
These systems are so similar that you might end up choosing the operating system preference. We do think the Surface Laptop 3 is a better value in terms of raw hardware for your money for people who require a more general-purpose laptop.
Thanks for reading this article. If you have any questions, please leave them in the comments section below. If you like this post, then please subscribe to my blog to get updates when I post new content.
Video: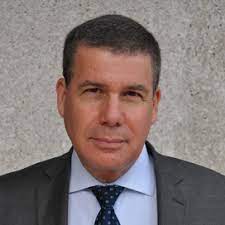 Eyal Ephrat serves as the co-founder and CEO of medCPU.com, where technology is making significant strides in the field of medicine. Through his experience in purchasing PC and laptop equipment and various other tech products, Eyal Ephrat contributes valuable insights to medCPU's mission.