Lenovo is one of the leading computer makers in the world, but recently they have had their fair share of issues. One of these issues is malware that has infiltrated many of their systems and may be causing some other problems. To restore the functionality of your laptop, Lenovo offers an easy-to-use 'Factory Reset' tool that will solve all of your potential problems. People need to know how to factory reset Lenovo laptops after recent malware-infected many of their systems. Let's get started with Medcpu!
How to Factory Reset a Lenovo Laptop While Saving Files
You may choose to delete just your files or wipe all files and clean the hard drive to start from scratch. No matter which route you choose, resetting also includes a fresh installation of Windows on your Lenovo laptop. To preserve your documents and personal files when you reset, follow these steps.
Note: If you have a Lenovo IdeaPad or ThinkPad laptop, you may have the option of using the NOVO button to enter the Lenovo OneKey Recovery mode to factory reset your device. However, on some models, the NOVO button is not an option. On these models, your laptop may have a recovery button pinhole that you activate with a paper clip.
Do you want to start over and forget about the past? That's exactly what we're going to do! Just take your time and we'll figure it out together.
Go to Settings > Update and Security from the Start menu.
Select Recovery, then click Reset this PC and Get Started.
To save your documents, choose to Keep my files.
As the system prepares your machine for a reset, you'll see a message that says, "This won't take long".
Next, you will be asked to review the changes. This includes removing any apps you have added, setting the machine to defaults, and reinstalling Windows.
To confirm the process, click Reset.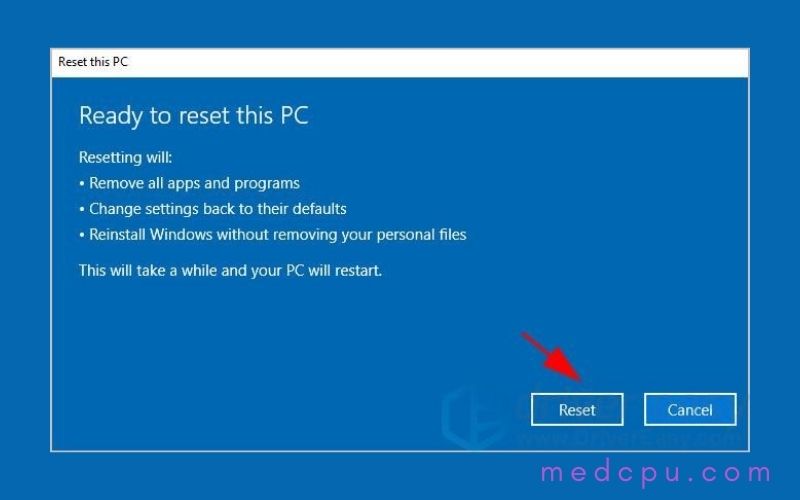 Note: Factory resetting your Lenovo laptop may take a long time. To ensure it goes smoothly, keep your laptop plugged into a power source.
Tip: Backing up files is extremely important to protect from any possible mistakes that might happen. In the event that something does go wrong, you'll want to have a backup stored in a remote location that you trust. As a result, it's best to have a file backup system to have a remote backup. If you don't have a file backup system, consider using a cloud-based storage service or an external hard drive.
>>> Read more: Lenovo Vs Dell Laptop: Which is Better For You? 2022
How to Perform a Hard Reset and Remove Files
If you need to donate your laptop or you want to fix nagging issues with a clean slate, try a hard reset to wipe the machine of everything and set it to zero.
From the Windows Start menu, select Settings.
Below Reset this PC, select Update & Security, then Recovery.
Click on Get Started, then select Removing Everything.
You can choose to Just remove my files if you plan on keeping your computer.
You can choose the style that you like from this point and go for it! Make sure you are ready to go and click on the "RESET" button at the bottom.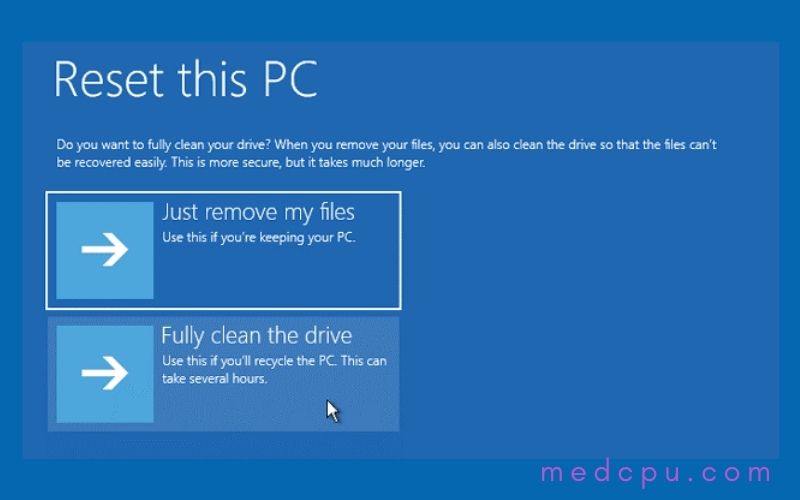 How to use Lenovo OneKey Recovery to restore your laptop to factory settings (OKR)
Are you experiencing frequent system interruptions, Operating System corruption, Computer Viral, error messages, or periodic system outages? This is where you can fix the problem by restoring your system to factory defaults. This guide will demonstrate how to reset Lenovo laptops to factory defaults. Before starting the process, ensure that you have backups of all your data on an external hard drive or USB Flash Drive.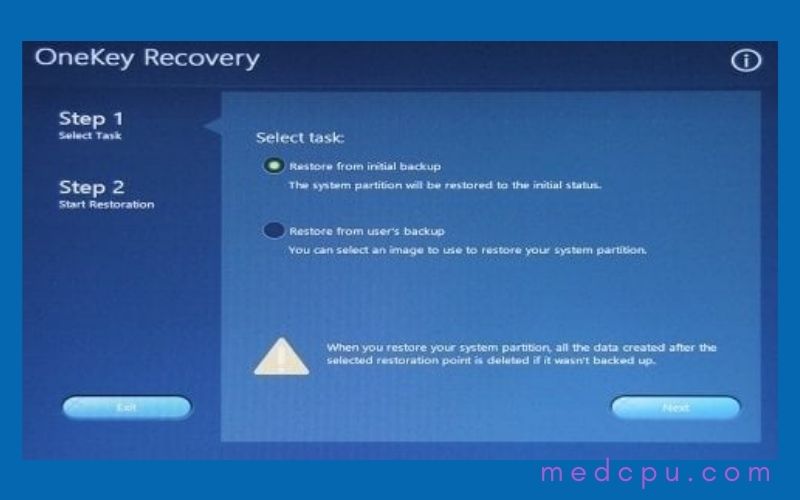 This will remove everything on your computer. Therefore, it is essential to make sure you don't lose any of your documents, photos, or applications. Shut down your computer if you have all of your data backed up. After the computer is turned off completely, you can press the Novo Button. The Novo Button is a small circular button located on the left or near the power button.
To display the Novo Button Menu, power it on, and your system will turn itself on. Select System Recovery using your arrow keys and hit Enter. The system will then boot to the recovery partition and display the "one-key recovery" screen.
First, choose the image. The default option is to use the factory-created image as the initial backup. You can also create a backup image on another partition or a USB Hard Drive. Then connect the devices to the computer and choose "Restore from initial backup". Select the section that contains the backup image from the drop-down menu. Select the default option if you didn't create a backup and then click Next.
Next, you need to finish the restoration process. Make sure that you have all of your important files backed up before you click on Start. After clicking Start, the system will copy all files and restore factory defaults to the Windows system, drivers, and applications. Once the process is completed, select Done to Reboot.
When the system restarts, it will prompt you to set up the system exactly as you first took it out of the box. Select the language and click next. Select the country, language, and keyboard layout and click Next. Accept the license agreement, select the color, type the computer's name, connect to the wireless network, user name, and any other configuration settings. After you log in, copy any necessary files from your backup.
The Windows Operating System is now clean and ready for use as a new laptop.
You may like: How To Screenshot On Lenovo Laptop? Top Full Guide 2022
How to Factory Reset Lenovo Laptop without Password on Startup
It can be frustrating to try and reset a laptop. Many people search the internet for ways to reset a Lenovo laptop, but most of them are not reliable. These issues can be fixed without the assistance of an expert by performing a factory reset.
1.1 How to Factory Reset Lenovo Laptop Windows 10/8 Without Password
These steps will show you how to factory reset your Lenovo laptop Windows 10/8 without a password.
Click the Power icon on the login screen of your Lenovo laptop to start it. Click on Restart and continue pressing the Shift key.
Your Lenovo laptop will be restarted. You will see several options on your screen. To select Troubleshoot, use the down arrow key. Enter the code.
Choose the option to reset your computer. This option will erase all of your files and allow you to reset your Lenovo laptop completely. Enter the Enter key. Select Remove All and hit Enter.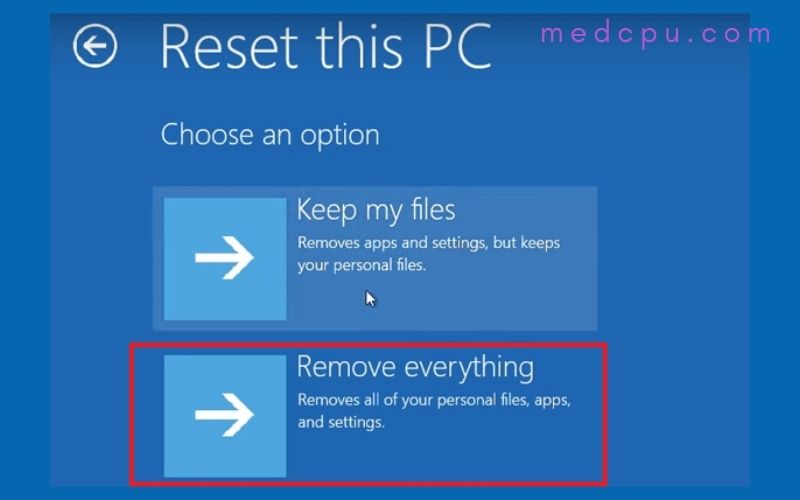 Wait patiently for the process to complete. You can then create a new account with your laptop after the factory reset computer.
1.2 How to Factory Reset Lenovo Laptop Windows 7 Without Password
How to factory reset Windows 7 Lenovo laptop without entering a password? You can use a bootable DVD. If you don't have a CD, you can create a password reset disc on another computer. After wiping out your password successfully, Windows 7 will allow you to use it without a password. These steps will allow you to factory reset your Lenovo laptop without a password.
Step 1: Advanced Boot Option
When you see the logo, turn on your Lenovo laptop and press F8 repeatedly until you see Advanced Boot Options.
Select Repair Your Computer. Enter.
System Recovery Options will appear on your screen. After you have selected your keyboard layout, click on Next.
Step 3: Type your Username/Password
You will be prompted to enter your administrator password and username in a pop-up message. Enter the password if you are confident. If you have forgotten your password, leave this field blank.
When a list with system recovery process options appears on your screen, select the Reset Your PC option. Follow the screen instructions to restore your Lenovo laptop to factory settings.
FAQs
How do I force my laptop to factory Reset?
Tap the Settings button at the top of the screen. Then, swipe in from the right side.
Tap or click on Update and Recovery, then tap or click on System Recovery.
Tap or click on Get started under Remove all items and reinstall Windows
How to reset the laptop? Follow the on-screen instructions.
How do I do a factory reset on my Lenovo laptop running Windows 10?
How do I reset my Lenovo laptop?
After the system Recovery Menu opens, press the "F11 key". Follow the instructions on the screen to reinstall Windows and customize it. You can also restore any third-party software that was installed on your computer when it was first purchased.
Will a hard reset remove everything on my laptop?
All user data is erased when a hard reset occurs.
Is a hard reset the same as a factory reset?
2 Answers Both factory reset and hard reset refer to settings. Factory reset refers to the complete system being rebooted, while hard resets are for any hardware part of the system.
Conclusion
If you are searching for a way to do a hard reset on your Lenovo laptop, you have plenty of options to choose from. All the methods listed above are viable. What is your preferred method for hard resetting Lenovo laptops? If you have any other tips to share with our readers, feel free to mention them in the comments section below.