There are many options when deciding which graphics card to buy for PC gaming. A powerful piece of hardware that remains relatively affordable is the Nvidia GTX 1660 or 1060. These graphics cards are based on the Pascal GPU architecture, meaning that they are powerful and versatile.
Nvidia GTX 1660 vs 1060: Which GPU is right for you? The comparisons below will help you decide. Let's dive in!
Nvidia GeForce GTX 1660 vs 1060 Comparison
Specifications
| | | |
| --- | --- | --- |
| GPU | GTX 1660 | GTX 1060 |
| CUDA Cores | 1408 | 1280 |
| Boost Clock (MHz) | 1785 | 1506 |
| Base Clock (MHz) | 1530 | 1708 |
| MEMORY | GTX 1660 | GTX 1060 |
| Memory Speed | 8 Gbps | 8 Gbps |
| Standard Memory Config | 6GB GDDR5 | 6 GB GDDR5 |
| Memory Interface Width | 192-bit | 192-bit |
| Memory Bandwidth (GB/sec) | 192 | 192 |
| DISPLAY | GTX 1660 | GTX 1060 |
| Maximum Digital Resolution | 7680×4320 @ 120Hz | 7680×4320@60Hz |
| Standard Display Connectors | DP 1.4a, HDMI 2.0b, DL-DVI-D | DP 1.43, HDMI 2.0b, Dual Link-DVI |
| Multi Monitor | Yes | Yes |
| HDCP | Yes | 2.2 |
| DIMENSIONS | GTX 1660 | GTX 1060 |
| Height | 4.37″ | 4.378″ |
| Length | 5.7″ | 9.823″ |
| Width | 2-slot | 2-Slot |
| THERMAL & POWER | GTX 1660 | GTX 1060 |
| Maximum GPU Temperature (in C) | 95 | 94 |
| Graphics Card Power (W) | 120 | 120 |
| Recommended System Power (W) | 450 | 400 |
| Supplementary Power Connectors | 8-pin | 6-Pin |
GTX 1660 vs GTX1060: 1080p performance
Let's see how each card performs on Ultra settings at 1920×1080. You only see a difference between the cards in most cases. This is a good result considering that the GTX 1060 is an older card.
While there are some more dramatic performance jumps like Shadow of the Tomb Raider, which has the full brunt of its SMAA x4 Anti-aliasing enabled, and Forza Horizon 4, the GTX 1060 offers at least 40fps and the GTX 1660 closer to 50fps.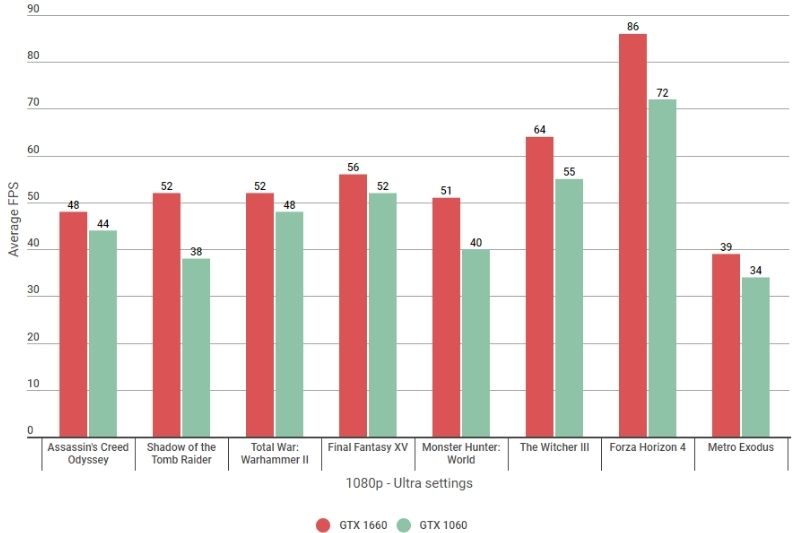 It is worth noting that the GTX 1060 can still achieve a respectable 60fps in Shadow of the Tomb Raider when it has its regular SMAA Anti-aliasing enabled. However, the GTX 1660 will give you the same speed boost on the same settings as the graph.
However, these graphics cards perform best on High resolution at this resolution, as you can see in the graph below. Forza Horizon 4 & The Witcher III are not included here as they were already in 60fps territory on Ultra. However, the rest of my benchmarking suite is pushing almost perfect speeds here. Metro Exodus, however, is the only benchmark that can run smoothly on its High preset.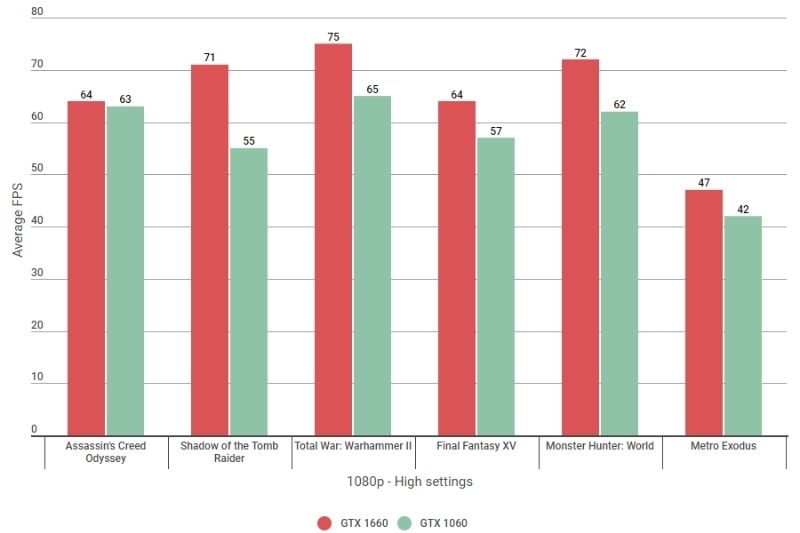 In Metro, it's only a single frame that separates my two Assassin's Creed Odyssey scores. In games like Monster Hunter: World and Shadow of the Tomb Raider, the GTX 1660 is the clear winner. However, you will only see an extra 10fps if you have a high-resolution monitor. If you have a 60Hz monitor, you will only see 60fps. This is no different from the averages of 55fps and 57fps if you compare them side-by-side.
The truth is that the GTX 1660 is now cheaper than the GTX 1060. Although the GTX 1660 would be more expensive than the GTX 1060, they are both available for the same price. However, the GTX 1060 is still cheaper than the GTX 1660.
Check out our comparison guide between 6700 xt vs 3070: https://medcpu.com/6700-xt-vs-3070/
GTX 1660 vs GTX1060: Performance at 1440p
The same holds for their 2560×1440 performance. There isn't much difference in Ultra settings for some games, like Total War: Warhammer II or Final Fantasy XV. However, the benefits you get from Ultra settings in other games, such as Assassin's Creed Odyssey or Shadow of the Tomb Raider, are too great to ignore.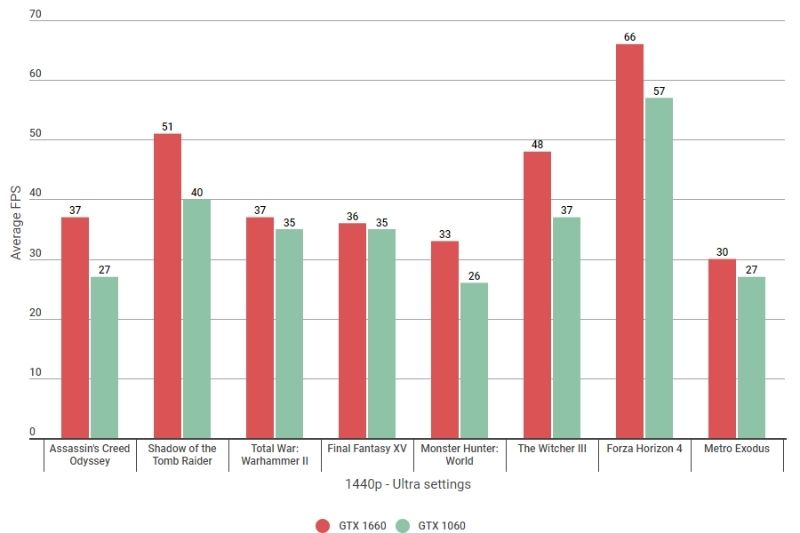 This is also where Shadow of the Tomb Raider's result shines. Contrary to the graphs at 1080p, I have only used regular SMAA x4 Anti-aliasing at this resolution. Otherwise, the GTX1060 would slow down to a crawl.
Similar to the GTX 1060, I was able to achieve 60fps by setting the settings to Low. On the GTX 1660, however, it was hitting 54fps at its Highest. I had to reduce the quality to High to get it to 60fps.
It was a strange thing that happened when I set the Quality to High in my testing suite. The GTX 1060 performed better than the GTX 1660 in Final Fantasy XV and Total War: Warhammer II. Although we are still talking about an average difference of just a few frames, I will admit that I was quite surprised by the results.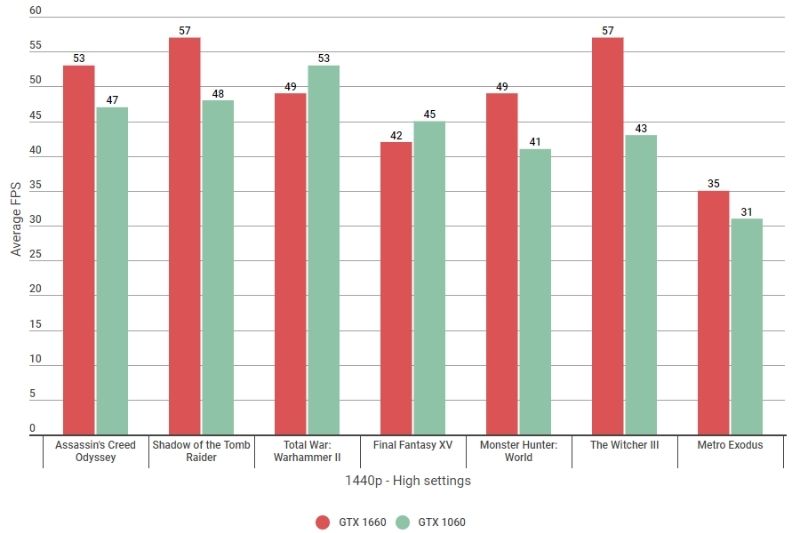 This would not be significant if the GTX 1660 were a lot more costly than the GTX1060. However, both graphics cards are available for the same amount of money, so it is silly to limit yourself with the GTX 1060's inferior performance just because it can run two games slightly (and almost imperceptibly) faster than the GTX 1660.
Read our guide about Intel Core i7 vs i9: https://medcpu.com/intel-core-i7-vs-i9/
Conclusion: Is GTX 1060 or GTX 1650 better?
The newest 1660 looks worth picking and is what I'd go for today especially given it performs better too. The Nvidia GTX 1660 is a graphics card that occupies a lower price point than 1060, though it may be better for specific tasks. It is a graphical GPU manufactured by Nvidia that will be a good choice for gamers on a tight budget.
Thanks for visiting our website www.medcpu.com. We hope you get valuable information and we hope it helps you in your study. Best of luck to you.
Video: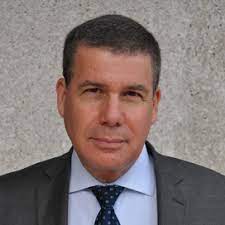 Eyal Ephrat serves as the co-founder and CEO of medCPU.com, where technology is making significant strides in the field of medicine. Through his experience in purchasing PC and laptop equipment and various other tech products, Eyal Ephrat contributes valuable insights to medCPU's mission.