There are many options to choose from when it comes to laptop types. People often find themselves wondering if they should go with a Surface Laptop or Surface Pro 4, which is easier to convert into a tablet.
Surface Laptops offer more traditional keyboard and trackpad input while Surface Pro 4s are more tablet friendly. Which should you choose between these two different laptops in the Surface lineup?
In this article, MedCPU will compare the Surface Laptop Vs Surface Pro 4 so that you can make the best choice for your needs. Let's dive into it!
Comparing Surface Laptop vs Surface Pro
Category
Surface Laptop
Surface Pro 4
Software
Windows 10 S (Upgradable to Pro)
Windows 10 Pro
Display
13.5-inch PixelSense Display
12.3-inch PixelSense Display
Display resolution
2256 x 1504 at 201ppi
Aspect Ratio: 3:2
2736 x 1824 at 267ppi
Aspect Ratio: 3:2
Processor
7th Gen Intel Core i5 or i7
6th Generation Intel Core m3, Intel core i5, or i7 (Skylake)
Storage
128GB, 256GB, 512GB Solid State Drive (SSD)
128GB, 256GB, 512GB or 1TB Solid State Drive (SSD)
Memory
4GB, 8GB or 16GB RAM
4GB, 8GB or 16GB
Graphics
i5 Intel HD 620, i7 Intel Iris Plus 640
m3 Intel HD graphics 510, i5 Intel HD graphics 520, i7 Intel Iris graphics
Rear camera
None
1080p with auto-focus
Front camera
Windows Hello face authentication camera.

720p HD front-facing video camera

Windows Hello face authentication camera (front-facing).

Windows Hello face authentication camera (front-facing)

Speakers
Omnisonic speakers with Dolby Audio Premium
Front-facing stereo speakers with Dolby Audio
Ports
One full-size USB 3.0, Surface Connect port, 3.5mm headset jack, Mini DisplayPort
Full-size USB 3.0, microSD card reader, 3.5mm headset jack, Mini DisplayPort, Type Cover port, Surface Connect port.
Sensors
Ambient light sensor
Ambient light sensor, Accelerometer, Gyroscope, Magnetometer
Security
TPM chip for enterprise security
TPM chip for enterprise security
WiFi
802.11ac 2×2 MIMO Wi-Fi wireless networking; IEEE 802.11a/b/g/n compatible
802.11ac 2×2 MIMO Wi-Fi wireless networking; IEEE 802.11a/b/g/n compatible
Bluetooth
Bluetooth 4.0 LE
Bluetooth 4.0 LE
Battery life
Up to 14 hours (with W10S)
Up to 9 hours
Pen
Surface Pen
1,024 levels of pressure sensitivity
Surface Pen
1,024 levels of pressure sensitivity
Magnetic storage
Weight
2.76lbs
i5/i7: 1.73lbs (786g), m3: 1.69lbs (766g)
Dimensions
12.13 x 8.79 x .57 in (308.1 x 223.27 x 14.48 mm)
11.50 x 7.93 x .33 in (292.10 x 201.42 x 8.45 mm)
Price
£999 to $2199
$799 to $2599
Display
Size – The Surface Pro 4 has a 12.3-inch screen, while the Surface Laptop has a 13.5-inch display. This is where the Surface Laptop wins. Both screens are touch-enabled.
Resolution – A Surface Pro 4 displays a resolution of 2736×1824 pixels. The surface Laptop's resolution is only 2256×1504. The Surface Pro 4 has 2256 x 1504. The surface Laptop only has 201 pixels. This move may not be liked by all users, especially those who prefer small fonts.
Aspect Ratio: Both have the same aspect ratio of 3:2. This ratio is ideal for productivity. I don't like the narrow screens. These screens tend to limit vertical space quickly.
Case material and dimensions.
We have added a Type Cover (0.68 pounds) to the Surface Pro 4's equation to compare the weights. To protect the Surface Pro 4 screen, the Type Cover is slightly larger than the SP4's dimensions. Although the Surface Laptop weighs in at 2.76 pounds, it is heavier than the Surface Pro 4.
Microsoft has returned to aluminum for the Surface Laptop, while the Surface Pro 4 was made from magnesium. Both devices have a similar design in one respect: The Surface Pro 4's Signature Type Cover, which is made from Alcantara fabric and a plastic base, is nearly identical to the Surface Laptop's Alcantara keyboard covers.
It is attached to the aluminum chassis using a virtually invisible seam. Although the Surface Pro 4 comes in a single color, you can customize it with a range of Type Covers. You can choose from four Alcantara colors for your Surface Laptop: cobalt, platinum, blue, burgundy, and graphite.
*Related Posts:
Operating system – The Windows 10 S Question
Most people find the operating system of the Microsoft Surface Laptop confusing. Surface Pro 4 comes with Windows 10 Pro. However, the Surface Laptop is Microsoft's first device to include Windows 10 S. This Windows 10 was designed for educational institutions.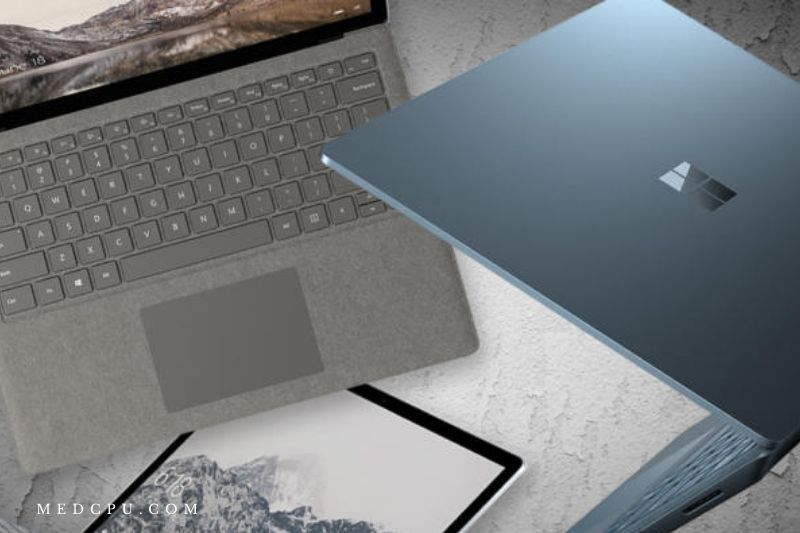 Windows 10 S can only run apps that are available via the Windows Store. This allows school IT administrators to be more manageable. Bing is the only search engine, while Edge allows web browsing.
Windows 10 S allows you to upgrade to Windows 10 Pro from within the Windows Store. This upgrade is available from now through the end of 2017 for free. After that, Microsoft may charge $49 for this privilege.
Software
Microsoft's new walled operating system Windows 10 S, is available on the Surface Laptop. It looks and behaves very similar to Windows 10, except that it has some education-focused features. The Surface Laptop only runs apps from Windows Store. This is similar to Chrome OS with Chrome Web Store.
Microsoft Surface Laptop owners can get a full version of Windows free of charge until the end of the year. After that, it will cost $50 to upgrade. The Surface Pro 4 also comes with Windows 10 Pro right from the start.
CPU and Memory
The 7th-generation Kaby Lake Intel Core chip is used in the Laptop. Specifically, the 2.5GHz Intel Core i5-7200U compared to Skylake's 6th-generation Intel Core i5-6300U. Our CPU tests show that Kaby Lake has a slight advantage but is still a benefit.
The Surface Pro 4 or its Core m options are a good option if you're looking to save money. Although Core m is slower than full-sized Core chips, it still provides enough performance to handle most mainstream tasks.
Keep in mind that the Surface Laptop 4Gb and Surface Pro 4 4GB memory models are lower-end options. This can make it challenging to run demanding apps or multiple tabs.
Read also Dell XPS 13 vs Microsoft Surface Laptop 4, Click here.
Graphics
The Microsoft Surface Laptop's new components give it an edge, just like the CPU. It was quite amazing to be able to play decently graphic-intensive games on the Surface Pro 4. The Surface Laptop's HD 620 chips and HD Iris Plus 640 chip are next to the Intel HD 520 integrated graphics and Iris integrated graphic found in the Surface Pro 4.
However, neither machine has a discrete graphics option, so your performance may be a little lower than, for example, the Surface Book.
Ports
The Surface Pro 4's single USB Type-A port at the display side was adequate, especially when connected to the $200 Surface Dock, which adds four additional connectors. The Surface Pro 4's port contingent (1 USB3.0, microSD slot, and miniDisplayPort) looks a bit slimmer. The world is moving to USB-C.
The Microsoft Surface Laptop is not equipped with a single USB Type-A port and miniDP, 3.5mm headset jack, and Surface Connector. The SD card slot was eliminated to save money. Both surface devices support 802.11ac wireless connectivity and Bluetooth. The Laptop uses Bluetooth 4.0 LE, which is slightly more advanced.
Keyboard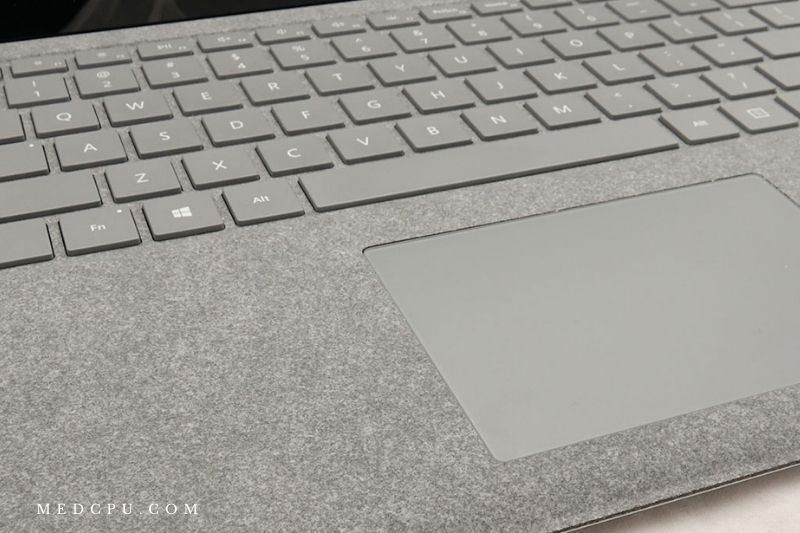 The keyboard is backlit and covered with an Alcantara fabric (often found as auto accessories) for a soft, easy-care feel. Although the Type Cover for Pro 4 is made from plastic, a Signature edition is available (for $30 more) made from a similar fabric material.
Fingerprint sensor
The fingerprint sensor is not available on the Microsoft Surface Laptop vs Pro 4 tablets. If you are willing to spend an additional $30, you can purchase a Type Cover for the Pro 4 with a fingerprint sensor.
Face Recognition
Windows Hello is a Windows Hello-enabled feature that allows both devices to offer secure facial recognition login options.
Surface Pen Included
Both devices can use the Surface Pen stylus. It is not available with the Surface Laptop. The Surface Pen is usually included with the Microsoft Surface Pro 4. It is possible to purchase one without the Pro 4.
Battery Life
Officially, the Surface Pro 4 claims to last up to 9 hours of battery life. The new surface Laptop claims to last up to 14.5 hours. That's quite a difference!
The Surface Pro 4 has a 38.2Wh battery. Unfortunately, the Surface Laptop's battery capacity is not known at this time. I believe that the Kaby Lake processor will reduce power consumption. Therefore, my guess is that the actual battery capacity has not been increased.
Camera and audio
The Surface Laptop's front-facing 720p camera was created for students who don't care how they look when chatting. The Surface Pro 4's front-facing 1080p, 5MP camera puts more emphasis on professional Skype conversations. To compete with the thousands of iPad owners who choose to take digital photos with their tablets, the Surface Pro 4 includes an 8MP rear camera.
The Surface Pro 4's speakers are located behind the tablet display. However, after frequent use, the right speaker is no longer functional. The Surface Laptop places its omnisonic speakers under the keyboard's Alcantara fabric.
These speakers have a noticeable volume advantage over the Surface Pro 4 and provide a richer sound experience. I prefer to use my laptop and tablet in a keyboard drawer. The Laptop's omnisonic speaker system provided a pleasant, subtle reverb effect while still playing back strong bass lines. The Laptop is the better machine.
Processor
The sixth-generation Intel Core processors are available in the Pro 4, ranging from the entry-level m3 processor to the more powerful i5 or i7 chips. The Surface Laptop features seventh-generation Intel core processors i5 and i7.
Surface Laptop only comes with two processor configurations: the Intel Core i5-7200U and Intel Core i7-7660U. Surface Pro 4 has three processor configurations, starting at Intel Core m3-6Y30 to offer a lower starting price.
Surface Laptop's new processors have a faster clock speed overall than Surface Pro 4. The Intel Core i7-7660U has a maximum turbo frequency of up to 4.00 GHz.
GPU
The names of the GPUs have been changed from HD5xx and HD6xx. HD620 is now available for the non-i7 versions. Iris Plus 640 is also available for the i7 versions. (Read this article to learn more about the Iris. It will be a surprise to you.
These are the numbers that were generated by the Passmark G3D benchmark.
Surface Pro 4 with the i5 (HD520), 763
Surface Pro 4 with the i7 (Iris540):1373
HD620 Average: 942
Average with Iris Plus640: 1444
The 6xx GPUs are given average numbers because we don't have any numbers yet for the soon-to-be-released Surface Laptop.
The new GPUs show minor improvements for a general 3D benchmark test. However, there's a good chance that less power will be used to perform the same tasks.
Once the hardware is officially released, a separate article will be published on performance comparison.
See also Surface Laptop vs Surface Book comparison, click here.
Accessories
The surface Laptop will work with the same pen like the Surface Pro 4. Surface Dial should also work with this device, though I have trouble seeing how such devices would work on small screens.
I am sure that someone with greater imagination than mine will come up with something useful.
Price: Beyond many students' budgets
NOTE: Microsoft added a Surface Laptop version on October 31st, 2017, for $2,699. It comes with a Core i7 processor, 16GB RAM, and a 1TB SSD.
Surface Laptop vs Surface Pro 4 are not particularly cheap, as shown by the prices. The only problem with choosing the right Surface Laptop is that it's intended for education. This means you will be subject to the dictates of professors about what software to purchase.
If you have to use demanding applications, the entry-level models may not cope with the RAM. Models with 8GB RAM or more will have greater staying power.
It is easier to buy a Surface Pro 4 than you might think. These prices do not include the Type Cover attachable keyboard. This will cost an additional $130 to $160, depending on which model you choose. Although you can technically do without one, it will make your life easier if you include a Type Cover on your shopping list.
Although it seems unreasonable to ask college students for a Surface Laptop with Core i7/8GB Ram/256GB SSD, the best comparison is between the Surface Laptop ($1,599) and the nearly identical $1,349 Surface Pro 4 Plus Type Cover (for a total cost of $1,479-$1,509).
The Surface Laptop has a 7th-generation Intel Core processor (Kabylake), while the Surface Pro 4 uses the 6th-generation Skylake chip.
FAQs about Surface Pro 4 and Surface laptop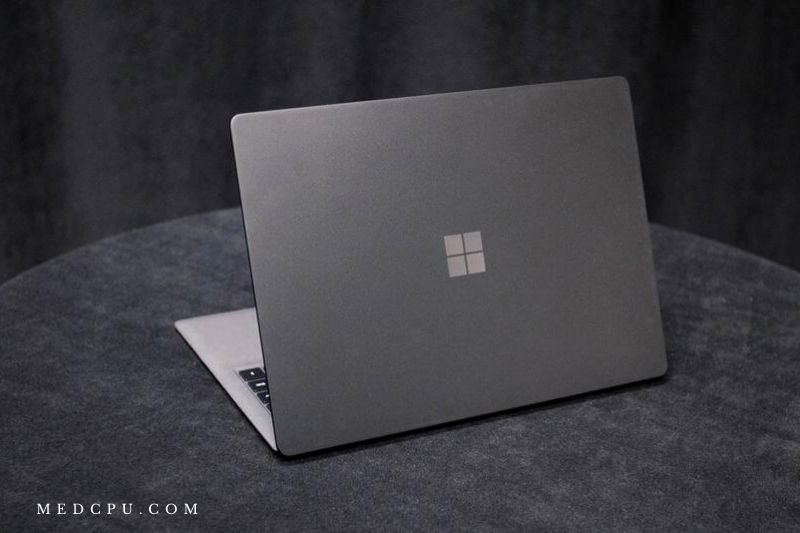 Is the Surface Laptop waterproof?
No, the Surface Laptop is not waterproof. It doesn't even have a case for it.
How does the Surface Laptop feel in my hands?
The Surface Laptop is very lightweight. It feels good to hold and use. You also get used to it after a while and it's not as big as you would think it would be.
Is there a docking station for the Surface Laptop?
Yes, a docking station is available. It can be purchased at a third-party store, or from Microsoft.
Can I run Surface Laptop apps with an old Surface Pro?
Yes, you can install any applications that were created for the Surface Pro onto your Surface Laptop.
Conclusion
Microsoft Surface Laptop is a brand new device from the Microsoft Surface family. The Surface Pro 4 tablet and Surface Book have similar clamshell designs, but it doesn't include a detachable keyboard. This laptop is thinner than the Surface Pro 4 tablet and more comfortable to type on than the Surface Book 2-in-1.
I'd say it depends on what you are trying to do with your laptop. If you are just looking for a machine that can handle light gaming, lightweight apps, and web browsing then the Surface Pro 4 is perfect for you.
The Surface Laptop is geared towards those who are looking for a laptop that can play games, use lightweight apps, and do light productivity work.
Each device will appeal to different people depending on what you are trying to accomplish with your computer.
I personally am leaning towards the Surface Pro 4 over the Surface Laptop because I would like to be able to make full use of my laptop on my commute. Thanks for reading our article on the Surface Pro 4 vs Surface Laptop. If you have any questions, please leave them in the comments below.
Video: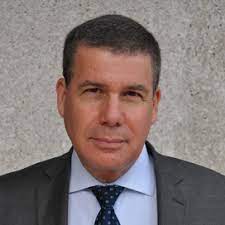 Eyal Ephrat serves as the co-founder and CEO of medCPU.com, where technology is making significant strides in the field of medicine. Through his experience in purchasing PC and laptop equipment and various other tech products, Eyal Ephrat contributes valuable insights to medCPU's mission.