How to Factory Reset MSI Laptop?
Did you know that you can restore the factory default settings on your MSI laptop? You can use the method if your laptop is having issues. This is also an excellent method to remove all of the data and programs that are no longer required. In this post, medCPU will walk you through the process of returning your MSI laptop to its factory default settings. Keep reading!
About factory reset
A factory reset (hardware reset) means returning your device to its original state. The factory reset method will remove all of the data on your device, including files, settings, and programs. It will also reinstall your operating system concurrently.
This method is crucial if you want to sell or give away your laptop since it prevents the disclosure of your personal information. Additionally, a factory reset can be used to fix specific software problems with the device, such as sluggish performance or unexpected freezing.
Why should you reset MSI laptop?
Even though it is not advised for all electrical equipment, a factory reset might give your MSI laptop new life under the following situations as follows:
Protect your MSI laptop: Resetting help you remove virus & files
Improve your laptop performance: Downloading unneeded program files causes laptops to run slower. Therefore, resetting the PC clean deletes them, which speeds things up.
Selling or giving your device to others: Resetting thoroughly cleans the laptop and protects your personal data.
Forget your laptop password: When you reset it, the laptop returns to its original settings. It will reset to its default state.
How to factory reset MSI laptop?
Reset by WinRE
Use the F3 or F11 keys to access the preloaded recovery partition (F3 on most MSI laptops).
Step 1: Turn off your computer, then restart it. Next, press F3 or F11 when the MSI logo displays on the screen.
Step 2: Hit Troubleshoot under Choose an option.
Step 3: At Troubleshoot, hit Restore MSI Factory settings.
Step 4: Click on System Partition Recovery. Then, press Yes to start the recovery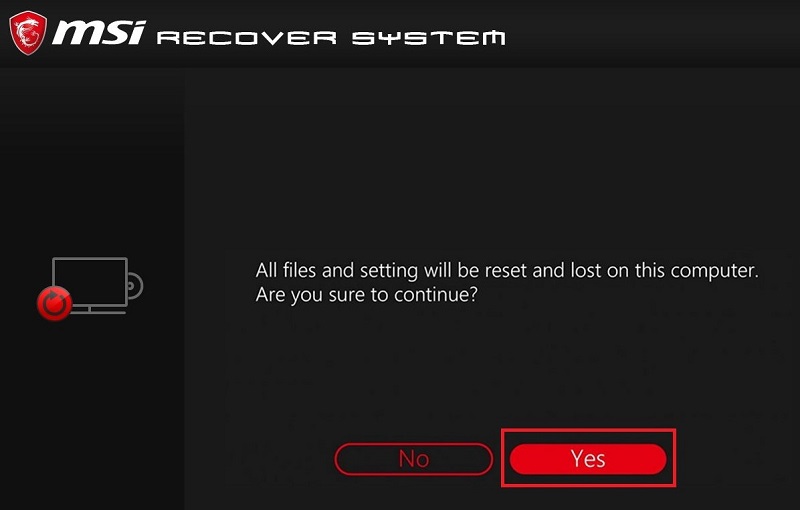 Step 5: When the process is finished, press OK to proceed with the setup.
Step 6: Hit Continue to reboot your computer.
Reset by Windows Reset Utility
Step 1. Press Win + I altogether to open Windows Settings.

Step 2. Then, scroll down and click on Update & Security.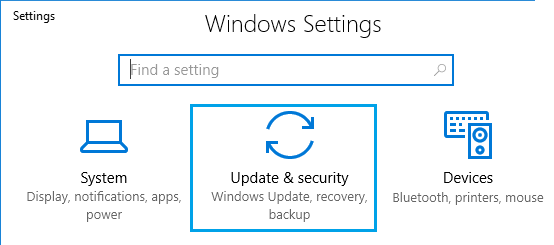 Step 3. In the Recovery tab, hit Get Started under Reset this PC.
Step 4: You will see two options: Keep my files and Remove everything. The first option will keep your personal files while the latter will remove all.
Step 5: Choose from Cloud download & Local reinstall and then follow the on-screen instructions to factory reset your MSI laptop.
Step 6: Just wait, and your MSI laptop will reset within minutes.
Reset by USB Drive
Move 1: Download Windows 10 installation media. Click here
Step 1: Go to Microsoft Center on another computer.
Step 2. Hit the Download Now button
Step 3: After done, run Media Creation Tool and choose to Create installation media for another PC.
Step 4: Click Yes
Step 5: Connect a USB drive and then create a bootable USB drive on it.
Step 6: Select your edition, language, and architecture. Then click Finish after finishing the procedure.
Move 2: Reinstall Windows 10
Step 1. Connect the USB to your MSI laptop.
Step 2. Reboot your problematic laptop and select the language & other preferences.
Step 3. Hit Next > Install now > enter the product key to activate Windows or choose skip > tick I accept the license terms > Next > Custom.
Step 4. Choose Where you want to install Windows and then follow the rest guidelines on the screen to finish the reinstalling process.
FAQs: How to Factory Reset MSI Laptop
Does a factory reset delete everything?
Nope, all deleted catalogs will still be saved on the hard disc. Or such files can be recovered via different software.
Do I need to back up my files before I reset?
Yes, doing it in this manner will ensure that you have a backup of all of your crucial information in case something goes wrong during the reset process. You can back up your files with an external hard drive or USB flash drive. To save duplicates of your work, you can also utilize cloud-based storage services like Google Drive or Dropbox. Burning your data on a blank CD or DVD is another option.
Conclusion
How to factory reset an MSI laptop? Your MSI laptop can be reset using one of the methods indicated above. We hope that our tutorial on how to factory reset an MSI laptop proved useful.
Related Posts: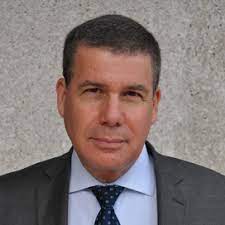 Eyal Ephrat serves as the co-founder and CEO of medCPU.com, where technology is making significant strides in the field of medicine. Through his experience in purchasing PC and laptop equipment and various other tech products, Eyal Ephrat contributes valuable insights to medCPU's mission.