The Surface Laptop 2 and the Surface Laptop 3 are both from Microsoft, but they have a few big differences. The Surface Laptop 2 is the newest addition to the line of Surface laptops, which happens to come in a few different colors. With higher-end specs, this laptop is well-equipped to keep up with the ever-changing landscape of technology.
The Microsoft Surface Laptop 3 is another great option. Some features are updated, but there are downsides that may or may not be for you. This comparison between Surface Laptop 2 Vs 3 will help you decide which one is best for you.
Surface Laptop 2
Surface Laptop 2 is still excellent, but it's less powerful and less equipped than its predecessor. It appeals to price only.
Pros:
Surface Laptop 3 has a similar design.
Battery life is fantastic.
Cheaper asking price
Cons:
USB-C is not supported
Only 8th Generation Intel processors
Graphics that are not as powerful
Related: Surface Laptop 2 Vs Macbook Pro – Which Is Better And Why?
Surface Laptop 3
Microsoft Surface Laptop 3 is Microsoft's latest laptop model. The Surface Laptop 3 is available in two sizes and features the most recent processors from Intel or AMD. It also has excellent graphics power, excellent battery life, and USB-C without the use of a dongle.
Pros:
Two sizes
Performance improvements of major importance
AMD and Intel processors
USB-C
Cons:
The Surface Laptop 2 is the best option unless you are looking to save money. The performance improvements in the Surface Laptop 3 are so great that you can't ignore the predecessor, regardless of whether you choose the 15-inch or 13-inch Surface Laptop 3. If you want to get the best out of your laptop, you will not regret it.
Tech specs
Surface Laptop 2
Surface Laptop 3
Processor
8th Gen
Intel Core i5-8250U
Intel Core i7-8650U
10th Gen Intel Core i5 or i7 (13-inch)
AMD Ryzen 5 or Ryzen 7 (15-inch)
RAM
8, 16 GB
8GB, 16GB, or 32GB LPDDR4x
Storage
128, 256, 512 GB, 1 TB
128GB, 256GB, 512GB, 1TB SSD (replaceable)
Display size
13.5 inches
Touch
13.5 inches
Touch
Display resolution
2,256 x 1,504
3:2 aspect ratio
2,256 x 1,504
3:2 aspect ratio
Graphics
Intel UHD Graphics 620
Intel Iris Plus
AMD Radeon Vega 9
AMD Radeon Vega 11
Ports
USB-A 3.0, Mini DisplayPort, Surface Connect, 3.5 mm audio
1x USB-C, 1x USB-A, 1x Surface Connect, 3.5 mm headphone jack
Battery
Up to 14.5 hours
Up to 11.5 hours
Dimensions
12.13 inches x 8.79 inches x 0.57 inches
12.13 inches x 8.78 inches x 0.57 inches
Weight
From 2.76 pounds
Up to 2.79 lbs (13-inch)
Up to 3.04lbs (15-inch)
Performance
Microsoft claims that the Surface Laptop 3 has twice the power of the Surface Laptop 2. This is evident from the spec sheets. The Surface Laptop 2 uses Intel's 8th Generation mobile processors. This is a little outdated considering Intel recently upgraded to its 10th Generation chips.
The 15-inch Surface Laptop 3's top configuration features a customized Surface Edition of AMD Ryzen 7 3780U processor. This is AMD's fastest chip for ultra-thin laptops and is said to be the most powerful. The new CPU features an industry-leading RX Vega 11 integrated graphic engine that allows you to play video without the need for a graphics card.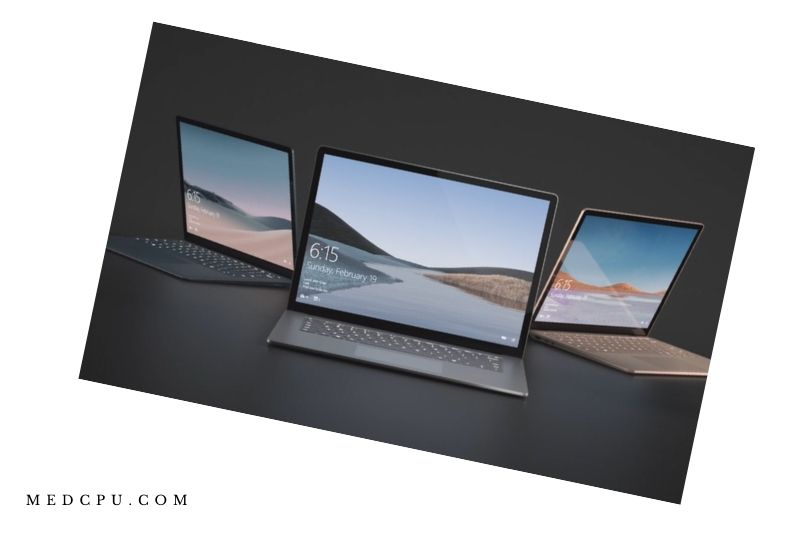 The 13.5-inch and the 15-inch models have the option to use 10th Generation Intel Core Processors. These processors should be significantly more powerful than the 8th Gen chips found in the old Surface Laptop 2. You also get integrated graphics so that you can play Fortnite.
These performance gains are significant enough to warrant an upgrade. It's hard to say, as we have yet to test the Surface Laptop 3 devices. However, it all depends on what you use the laptop for. The Surface Laptop 2 is powerful enough to do basic tasks like browsing the internet, streaming Netflix, and filling out spreadsheets. The new Surface Laptop 3 will be a great choice if you play games or explore media-editing software.
Design
You will immediately notice the similarities in both systems' designs. The design of both systems is nearly identical, which is why the Surface Laptop 3 measures 12.13 inches by 8.79 inches and 0.57 inches respectively, while the Surface Laptop 2 measures 12.13 inches by 8.78 inches by 0.57 inches.
As you can see, the difference between the dimensions is very small and shouldn't be considered when making a purchase decision.
Screen Size
They both devices come with a 13.5-inch touch display. This device has a resolution of 2256×1504, which is excellent considering the screen size. The new Surface Laptop 2 has a 15.-inch screen option, which has a resolution of 2496×1664.
Surface Laptop fans have been asking for it for years. Now they can rejoice.
Read also: Surface Laptop 3 Vs Dell Xps 13 – Which One To Prefer?
Battery life
Microsoft claimed that the Surface Laptop 3 had similar battery life to the Surface Laptop 2. It is unlikely that you will experience superior stamina by switching to the new Microsoft laptop. The spec sheets suggest that the new Surface Laptop may have a lower battery performance.
Microsoft claims that the Surface Laptop 2's battery life is 14.5 hours. The Surface Laptop 3 specification sheet will show a slightly lower figure of 11.5 hours. You can't always trust companies' official battery life estimates since manufacturers can easily manipulate the results by dimming or activating the keyboard backlight.
The Surface Laptop 3 has one advantage: fast charging. Microsoft claiming that you can recharge your battery up to 80% in just one hour.
Although fast charging is a great feature, it may not be enough to convince you to upgrade to a Surface Laptop 2. This feature does not increase the battery life.
Price
The Price of the Surface Laptop 3 is more expensive than the Surface Laptop 2 because it's newer and has better components. The Surface Laptop 3 starts at $999, and the Surface Laptop 2 at $899. So you get to choose.
FAQs
Which is better Surface 2 or 3?
It's a tough question to answer. The Surface 3 is a lot cheaper and it has a smaller screen size, which some people prefer. Surface 2 is a lot more expensive and has a bigger screen size. Both devices are really good laptops and it really just depends on what you're looking for.
Is the surface laptop 2 and 3 the same size?
The Surface Laptop 2 and 3 are the same size, but they do differ in some other areas. The Laptop 2 includes an 8th-generation Intel Core i5 processor, while the Laptop 3 includes a 7th-generation Intel Core i5 processor. The Laptop 2 also includes a 13.5″ display, as opposed to the Laptop 3's 14″.
Which Surface Laptop is better for photo editing?
The Surface Laptop 2 is a great option for photo editing. It has a Core i5 processor and 8GB of RAM, meaning it can handle most tasks with ease. The 13.5-inch screen is also a solid size for viewing photos on, making it perfect for working from home. The Surface Laptop 3 does not have the same specifications as the Surface Laptop 2, but it does have a larger screen size.
Do surface 2 laptops need antivirus?
The first thing to keep in mind when asking this question is whether you have any viruses on your device already. If so, then yes, it would be a good idea to get antivirus protection for your surface laptop 2.
It's important to remember that antivirus protection doesn't mean that your device is immune to viruses. They only work to detect, remove, and stop new virus threats. You can still end up with malware or other types of threats without protection.
Is the surface laptop 2 and 3 go with a surface pen?
The surface laptop 2 and 3 are great for people who want a lightweight device, but it doesn't come with a pen.
Conclusion: Surface Laptop 3 or 2?
In conclusion, the surface laptop 2 is a better choice than the surface laptop 3 because it has a larger keyboard and a 4K display. If you need a faster SSD, a larger screen, a more portable form factor, or a longer battery life, then the surface laptop 3 is a better option. The surface laptop 3 is the best choice if you need a laptop for work.
Thanks for reading this article. I hope it helped! If you have any questions or if you would like to share your thoughts, feel free to leave a comment below.
Video: