The HP laptop battery model number is the most crucial factor you should know when replacing your laptop battery. If you do not know your hp laptop battery model number, you will need to find it before ordering a new one or taking your old one to a hp store for the correct replacement battery.
There are many ways of finding out this information on a hp laptop if it has been lost or forgotten. How to find HP laptop battery model number? You don't need a computer expert to know what you need. We will walk you through finding your HP laptop battery model number. Let's explore with Medcpu!
How Do I Choose the Best Battery for My HP Laptop?
When looking to replace or repair your HP laptop's battery, it is essential to identify the type of battery. When you need to replace a battery in your HP laptop, you won't necessarily get the same one. You can either look at the actual battery or the model of your computer to determine which type you need.
The best way to determine a battery model from a laptop model
The best way to determine the model number of your HP laptop is to examine the machine. The information you require will be found in fine print or on a white or silver sticker. It might be hidden behind an access panel or in a battery compartment on some products.
These steps will help you locate the model number and the sticker if it isn't there.
1. Open the Start menu.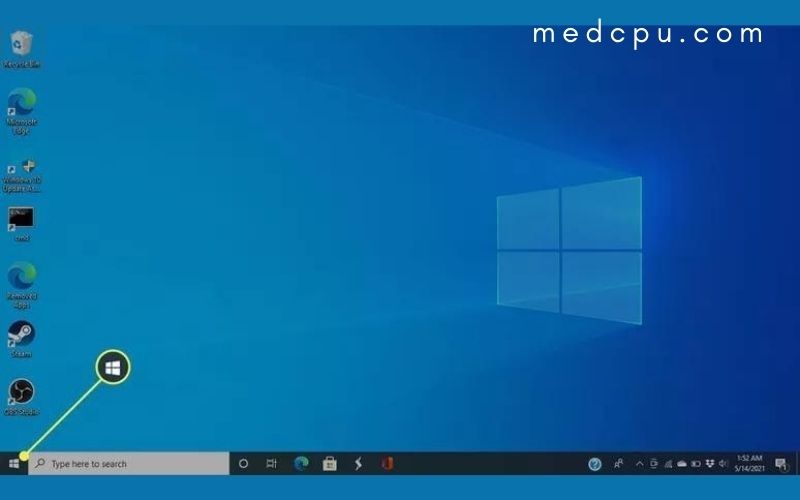 2. Click Settings.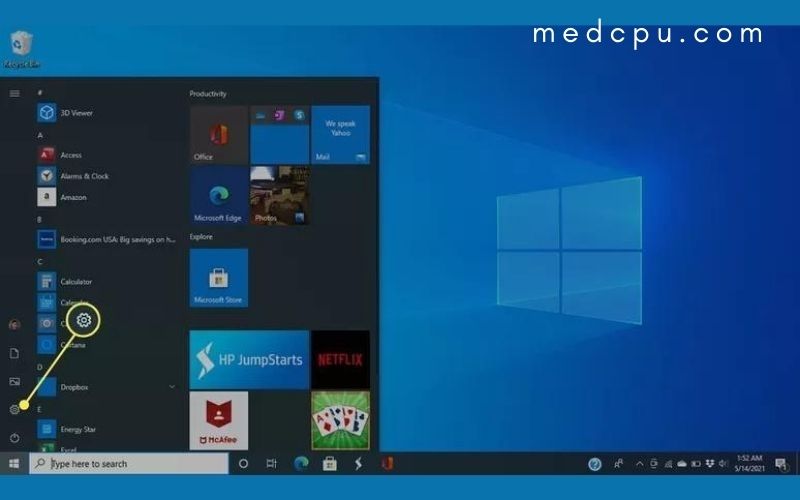 3. Select System.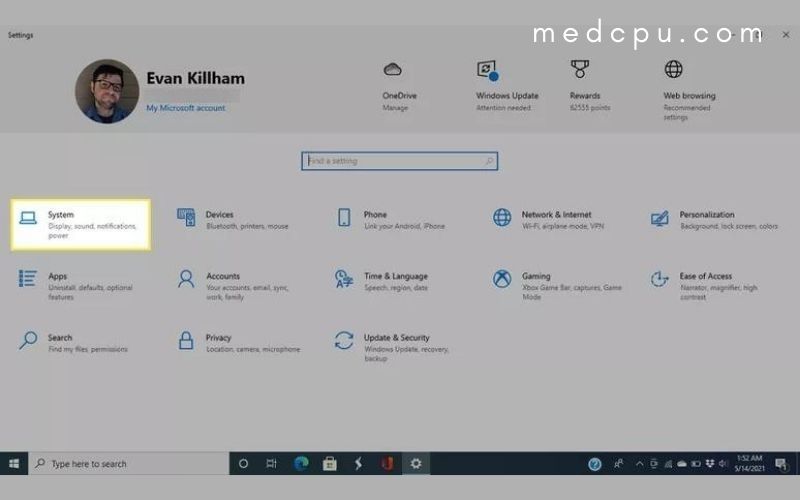 4. Scroll down the left pane to click About.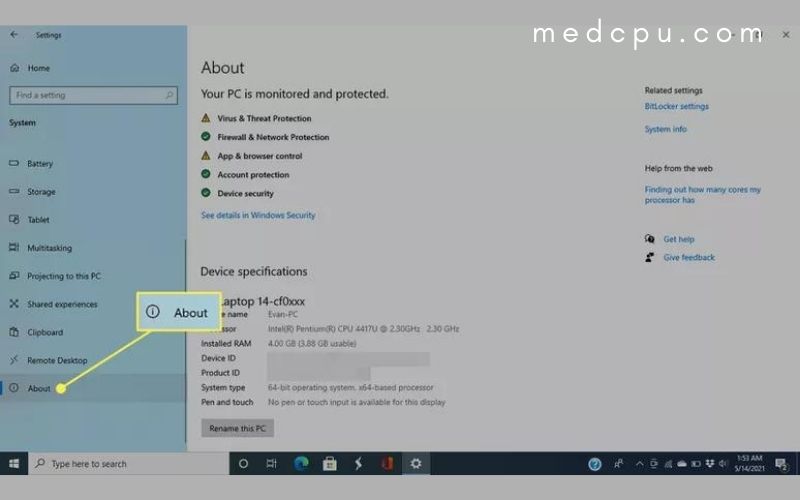 5. Your model number will be listed under Device Specifications.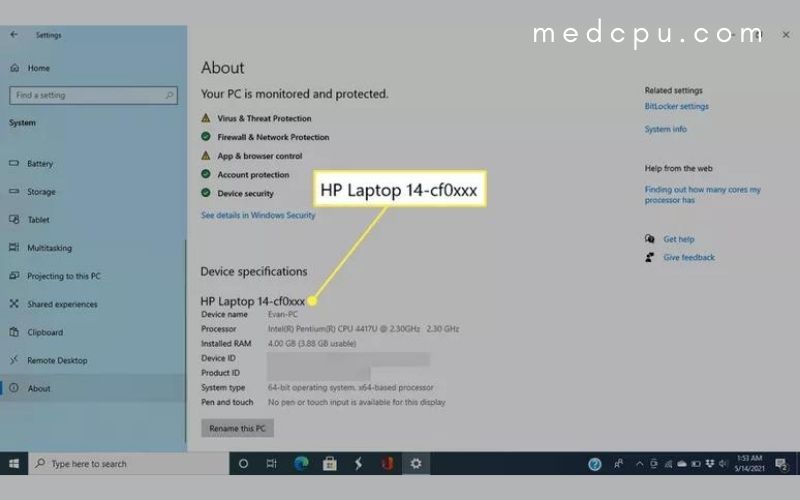 Once you have found your model number, you can search on the Internet for it and the "battery." You can also use the HP website's tool to find your desired information.
1. Navigate to the HP Laptop Battery Finder Page.
2. Click the tab at the top of your menu for the laptop family you have.
3. Find the type of your HP laptop in the left column. Then, note the compatible battery section.
4. Search for the type of battery you are looking for in the online shop of your choice.
Open the HP System Information window to view HP computer product information; press the Function (Fn) and Escape (Esc) keys together for HP notebooks. Your system information screen should display the HP System Information window. The window may look different on different devices but always includes product information, such as the serial and HP laptop model numbers.
Related read:
How To Find Hp Laptop Battery Model Number?
You can verify your battery's model number if you plan to replace it yourself. Although the details of accessing your laptop's internal components will vary depending on its model, here is a general overview.
Download the complete product manual from the HP Support Assistant software site to get detailed instructions!
Note: This method is more risky and invasive than the previous one. Only use it if your battery can be removed.
1. Turn off your computer and unplug the charging cord and other connected devices.
2. Turn the laptop upside down.
3. If necessary, remove rubber feet carefully to expose screws.
Notice: Remove rubber feet from your HP laptop that are strip-style. They can easily tear.
4. Remove all screws that attach the bottom plate to your laptop. You will need a 00 Phillips screwdriver to remove this hardware.
Notice: You may need to keep track of the screws that you have removed from which holes. They might be different lengths. When assembling your HP laptop, you must ensure they are returned to the same places.
5. If necessary, you can use a thin plastic tool to pry off the bottom plate gently.
6. Locate the battery on the same side as the charging port.
7. The battery should be printed with the model number and power information. Take this information and look online for the correct replacement battery.
To avoid buying the wrong battery, we recommend that customers provide the laptop model number and the part number of the storm. It is essential to provide the right information to obtain the correct battery. The battery model number for each laptop model is different.
FAQs
How long does a laptop battery last?
The type of laptop and its usage will determine how long the battery lasts. Laptop batteries generally last between two and four years or approximately 1,000 complete charge cycles.
How do I know if my laptop battery is good?
It would help if you consider price, warranty, compatibility, capacity, and cost when looking for a new battery for your laptop.
Compare warranty details and price ranges.
You can search the Internet to find third-party suppliers of batteries.
Conform to the specifications.
Match the voltage
You might consider a higher capacity.
What kills a laptop battery?
Avoid direct sunlight and store your laptop indoors. While keeping laptop batteries in cold temperatures is recommended, too much cold can permanently damage them. The computer should not be placed on your lap. Setting a laptop on a lap can heat it and block air vents.
How do I find out what battery my laptop has?
Your laptop's manufacturer and laptop model will determine the type of battery you have. If the battery can be located, unplug the computer and then remove it. The label should include the type of correct battery (mostly lithium-ion), part number, voltage, etc.
If the battery is not easily accessible, visit your laptop manufacturer's site. There are also third-party utilities available that will help you identify the battery in your laptop. Get Battery Care or Laptop Hardware Control.
Can I use the laptop without a battery?
As long as the laptop is connected to an outlet and the power brick, it can be used without the battery. But if you lose the plug even a little, your system can turn off and cause damage to files and the OS.
How do you check your laptop battery's health?
The built-in Battery Report feature is a great way to check the battery health of your Windows 10 laptop. To generate a Windows 10 Battery Report, enter powercfg /battery report /output "C:\battery-report.HTML" into PowerShell. Hold the Option key while clicking the battery icon in the status bar to check the MacBook's battery health. Regular, Replace Soon, or Replace Now will appear.
Conclusion
You can find your model number quickly with a bit of research and information. We hope this article has helped you find your HP laptop battery model number. If you have any questions, please don't hesitate to ask! Visit our website for more information on everything about laptops! Thanks for your reading!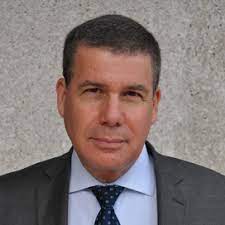 Eyal Ephrat serves as the co-founder and CEO of medCPU.com, where technology is making significant strides in the field of medicine. Through his experience in purchasing PC and laptop equipment and various other tech products, Eyal Ephrat contributes valuable insights to medCPU's mission.