Are you considering purchasing a laptop but uncertain about which brand to choose? Some friends may suggest Dell laptops, while others recommend HP laptops. So, which brand is more suitable for work and study – HP or Dell? To shed light on this topic, let's delve into the details of medCPU through an article comparing Dell vs HP laptops. This article aims to assist you in making an informed decision about which laptop brand to invest in. Let's explore and find out!
About Dell Laptop
One of the most well-known brands in the computer industry, Dell has been making laptops since 1984. They have a reputation for creating high-quality products at affordable prices and their line of Inspiron brand laptops is perfect if you're looking to spend under $800 on a new laptop.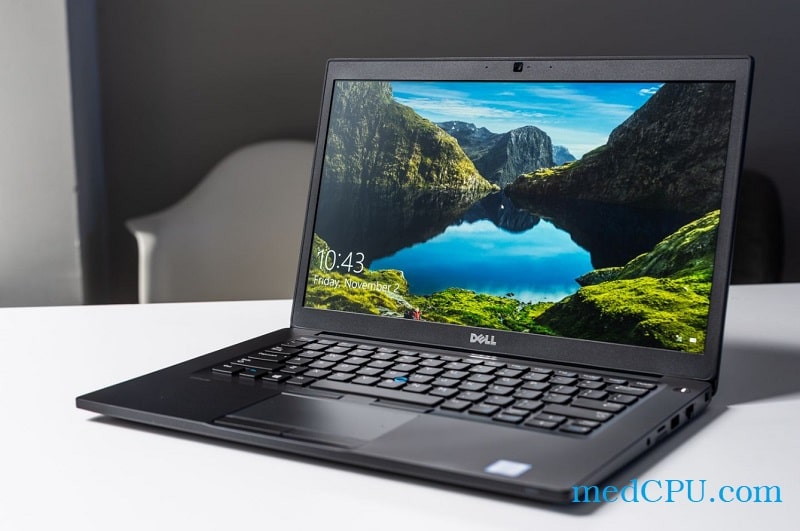 Dell's XPS range of laptops speaks volumes for its commitment to innovation and design with a virtually borderless display. The notebook features a 10th-generation Intel core i7 processor that provides over 12 hours of battery life and a comfortable keyboard. It also boasts surprisingly good audio.
Dell Alienware Series
It is also important to mention the Dell Alienware series. It's not known that Dell also owns Alienware. This company is a specialist and is often the first choice when looking for the best gaming laptop.
These dealers tend to sell more expensive models with Nvidia Geforce GTX graphics and a combination of Intel and AMD quad-core processors. If you are looking for the best gaming laptops, it is worth your time.
Pros
Cons

Affordable prices – Dell is known for their great deals and often has sales on their products A variety of different models are available. You can get a laptop for any type of use from business to entertainment.
Plenty of memory/storage space – One of the best things about Dell laptops is that they offer a lot in terms of memory and storage power, making them perfect for storing large amounts of files or running multiple applications at once

Can have problems with overheating – While this isn't something that happens to every laptop model produced by Dell, some can overheat while in use. While this isn't a dealbreaker for everyone, it's something to be aware of when purchasing one of their laptops
Build quality issues – Dell laptops aren't known for being poorly made but some users have complained about having problems with the build quality and design.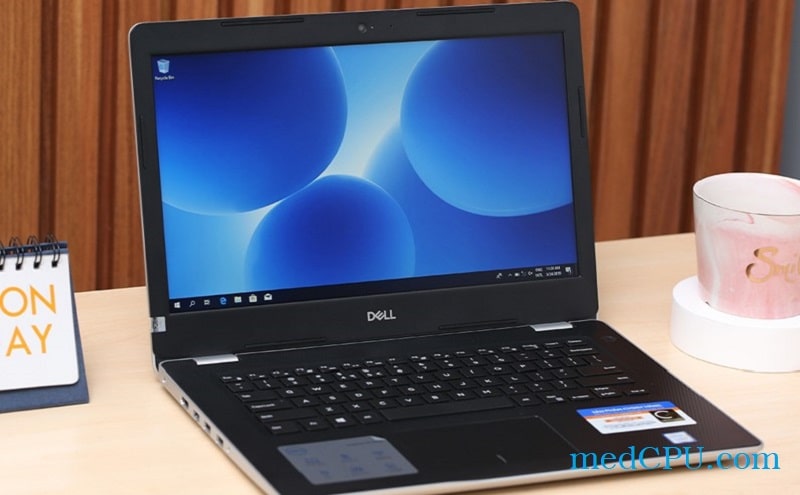 >>> Click here to see our comparison between Dell XPS 13 vs Microsoft Surface Laptop 4.
About HP Laptop:
Another well-known brand that has been in the computer industry since 1939 and its founders are William Hewlett and David Packard. HP offers a wide range of laptop models that vary in price and specifications. One thing to note about this brand is that their laptops are not built as well as other brands like Dell or Apple but they do have a solid reputation for creating reliable products at affordable prices: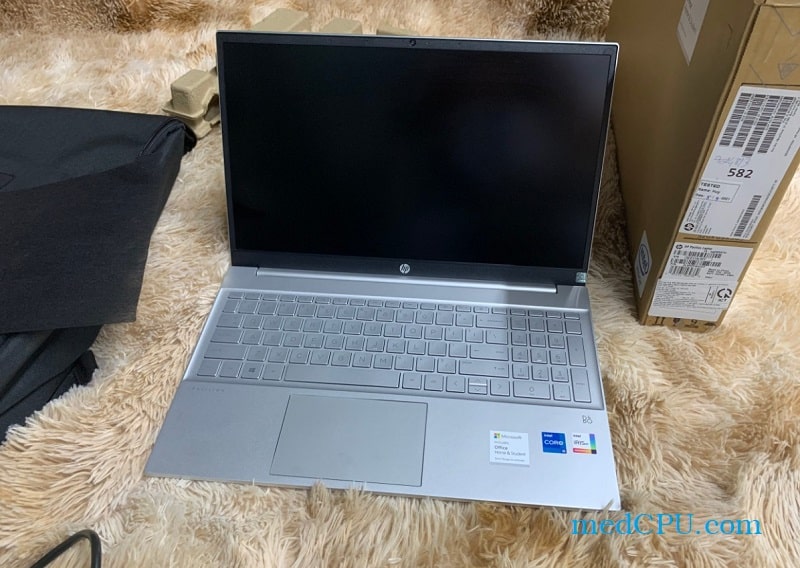 Pros
Cons

Price – HP laptops are often less expensive than the competition and many of their models fall under $800
A variety of different models available – They have a wide range of laptops, from business to entertainment.
Great for basic everyday tasks  – If you're looking for a computer that will allow you to check emails, browse the internet, or do some work on the go, HP is a great brand for that. 

Can have problems with overheating – While this isn't something that happens to every laptop model produced by HP, some can overheat while in use.
Build quality issues  – As previously mentioned, many users who purchase an HP laptop often complain about having build quality and design problems. 
Dell vs. HP: Components Specifications
| | | | | | |
| --- | --- | --- | --- | --- | --- |
| COMPANY | RAM | STORAGE | BATTERY LIFE | PROCESSOR | OTHER PROCESSOR OPTIONS |
| Dell XPS 17 | 8 GB – 64 GB | 512 GB – 8 TB | Up to 9 hours, 51 minutes | 11th Gen Intel Core i5-11400H | 11th Gen Intel Core i7-11800H, 11th Gen Intel Core i9-11900H |
| Dell XPS 13 | 8 GB – 32 GB | 256 GB – 2 TB | Up to 14 hours, 11 minutes | 1th Gen Intel Core i5-1135G7 | 11th Gen Intel Core i7-1185G7, 11th Gen Intel Core i7-1195G7 |
| Dell XPS 13 2-in-1 | 8 GB – 32 GB | 256 GB – 1 TB | N/A | 11th Gen Intel Core i7-1065G7 | N/A |
| HP Envy x360 | 8 GB – 16 GB | 256 GB – 512 GB | N/A | AMD Ryzen 5 5500U | AMD Ryzen 7 5700U, 11th Gen Intel Core i5-1135G7, 11th Gen Intel Core i7-1165G7 |
| HP Spectre x360 14 | 8 GB – 16 GB | 512 GB – 1 TB | Up to 11 hours, 30 minutes | Intel Core i7-1195G7 | N/A |
Dell vs. HP: Design and Appearance
Over the years, we have seen that Dell pays little attention to the design of its laptops. No matter the Dell and HP battle, they have always made their laptops more reliable and easier to use.
The Dell laptops are beautiful to look at and have powerful hardware components that make their lives easier. Many of their laptop designs have the same shape and style and many similarities in overall appearance. Dell's latest laptops feature sleek design concepts. The XPS 13 laptop from Dell is a popular choice when it comes down to design.
The Alienware series and Inspiron range from Dell offer many new and modern designs. The gaming series of Dell computers are sleek and slim with backlit keyboards.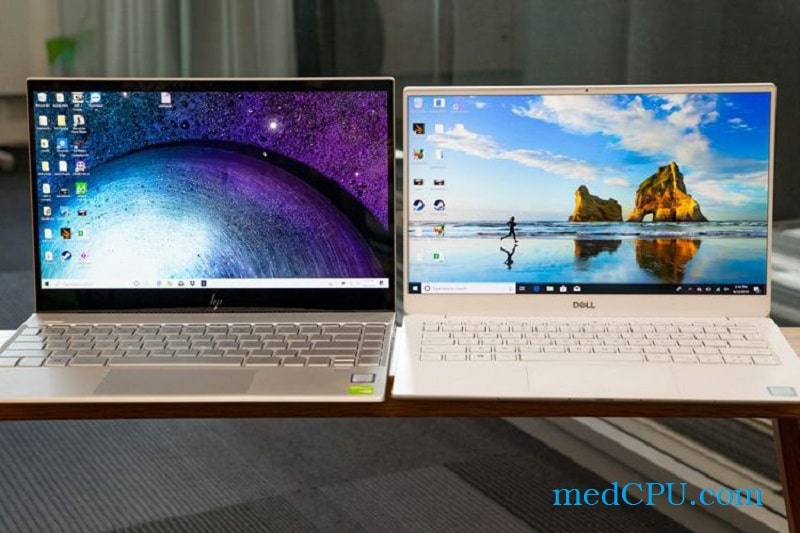 Dell has also made significant improvements to its notebooks, offering a variety of vibrant colors. If you're a fashion-conscious person, however, you can find the limitations in the design of Dell laptops to be an issue.
If you're considering the HP vs Dell laptops debate, and you identify as a person who has style, then you shouldn't buy a Dell one.
Dell vs. HP: Display and Resolution
The battle for the best display has been a constant struggle between Dell and HP. This is because Dell has a specialization in manufacturing monitors, which gives them an advantage in the display department.
The display factor has been a critical issue for Apple's MacBook Air. Apple's laptops display better retina images, but Dell's XPS series is more up-to-date in this area.
If the display is essential, you can choose from models with Intel Core i7 6th Generation processors or Intel HD integrated graphics cards. You will have a great experience with your laptop.
Dell computers are made with the NVIDIA GPU 2080 video card and the Intel Core i7 8th Generation processor.
Dell offers a range of screen sizes from 11 to 17 inches. While the budget laptop may not have HD displays, those with higher prices will still have HD displays.
The top-of-the-line Dell laptops have a 4K resolution. If you are a designer, it is worth upgrading to a laptop with a 4K resolution. This is what you should choose if you are looking for the best display quality.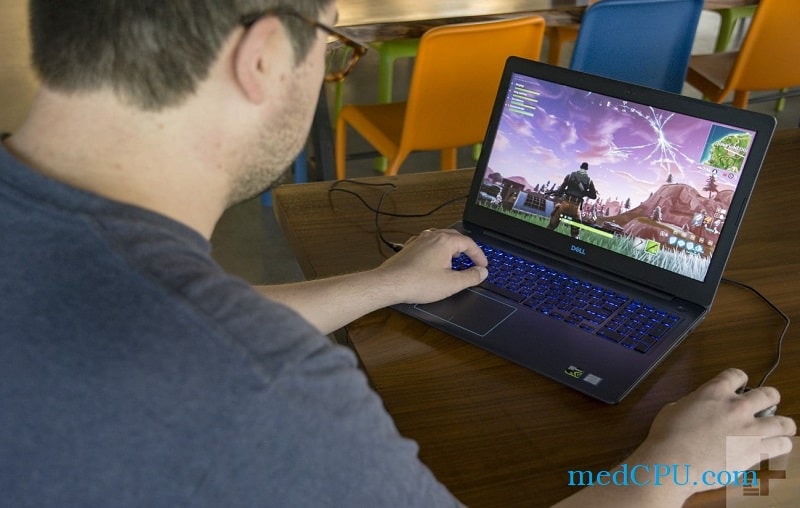 Dell vs. HP: Performance
When it comes to performance, the performance of the Dell budget laptops is not excellent. Many budget laptops offer better performance for a lower price. Dell's high-performing laptops are often stuck in expensive line-ups because they always strive for maximum performance. This is why only those with a budget can afford Dell's high-performance laptops.
The top-of-the-line Dell laptops feature high-quality processors, large RAMs and are backed by Dell's legendary support. These laptop computers are not worth the price and look like junk.
Alienware by Dell is a different story. It is the best machine on the market. It is difficult for other brands to compete with the high-performing Intel Core i9 10th Gen CPUs with Turbo Boost 2.0.
They can run at 5.3 GHz. They are the best-selling products for performance, with 4K displays, 32GB RAM, SSD disks, and other top-of-the-line hardware.
Dell vs. HP: Durability
For those looking for a laptop that will last, Dell isn't the wrong choice. With excellent customer service, most Dell laptops come with a comprehensive warranty, though this typically isn't necessary for most people.
Durability is one area where HP gets a lot of complaints. There are many stories online of people purchasing an HP laptop and degrading it within the first year or two.
This is why a warranty is so important with any new laptop. Although you should be fine with an HP laptop, they aren't entirely on the same level as Dell.
Dell vs. HP: Build Quality & Hardware
Dell
The new Dell laptops will come with at least 8GB RAM and a quad-core processor. They offer excellent performance across all platforms.
The newest models of Dell laptops have Intel Core i7 processors rather than Core i5 processors. Most HP laptops come with an i5 processor as a base, while the Macbook Air had an i3 processor up until their upgrade to M1 in 2011.
It's evident that Dell only deals in high-quality processors in this area. You won't find a dual-core processor in your Dell laptop.
You can also include Dell's Alienware brand in this argument. These are all premium laptops at high prices. They are arguably the best laptop computers, but also the most expensive.
HP
HP is a bit behind Dell. While they have very well-made laptops, they don't quite match the quality of Dell.
However, they use Nvidia Geforce graphics cards in the higher-end models and, in particular, their gaming line, HP Omen. I have been impressed by the HP Omen line in recent years and recommend it to anyone looking for a lower-priced gaming laptop.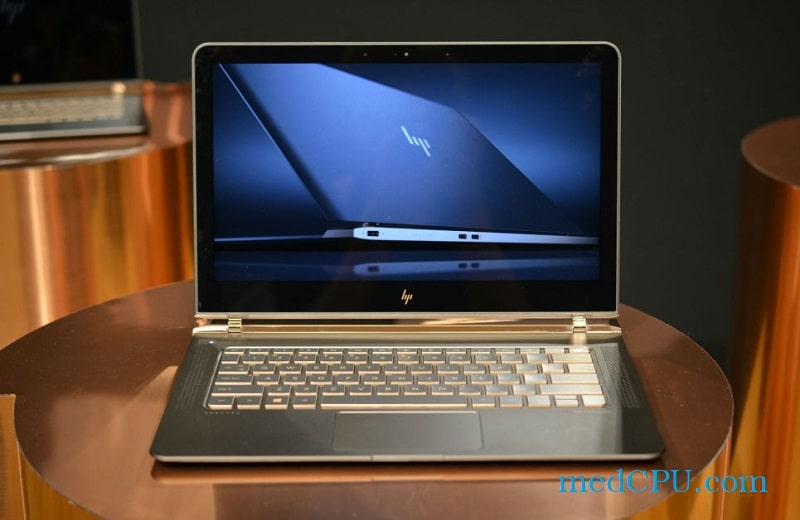 Dell vs. HP: Components
Dell
When it comes to Components, Dell is a leader in components. Dell uses high-quality, powerful components in its laptops.
Dell makes laptops with different processors and graphics cards. There's a laptop for everyone.
A 9th Gen, Intel i5 laptop with an integrated graphics card is the best choice for business use. You can also get faster laptops with the 9th, 10th, and 11th generation i7 and I9 processors. You can also get a dedicated GPU such as NVIDIA GTX 1080 to boost your performance.
With Dell's Inspiron and Alienware series, users get high-quality laptops. There are many options to choose from, regardless of your budget.
HP
Dell is the clear leader in CPU, RAM, and video card performance. Although HP laptops are compatible with Dell laptops in terms of RAM and CPU, HP laptops are not as high quality as Dell.
Dell's processors are more reliable and faster than those found in HP laptops. HP laptops are still strong and last longer, which is a plus.
Dell vs. HP: Software and hardware quality
This is one of the rare cases in which we have a tie in this HP vs Dell comparison. We surveyed more than 100 customers of HP and Dell who had bought laptops within the last year. What they said was quite interesting.
These opinions and general insights suggest that both HP and Dell offer exceptional quality in hardware.
Both brands provide notebooks with some resale value. These notebooks are unlikely to have any serious hardware problems. Things could change if the hardware is overclocked or anything else. As long as you keep to the recommended load and purpose, there is no reason to worry about hardware issues with Dell or HP laptops.
Both manufacturers do not touch the software in their notebooks. The extra software that you purchase does not consume much of your resources. The additional software can be used to optimize and control the notebooks.
You can find helpful optimization tools, such as those for keyboard customization, in Alienware laptops. You can also find such tools in HP, although they aren't very extensive.
This aspect alone makes it challenging to choose a winner.
HP vs Dell Laptops: Battery
When researching HP or Dell, battery life is another essential factor to consider. Anybody who buys a laptop, regardless of whether it is Dell or HP, will check the battery life. Nobody will ever carry around chargers all the time. If your laptop has all the right features but a weak battery, it will not be helpful.
A battery should last for an average of two years. The factors that affect the laptop's battery backup are how old it is, how often it is used and charged each day.
Dell
The lithium-ion batteries used by Dell can swell when exposed to heat or high use. The average battery life of a Dell laptop is 18-24 months. The battery becomes weaker if it is used for long periods.
HP
In any case, the battery of Hewlett-Packard is no less than that of Dell. The HP battery lasts on average for between 2 and 4 years. HP also uses a lithium-ion prismatic cell that can charge 50% in just 30 minutes. The HP battery doesn't over-drain. It's okay if you forget to plug in your HP battery, but it can drain faster if used.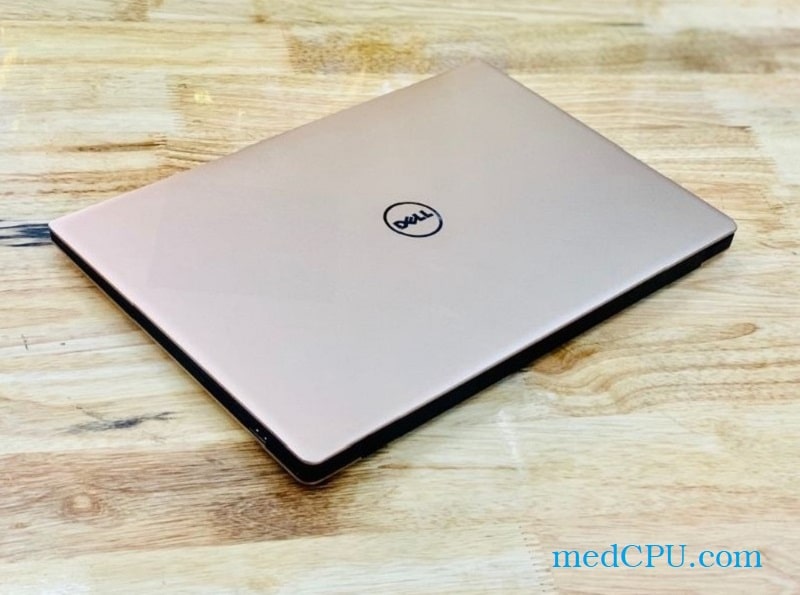 Dell vs. HP: Innovation
Dell
Innovation is a key factor in the Dell vs. HP debate. Dell leads this category. They are constantly developing new technologies and designing new concepts for their laptops.
Dell laptops are large and heavy with Dual-Core processors. This makes them more useful for business use such as email.
The research and development division at Dell does a great job. Dell is committed to expanding its market and continues to invent the design and tech behind its laptops.
Consider the Dell XPS 13 series. The XPS series is a highly-respected Dell laptop due to its lightweight and slim design. You can also control these laptops via your smartphone.
There is also the Dell Precision Series. These laptops are fast and powerful, making them ideal for video editing or other graphic-intensive tasks. Dell also offers a Control Centre for its Alienware laptops. This allows users to adjust settings according to the game.
Their latest innovations revolve around high-end laptops, according to users. This is an area that Dell needs to improve upon because they have a wide customer base.
HP
Hewlett-Packard is also a leader in innovation. The latest HP laptops are loaded with many new features that users love.
However, Dell continues to target users with their laptops and has been more innovative. Hewlett-Packard is focusing a large part of its efforts on other products, such as scanners and printers. HP has not devoted its innovation efforts to the development of laptops.
The latest HP laptops also have enhanced features. Even though they are not as innovative and cutting-edge as Dell's laptops, HP laptops still meet today's standards.
Dell vs. HP: Customer Support
When it comes to Customer Support, Dell is the clear winner when it comes to laptops vs HP. The analysis/reviews by Dell of Amazon selling speaks for itself. Customers praise Dell's fast and well-structured customer service.
Their plans also offer a better warranty than any of the other competitors. According to tech experts, Dell provides the best warranty for laptops (after Apple). Dell is quick to respond to any damage or injury to the laptop. If the company's reliability and security are at risk, it is okay to return a laptop.
Customer support and services are essential in today's world. This is something every customer should consider before purchasing a Dell or HP laptop. They offer worldwide services.
HP vs Dell Laptops: Pricing
The main issue that many people have with Dell and their subsidiary is the price. Although the laptops are of good quality and work well, you often end up paying more than you would with a cheaper brand.
However, if the price isn't too much of an issue, then it would make sense to opt for a Dell laptop in terms of reliability. But for a bargain, honestly, they're probably the last brand that I would look at.
Dell Alienware Series
It's also worth mentioning the Dell Alienware series. Some people aren't aware, but Dell owns the company Alienware too. This specialist company is usually the first option people look for when hunting for a new gaming laptop.
They tend to deal in more expensive models, with full Nvidia Geforce GTX graphics cards and a good combination of Intel and AMD quad-core processors. They're worth investigating if you're looking for a gaming laptop.
HP
Most people would agree that one of the best HP series to be released is the HP Spectre series. It's very similar to the Envy series. However, it generally has a larger trackpad and slightly larger capabilities than the Envy equivalent. The HP Spectre is more for business use, whereas the Envy is a better choice for gamers.
One reason why the x360 has proved to be so popular is because of its excellent battery life. You can quickly get 10 hours of life out of a full battery with the x360, which is an improvement compared to most other laptops available.
If you want a laptop with high performance and capabilities, then the x360 might be a good choice for you. For those looking for a convertible laptop, it's one of the best choices currently available.
While the base model has everything most will need, many will want to upgrade to the 16GB RAM option. It also has a 4K AMOLED Gorilla Glass screen, an i7 Processor, and up to 1TB of storage space. It's another excellent laptop worth considering.
FAQs about HP vs Dell Laptops
Which are better laptops for gaming?
The Alienware from Dell was a firm favorite in the past. With the launch of HP's Omen gaming laptop, it has closed the gap. Both laptops come with durable RGB keyboards and a powerful GPU. All games can be supported. It all comes down to personal preference and your budget.
What is the most significant problem with Dell?
The biggest problem with Dell is its inability to change the design. They could upgrade their RAM, Graphics, CPU, etc. They would never make any design changes.
Why are Dell Laptops getting more expensive?
In the beginning, Dell was a low-quality but affordable brand. The market grew, and the demand for quality products increased, so the market's rich segment began to grow. People were willing to pay more. However, Dell still produces laptops with low-cost lines.
Are there any other laptop manufacturers I should know about?
Yes! There are plenty of other smaller computer companies out there who also make excellent products but aren't as well known as Dell or HP.
Lenovo is a great choice if you're looking for something similar to an Apple laptop, Toshiba laptops are perfect for gamers and other entertainment purposes while ASUS makes incredible high-performance gaming laptops that can run the latest games at full graphics with ease.
Which brand of laptop should I avoid?
If you need a laptop that is a good choice for everyone, you should probably avoid Acer laptops. They are known to have problems with overheating and their build quality isn't nearly as high-quality as other brands so it's important to keep this in mind if you're looking into buying one of them.
How much RAM do you actually need??
The amount of memory that your laptop needs are dependent on what you plan to do with it. If you're just using the computer for basic tasks such as checking emails, browsing the internet, and word processing then a minimum of four gigabytes should be enough but if you want something more powerful than that, six or eight gigabytes would work well.
What is a good amount of storage space to have?
The best way to figure out how much memory you need for your computer is by looking at the type of files you plan on storing. If you use large video or photo files, then it's important that you get something with plenty of hard drive space so that those files can run smoothly.
Which is better for gaming: HP or Dell?
This brand is now a leader in gaming thanks to its Alienware gaming laptops. The most powerful dell laptops are dell's Alienware laptops, and they are market leaders.
These laptops are made with the finest components. You can play even the most demanding games.
Which HP Laptop should I buy?
HP Spectre x360 14
HP Envy x360 13
HP Envy 13
HP EliteBook x360 1040 G7
HP ZBook Create G7
HP Chromebook x2
HP Omen 15
HP Pavilion
Conclusion: Which Brand is better?
If you're looking for a decent laptop that will allow you to do basic everyday tasks but doesn't want to spend an arm and a leg, either Dell or HP is perfect.
However, if you need something more powerful than that like higher memory/storage space and better processing power, Dell is the way to go. It's important to note that both brands offer the best laptops for every need so it really comes down to your personal preference!
Custom Message:
Thank you for reading our comprehensive comparison between Dell and HP laptops. We hope this article has helped you gain valuable insights and make an informed decision. If you have any more questions or need further assistance, feel free to reach out to us. Happy laptop hunting!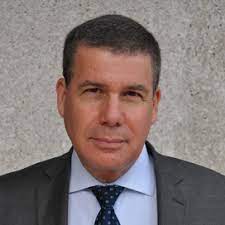 Eyal Ephrat serves as the co-founder and CEO of medCPU.com, where technology is making significant strides in the field of medicine. Through his experience in purchasing PC and laptop equipment and various other tech products, Eyal Ephrat contributes valuable insights to medCPU's mission.