AMD has officially launched two new high-end desktop CPUs, the AMD Ryzen 7 3700x and the AMD Ryzen 7 5800x. Both of these chips are intended to be replacements for their predecessors due to their similar power and performance. In this post, MedCPU will compare one of the most popular Ryzen 7 CPUs, the AMD Ryzen 7 5800x vs 3700x, to assist you in making your selection.
About AMD Ryzen 7 58000x
The Ryzen 7 5800X is a "monolithic" 8-core processor, which means that all eight of its cores not only use the same silicon, the "Zen 3" CCD, but also a shared L3 cache. AMD's Ryzen 5000 CPUs continue to use a multi-chip module, code named "Vermeer" for this iteration. The elimination of 4-core CCX complexes in order to unify cores on the CCD should yield rewards in the form of lower inter-core latencies and virtually double the amount of L3 cache each core may address.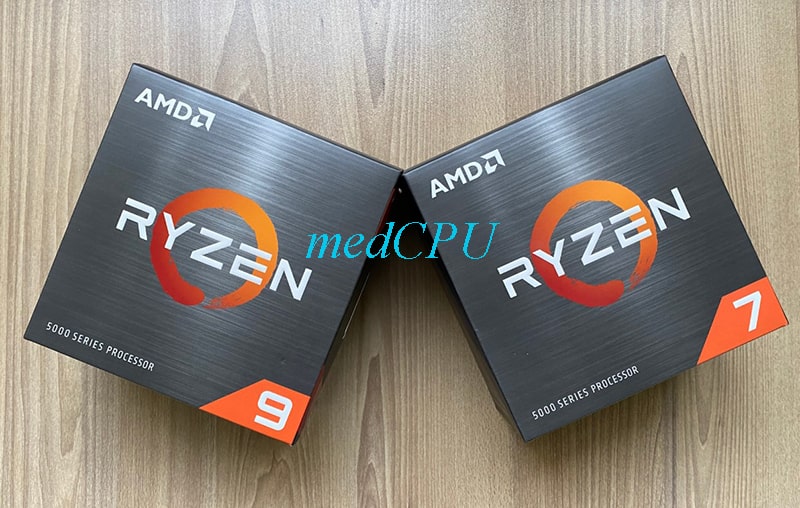 The 5800X is marketed as a high-end gaming desktop CPU that can run at any resolution. For next-generation graphics cards, the chip preserves a contemporary PCI-Express 4.0 bus.
Pros:
Fantastic all-round performance
Great multi-threaded performance
Low power consumption
Supports PCIe 4.0
Cons:
Fairly expensive
Intel still has the edge for gaming
About AMD Ryzen 7 3700x
The AMD Ryzen 7 3700X is a wonderful example of what AMD has attempted to deliver for its mainstream customers. It not only outperforms the chip it replaces in terms of power, but it also consumes less power. The AMD Ryzen 7 3700X has a lot going for it, from its performance and low power consumption to its inexpensive pricing.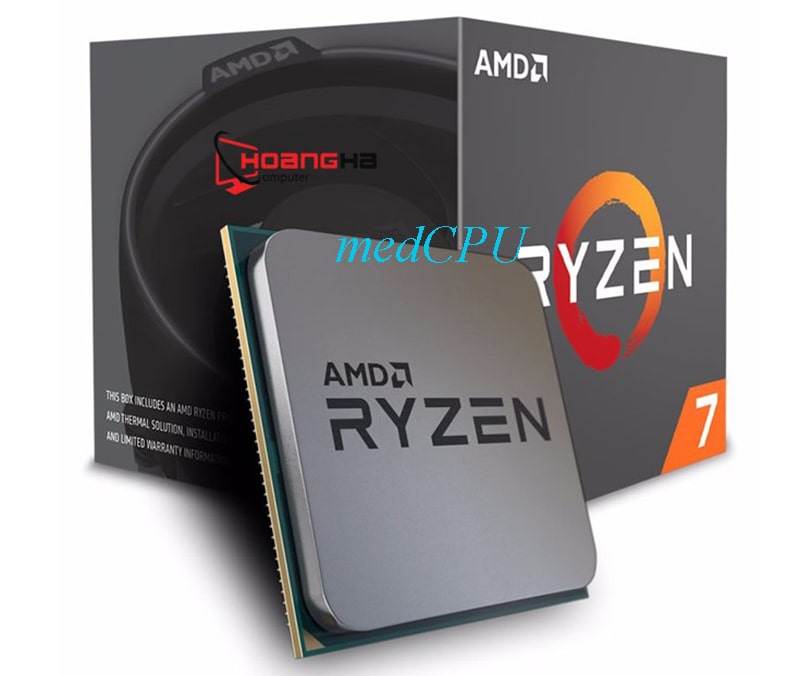 While it may not equal the performance of other AMD Ryzen 3rd Generation CPUs like the Ryzen 9 3900X, it does provide a lot of performance for a low price. It is the ideal CPU for many people, as it is based on the Ryzen 7 2700X's 8-core, 16-thread configuration.
Pros:
Incredible price to performance
Affordable
Included cooler
Cons:
Single-threaded performance still falls behind Intel
>>> Read more: AMD Ryzen 7 3700x vs 3800x: Which CPU is right for you?
Specifications
Cache Memory
Cache memory is often divided into three zones: L1, the smallest and fastest to access; L2, the medium-sized and slowest zone to get information from; and L3, the biggest and slowest zone to retrieve information from. The Ryzen 7 CPUs achieved parity once more, with both having a 512KB L1 cache, a 5MB L2 cache, and a 32MB L3 cache. The same DDR4 3200 memory types are supported by both systems.
That is, whichever of these CPUs you pick, you are perfectly prepared for some high-quality gaming. For a good gaming experience, you just need about 16MB of total cache capacity. You can even get away with 8 for some games, but with a little over 37MB total, both CPUs are suitably future-proofed, ready to tackle more demanding games as and when they become available.
Cores
The more cores a CPU has, the better for parallelizing workflows it is. Because both the 3700X and the 5800X contain 8 cores, they should be about equivalent in terms of overall processing capability. Running a demanding game, having a lot of tabs open, listening to music, downloading material, or streaming all at once may create some issues. Extra cores will be extremely beneficial if you are a heavy multitasker.
Clock Speed
The base clock speed of the 3700X is 3.6GHz, with a maximum boost frequency of up to 4.4GHz. That is certainly quick enough to deliver a fun, lag-free gaming experience (internet allowed). The 5800X features a base clock speed of 3.8GHz and a maximum frequency of up to 4.7GHz.
Depending on the game, each 1GHz increase in clock speed adds about 30 frames per second. That comes out to roughly 3 frames per second for every 0.1GHz, so the 5800X should have around 6 more frames per second than the 3700X at basic rates and around 9fps when boosted.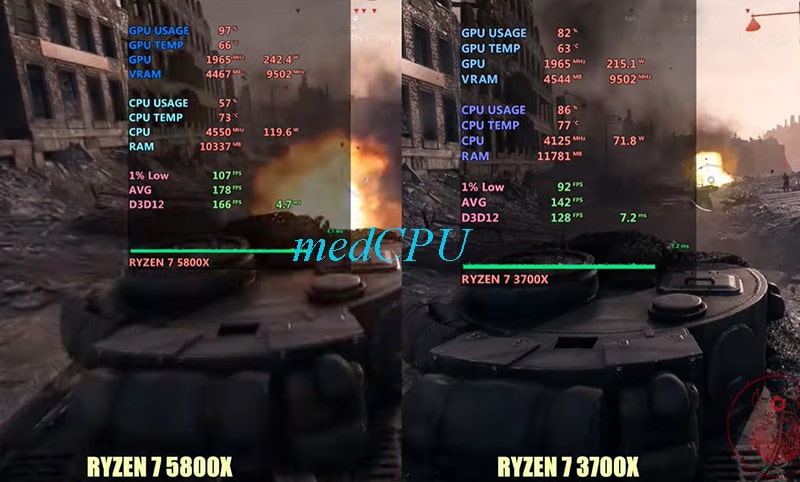 Both Ryzen 7s are unlocked for overclocking. Overclocked, the 3700X achieves a reasonably consistent 4.3GHz. When overclocking the 5800X, you may expect to get 4.7GHz, which is slightly more spectacular, but neither will significantly improve gaming. It's also worth noting that the 5800X has a 90-degree maximum heat carrying capacity, which is 5 degrees cooler than the 3700X, so it's probably not worth trying to overclock it unless you have a fantastic liquid cooling system.
Threads
Multi-thread cores are critical to meeting the needs of today's computer gamers. They enable twice as many commands to be processed at the same time. More threads allow for more information to be processed at once, but they also slow down cores. Single cores outperform threaded cores in tasks that need flawless threading, such as video editing. Fortunately, the 3700X and 5800X both offer multi-thread core architectures with a total of 16 threads.
Components and Features
Precision Boost 2 and Precision Boost Overdrive
These capabilities are shared by both Ryzen CPUs. Precision Boost 2 is an extremely intelligent scaler-style mechanism that successfully reallocates clock speed to the threads who require it the most. Precision Boost Overdrive has the incredible potential to increase your clock speed by 100 to 200MHz over what the chip is technically rated for.
>>> Read more: Ryzen CPUs Wiki
Onboard Thermal Solutions
The Ryzen 7 3700X has the sleek Wraith Prism fan cooling system. It's a decent piece of hardware, and the LED lighting makes it appear really beautiful, but the Ryzen 7 5800X doesn't come with any kind of heat solution.
However, if you want to push the 3700X to its limits with demanding apps and overclocking, you'll need something more efficient in the fan area, preferably liquid.
PCI Express 4.0
PCI-e 4 is a cutting-edge technology, despite the fact that it has been around since Zen 2, thanks in part to AMD's proprietary technologies. PCI-e 4 will not be seen on Intel CPUs for some time. PCI-e 4 enables unprecedented communication rates between peripheral devices, such as video cards, and the rest of your computer. Both Ryzen 7s in question have PCI-e 4 slots.
Gaming
The 5800X outperformed the 3700X with an average of 287fps during COD Modern Warfare. During Battlefield V, the 3700X narrowed the margin to an undetectable 7fps difference. The 5800X also beat Metro Exodus with an average of 134fps and Fortnite with an 11fps triumph.
Red Dead 2 was a shooter, yet the 5800X triumphed again by a hairline 5fps. GTA V definitely challenged these CPUs, with both earning an average of over 200fps, although the 5800X was 12fps ahead of the 3700X. The 5800X also performed admirably in Assassin's Creed Odyssey, averaging 137fps compared to the 3700X's 124fps.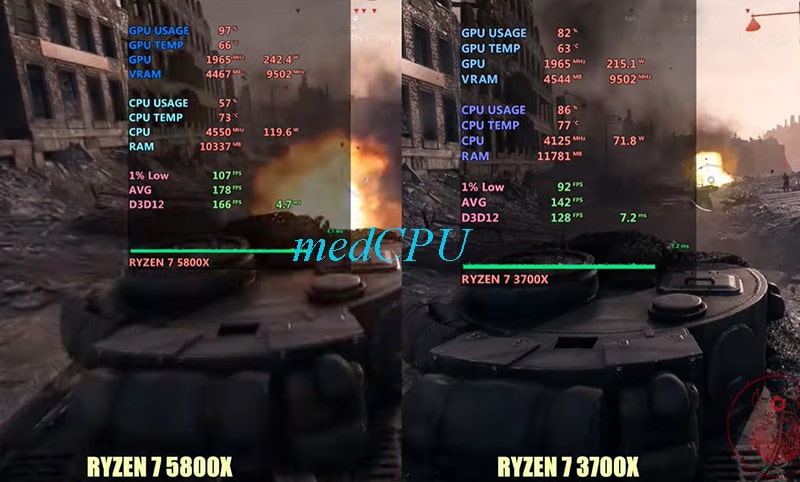 Verdict
Despite being a very old CPU by technological standards, the Ryzen 7 3700X is still a tremendously popular machine. We believe this is because it truly provides the majority of gamers with everything they need to completely immerse themselves in their games, as well as a bit extra owing to AMD's future proofing attitude.
In terms of availability, the 5800X should be well-stocked by all of the major electronics stores in the coming months. They'll also be available on major online markets like Amazon any day now, so keep your eyes open. The 3700X is still commonly accessible through small and major electronics retailers, as well as larger conglomerates such as Amazon. At the moment, the 3700X has a sizable second-hand market.
Conclusion
AMD Ryzen 7 5800X is superior since it is more powerful and multi-core; AMD Ryzen 7 3700X is less powerful but less expensive. AMD Ryzen 7 3700X is the best value for money when it comes to performance and pricing. If not, you should go with AMD Ryzen 7 5800X. You have a choice!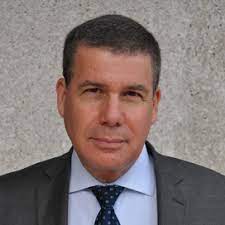 Eyal Ephrat serves as the co-founder and CEO of medCPU.com, where technology is making significant strides in the field of medicine. Through his experience in purchasing PC and laptop equipment and various other tech products, Eyal Ephrat contributes valuable insights to medCPU's mission.