Webcams are no longer as difficult to obtain as they were last year when the pandemic forced everyone to stay at home. Remote work and lockdowns became the norm, and video conferencing became the only way to communicate with anyone. Although a basic laptop webcam can be used, the results are frequently fuzzy and dim, making it difficult for those on the other end of a video conference to see and connect with you. A USB webcam will improve the quality. Consider the best quality webcams when purchasing your first webcam or upgrading an existing one. Today, MedCPU will assist you in selecting the best webcams for video conferencing.
What features should you look for when purchasing a webcam?
1. Budget webcam
Webcams can range in price from £15 to £150 and up. The main difference between cheap and expensive webcams is resolution, which ranges from the archaic 640 x 480 (VGA) to the now-standard 1,280 x 720 (720p) or 1,920 x 1,080 (1080p). Some are also reaching 2,560 x 1,440 (QHD) and 3,840 x 2,160 resolutions (4K).
2. Resolution
The number of pixels that a webcam can capture is referred to as its resolution. Almost all webcams use the same abbreviations as TV: 720p, 1080p, and 4K. The resolution of most video conferencing software is limited to 1080p. Higher resolutions will increase the price and are often overkill for the average user, so before purchasing a webcam, consider your budget and what you intend to do with it.
3. Viewing angle
This is the observable area that a camera can display in degrees. A higher number indicates a broader field of view and a more expansive perspective. A narrow field of view is often preferable because it highlights your face while obscuring the background, but a wide field of view is useful when a webcam needs to show multiple people at the same time. The majority of webcams have a field of view that ranges between 60 and 90 degrees.
4. Tripod mounting
All of the webcams usually come with a built-in mounting system that keeps the webcam balanced on top of your monitor. Many webcams can also be attached to the mounting screw of a tripod. Look for this feature if you want more control over how the webcam is positioned.
5. Framerate
While the majority of these cameras record at the standard 30 frames per second (fps), the best webcams can record at 60 frames per second (fps). A high frame rate isn't required for the average user, but it's nice to have if you're streaming or frequently making video calls.
6. Privacy
Webcams with built-in privacy features are easy to appreciate. While it's simple to reach over and unplug a webcam, many of them now have built-in covers that you can physically close to ensure your privacy with minimal effort.
Best webcams for video conferencing
[amazon box="B07K95WFWM,B004FHO5Y6,B07TYWPM67,B075N1BYWB,B085TFF7M1,B07S1RQRRB,B06XPVDCRL,B01N5UOYC4,B07FNF3CP3,B076TZL7TZ" ]
1. Logitech C920s HD Pro
The Logitech C920S is one of the best video conferencing webcams. The fact that videos can be streamed in full HD (1080p) at a frame rate of 30 fps distinguishes this camera from the competition. Furthermore, the glass lens makes each video shoot crisp and vibrant.
[amazon box="B07K95WFWM" template="horizontal"]
This device is compatible with a variety of computing devices running a variety of operating systems. The automatic light adjustment feature ensures that you have the best video conference experience possible, even in low-light situations. This model has a dual-integrated microphone on either side of the camera. It not only provides excellent sound quality, but it also captures natural stereo, allowing people on the other side of the camera to hear your true voice.
A privacy shutter is attached to this camera. This privacy shutter gives you control over the data, allowing you to choose what and how much is hidden. As a result, this privacy shutter is a dependable option that is simple to turn on and off the device. When not in use, the shutter over the lens protects it.
Pros
Sleek, versatile design

Privacy shutter protects the camera lens

Customization of settings

Low lighting feature

Different types of focus

Excellent picture quality

Handy companion software
Cons
No 60 fps recording

Field of view not adjustable
2. Logitech C270 HD Webcam
The Logitech C270 webcam supports the 16:9 aspect ratio, making it one of the best webcams for a large conference room or team. This camera features Logitech Fluid Crystal technology, which produces clearer images. Its automatic light correction feature provides auto-configuration of the focused area for optimal output. This ensures that the colors are vibrant and natural.
[amazon box="B004FHO5Y6″ template="horizontal"]
The webcam is designed to work with the most popular current platforms and operating systems. While there is a minimal system needed to run the camera in HD, it can still function on an older operating system such as Windows XP SP2 for good outputs. It includes two years of warranty and Logitech Vid HD software for optimal operation. The webcam also features a universal mounting clip that allows it to be placed on a laptop or stand on a table or shelf, however it does not have a privacy shutter.
Pros
Background Noise Cancellation

3-MP Single SnapShot images

Five-foot-long cable for extension

Smooth HD Recordings

Inexpensive

Auto light correction
Cons
It does not come with a built-in flashlight

No pan, tilt, and zoom

It is not possible to change the field of view.
3. Logitech StreamCam
The Logitech StreamCam helps you with video conferencing, video chatting with family and friends, or live streaming your games. It can be tripod-mounted and uses USB Type-C for faster and more efficient video transfer speeds. The Logitech Streamcam has a superior glass lens with a smart auto-focus feature and can record in 1080p at 60 frames per second, ensuring that you look good no matter what you're doing.
[amazon box="B07TYWPM67″ template="horizontal"]
It boasts auto-framing and clever exposure to keep you in the center of the photo and in the best light at all times. The camera may be mounted in either landscape or portrait mode. Its ultra-fast USB-C connection assures consistent quality, and you can even use Logitech Capture Software to improve things further if needed.
Pros
Excellent picture quality and framerate

Offers landscape and portrait recording

Auto-focusing

Supports 60fps

Premium glass lens
Cons
4. Razer Kiyo
The Razer Kiyo Pro is just what you need to give your conference calls. A 5600K light ring is adjusted around the camera to provide excellent lighting without the need for further setup. It has a wide-angle lens with three different field-of-view settings: 103, 90, and 80 degrees. This makes the camera more versatile because you can use a broad field of view to showcase your background or crop in tighter to focus on your face.
[amazon box="B075N1BYWB" template="horizontal"]
It is a very compatible camera that can be installed on any PC or laptop and is compatible with most operating systems. It is simple to connect to any device that has a USB port. This camera can also be combined with Twitch TV or Xbox, although with fewer interactive options. Unfortunately, 4K resolution is not supported. Given the Kiyo Pro's pricing, this is a letdown. However, because most video conferencing and streaming sites do not offer 4K, this may not be a major issue for you.
Pros
Brightness settings are adjustable.

Two quality streaming 720P/1080P

High framerates of 30 and 60 FPS

Integrated ring light

Adaptive light sensor

Uses STARVIS technology
Cons
Pricey for a 1080p / 30fps webcam

Manual HDR activation
5. Logitech C922x Pro
Logitech is already well-known for producing high-quality, dependable computers, and the C920x webcam is no exception. It captures 1080p HD video at 30 frames per second, which is more than enough for video conversations with family or coworkers. It also boasts a 78-degree field of view and two omnidirectional microphones that capture natural-sounding audio. With its plug-and-play simplicity, this one is a breeze to set up. Its adjustable clip and threaded base provide versatile and secure mounting options for displays, laptops, and tripods.
[amazon box="B085TFF7M1″ template="horizontal"]
The two built-in microphones provide the greatest audio quality and noise cancellation. It's the best-suited webcam for huge conference rooms that are noisy or people who talk too much at your office because it has a terrific camera and audio quality that is outstanding at noise cancellation.
The backdrop feature is one of the major reasons why this device has acquired popularity. You can use this to alter the background without leaving your current location. So, even if you're on vacation or anywhere other than your workplace, you can still contact your clients and be professional.
Pros
Removing the background

720p resolution at 60fps

Noise cancellation to reduce extra voices

Clear video in any light condition

Autofocus

Inexpensive
Cons
No 4K or 60fps

Narrow field of view
6. AUSDOM AF640 webcam
The AUSDOM AF640 distinguishes out because to its visual capabilities for up to 1920 x 1080 pixels and built-in autofocus. The webcam's active autofocus capability is excellent for adjusting the focal length, especially to accommodate angles that vary based on the nature of zoom meetings and other video conferencing.
[amazon box="B07S1RQRRB" template="horizontal"]
The AUSDOM AF640 Business Webcam's super-large aperture easily ranks it as one of the best accessories for dimly lit circumstances. This integrated and built-in microphone offers noise reduction capabilities and effortlessly eliminates transmission and external noise, resulting in voice-purified audio transmission. The simple plug-and-play flexibility complements the stereo microphones wonderfully.
If you're looking for a low-cost camera with superb visual and auditory quality, the AUSDOM AF640 is a great choice. Furthermore, the dimensions and weight are within acceptable limits, making this webcam a very portable solution.
Pros
Autofocus

Omni-directional microphone

Zoom-compatible as per the audio test

For increased security, a dedicated privacy shutter is installed.
Cons
The field of view is limited to 90 degrees.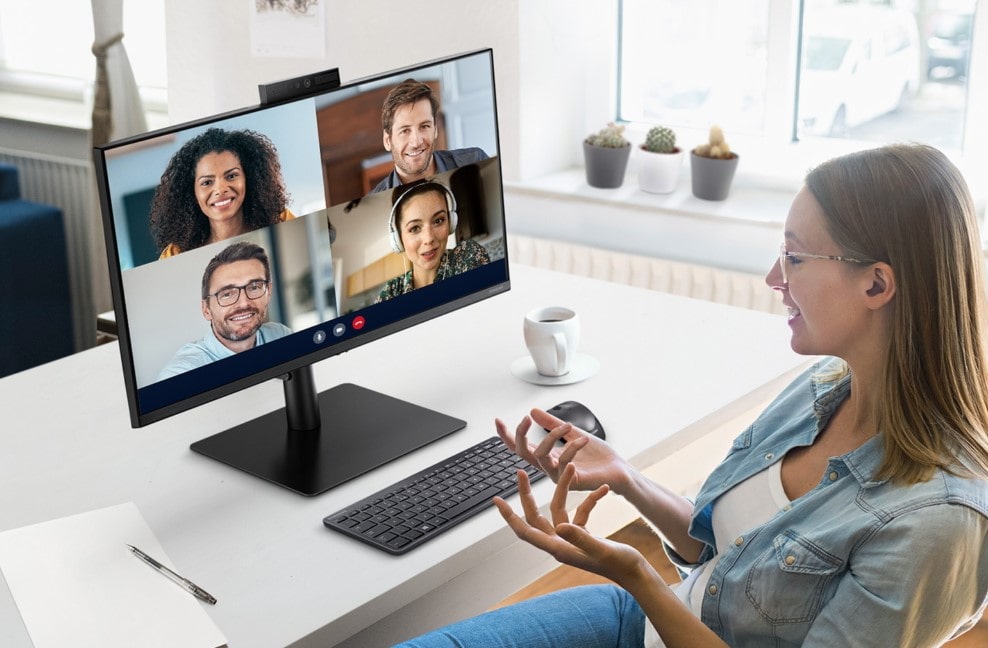 7. Logitech C930e
The Logitech C930e camera appears similar to the company's super-popular C920, but it offers a few more business-oriented capabilities. The C930e features a broader field of view (90 degrees), allowing you to fit more into the frame. It also contains omnidirectional microphones, allowing it to pick up more of the conversation in the room.
[amazon box="B06XPVDCRL" template="horizontal"]
The camera lens is flanked by two omnidirectional speakers meant to capture clear audio from up to a meter away. The lens can be covered by a flippable privacy shade. I used it for a variety of Google Meet and Zoom room talks to test the video and audio quality, comparing it to my laptop's built-in webcam. The quality of the video and audio output was consistent regardless of the software or app I utilized. With the Logitech C930e, the range of view was greatly increased, and visuals were significantly more realistic.
The C930e is certified for Skype for Business, Microsoft Teams, Cisco Webex, Fuze, Google Meet, GoToMeeting, Zoom, and other prominent platforms as a business-centric device. It works with Chromebooks (OS v. 29.0.1547.70 and higher), as well as Mac and Windows PCs.
Pros
Excellent microphone quality

Viewing angles are broad.

Crystal-clear video

Shutter for privacy
Cons
8. Logitech BRIO
The BRIO webcam is simply the best webcam in terms of video quality. In our tests, its 4K camera (2160p/30 fps) provided a crystal-clear image. This premium webcam also has 5x HD zoom, three fields of view (65, 78, and 90 degrees), and the option to add text to your image using the Logitech Capture program. The camera also has optical and infrared sensors for facial recognition software and security compatibility.
[amazon box="B01N5UOYC4″ template="horizontal"]
The camera's best feature is that the user can completely change the camera's settings. Background elimination, which is similar to a green or blue screen effect, is a fun feature with this camera. It includes not one, but two omnidirectional microphones to ensure high-quality sound capture. The receivers' voice cancellation offers high-quality, crystal-clear output sound. Furthermore, it works with any primary website or app that supports cameras.
It is one of the most popular cameras for video conferences and office work, aside from game streaming because its sleek form makes it great for the office. The tripod embeds and clips make it simple to modify and use with tripods as well as any PC or Laptop type device.
Pros
Two noise-canceling omnidirectional microphones

Autofocus, light correction

Three different angle settings for view

Adjustable field of view

5x Zoom

Crystal-clear video

High dynamic range
Cons
Expensive

Background removal necessitates the use of separate software.
9. Dericam Webcam
Dericam Webcam is a versatile webcam that may be used for streaming, video conferencing, and simple video chats on Zoom or Skype. It is lighter and easier to transport. We have used it in our business and found it to be an excellent webcam for our conference room.
[amazon box="B07FNF3CP3″ template="horizontal"]
Dericam Webcam has a 2 Megapixel camera with a glass lens that produces 1920 x 1080 or 1080P quality outputs. It delivers 30 frames per second for a vivid and attractive output of films and photographs. It has a viewing angle of 75 degrees, making it suitable for streaming as well as conference and group calls. This camera is not bothered by the presence of a big number of individuals in a group.
It is compatible with Windows 7, Android 4.0, and all subsequent operating systems. The camera has a USB 2.0 or higher universal connector and can connect to gaming consoles such as the PS4 independently. Background noise cancellation is built into the microphones, allowing for continuous audio and video transmission with no interruptions or screeching sounds in the background.
Pros
1080P and 30FPS rate output

75-degree view angle

Flexible rotation and adjustable clips

PS4 and other gaming systems are supported.
Cons
The microphone is only useful at close range.

Separate software is required for recording.
10. Ausdom AW620 Pro
Ausdom AW620 Pro can be used on any platform. It is compatible with Windows 7, macOS, ChromeOS, and Android V.5 or higher. Its adaptable design allows it to securely mount or fix any device. Users can also employ tripod stands for more stability and better recording if necessary.
[amazon box="B076TZL7TZ" template="horizontal"]
It has a full 360-degree rotation option to accommodate the user's selected angles. The camera has a 1080P HD output and a frame rate of 30FPS. It is perfect for live streaming and chatting. If background noise disturbs you, its background noise filtration will help you improve the sound quality.
The Ausdom AW620 Pro has automated light and brightness adjustments to give appropriate results without sacrificing color composition. Aside from the angle selection, it also features a manual focus option to further its versatility. The product includes a standard five-foot cord. It also has an LED light indicator for the camera's operation.
Pros
Option for 360-degree rotation

1080P HD and 30FPS Rate

All major platforms are supported.

LED Light indicator

Light and Compatible
Cons
AMCAP software limits the camera's functions.
>>> Read more: Best Cpu For 1050 Ti 2022: Recommended For You
FAQs
1. Why use a webcam for video conferencing?
As a person who often uses the camera to serve work as well as study, you must rely on high-quality video conferencing tools, particularly a camera with depth-of-field and autofocus capabilities. These functionalities are not commonly found on on-device webcams. Furthermore, dedicated webcams have a better acoustic setup and Omni-Directional microphones for transmitting noise-free audio.
>>> Read more: https://smallbusiness.chron.com/benefits-having-webcam-69111.html
2. Which variables should be prioritized when linking a webcam with other devices?
Nothing tops the effectiveness of USB-enabled gadgets. Webcams that support the USB mode have less transmission loss and are better suited for showing undistorted video.
3. What features do you need to focus on before buying a webcam for conferencing?
The most important feature to consider is light efficiency. This function ensures a wider lens aperture, allowing the camera to attract more light for managing video conferencing sessions in low-light conditions.
>>> Read also: https://www.hp.com/us-en/shop/tech-takes/how-to-connect-hd-webcam-to-laptop-or-pc
4. What is the best camera angle for streaming and video conferencing?
If you work in a more demonstrative field, you will only need such a wide vision; otherwise, a 90-degree rotation will suffice.
Conclusion
These webcams were handpicked to fulfill the needs of the majority of office conference rooms and are used by many businesses. Their compatibility and remarkable outputs earned them a spot on the list. Furthermore, the affordability of these cameras on the web market makes them accessible to the bulk of the population. We hope you find a webcam that is perfect for you.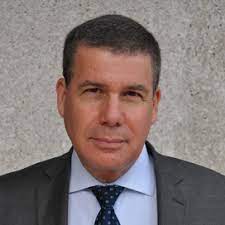 Eyal Ephrat serves as the co-founder and CEO of medCPU.com, where technology is making significant strides in the field of medicine. Through his experience in purchasing PC and laptop equipment and various other tech products, Eyal Ephrat contributes valuable insights to medCPU's mission.