When it comes to picking a motherboard, there are a lot of different areas to consider. Whether you're going AMD or Intel, Ryzen or Core i7, the latest chipsets offer numerous innovations to help you get the most out of your system. If you're considering a new motherboard, you may want to consider the B550 vs X570 motherboards.
It's a big decision to make, but it should be a little easier once you know all the differences. Read our guide below to see these two chipsets comparisons and choose the right one for your build.
This article will explain what you need to know about the two chipsets x570 and b550 regarding performance, features, Connectivity, and price.
AMD B550 Chipset Review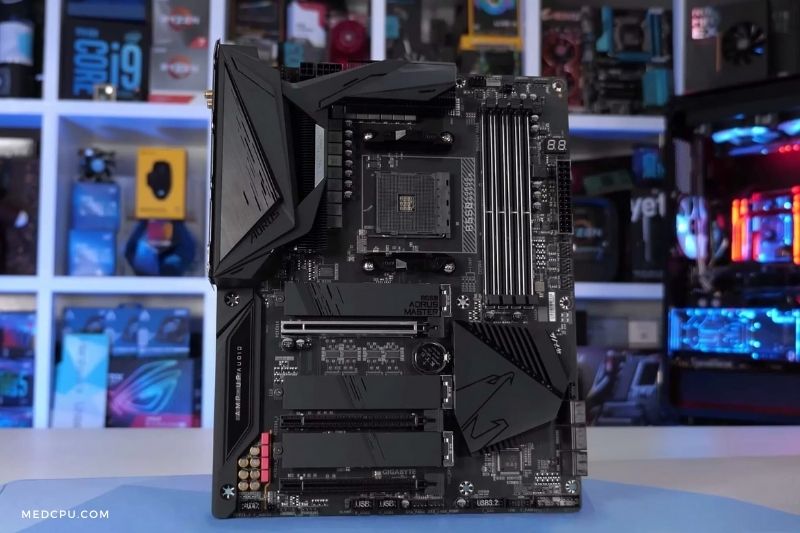 The launch of B550 was when AM4 was beginning to lose its support for the 5-year guarantee promised in 2016. After a year of delays and non-stop delays, AMD finally released B550 in 2020. The B550 is a significant upgrade to the B550-A.
The B550 is packed with tons of features and is ideal for power users who want flexibility, overclocking PCIe 4.0 connectivity, NVMe storage, integrated graphics, and PCIe 2.0 connectivity.
The B550A does not have PCIe 4. (check out the differences between PCIe 2.0 Vs 3.0 Vs. 4.0 Vs. 5.0). This is twice the speed of the PCIe 3.0 and allows for a data transfer rate of up to 16 GT/s. This latest version of mainstream AMD processors is fully compatible with AMD Zen 3 CPUs.
This chipset is the most affordable on the market, despite not having seen a significant technological advance over the B450. It features PCIe 2.0 support and additional upgrades like NVMe drives. It also has increased USB x3.0 ports, enhanced VRMs, faster LAN, faster LAN, and WLAN adapters.
Pros of B550:
Depending on your needs, some models may be more affordable than the X570.
Some VRMs are better for a similar or lower cost.
Some people have more networking capabilities than others.
There is no other choice than X570 if you need a smaller mATX motherboard.
An internal front USB Type C header is cheaper for cases like the NZXTH510, which has front USB C ports (X570 boards with USB C front headers are more expensive).
There is no chipset fan aboard, so there is no chance of any noise from the board. Also, you don't have to worry about replacing it in the future.
AMD X570 Chipset Review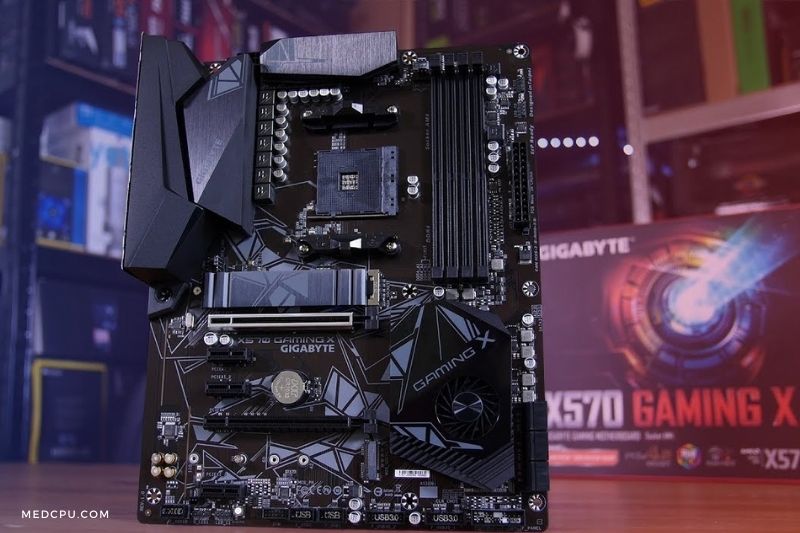 AMD's X570 chipset is the first deployment of technology that was shown on Epoch. Most modern motherboards are equipped with the AMD X570, keeping with the shift to PCIe 4.0.
The x570 is the first AMD consumer motherboard with native PCIe 4.0. The X570 is a significant upgrade to AMD's B550 and features PCIe 4.0, faster USB ports, and a higher power draw than previous generations.
The X570 was designed explicitly for streamers and gamers who require high performance, enhanced connectivity, and a cutting-edge gaming experience. The unique architecture of the AMD X570 is what makes it stand out. It is the first Ryzen chipset to be manufactured and developed in-house at AMD. Additionally, the AMD x570 comes with USB 3.1 Gen 2 support.
Pros of X570:
You may find some models more affordable than the B550 at a comparable price (depending on your needs).
Can support multiple PCIe 4.0 M.2 SSDs
Multiple PCIe 4.0 expansion slots can be offered
You will generally have more USB 3.0 Gen 2 ports
The only real option for 8 SATA ports or more
For faster overall connectivity, more PCIe 4.0 lanes are needed
Best support for multi-GPU (AKA NVidia SLI).
Ryzen 3000 series APUs (300G and 3400G) Supported
Supports Ryzen 2000 series CPUs (Ryzen 7 2700X, etc.)
The only way to obtain extreme 5G and 10G LAN ports
Extreme overclocking is possible with this option. Make sure to use the additional four-pin connector in addition to the main 8 pins.
>>> Read also our comparison guide between Intel Core i7 vs i9: https://medcpu.com/intel-core-i7-vs-i9/
AMD b550 and x570 Chipset Comparison
Premium B550 Models vs Budget X570 Models
B550
Launch MSRP (USD)
Similar-Priced X570
Current Price Estimate (USD)
ASRock
ASRock B550M Steel Legend
$154.99
ASRock X570 Phantom Gaming 4S
~ $140
ASRock B550 Steel Legend
$179.99
ASRock X570 Phantom Gaming 4
~ $170
ASRock B550 Extreme 4
$184.99
ASRock X570M Pro4
~ $185
ASRock B550 Phantom Gaming-ITX/ax
$199.99
ASRock X570 Steel Legend
~ $200
ASRock B550 PG Velocita
$219.99
ASRock B550 Taichi
$299.99
ASRock X570 Taichi
~ $300
ASUS
ASUS TUF Gaming B550M-Plus
$159.99
ASUS Prime X570-P
~ $160
ASUS TUF Gaming B550-PLUS
$169.99
ASUS TUF Gaming X570-Plus
~ $165
ASUS TUF Gaming B550M-Plus WiFi
$179.99
ASUS ROG STRIX B550-F Gaming
$189.99
ASUS TUF Gaming X570-Plus (Wi-Fi)
~ $190
ASUS ROG STRIX B550-F Gaming WiFi
$209.99
ASUS Prime X570-Pro
~ $244
ASUS ROG STRIX B550-E Gaming
$279.99
Gigabyte
Gigabyte B550 Aorus Pro
$179.99
Gigabyte X570 Gaming X
~ $170
Gigabyte B550 Aorus Pro AC
$189.99
Gigabyte X570 Aorus Elite
~ $200
Gigabyte B550 Vision D
$260.99
Gigabyte X570 Aorus Pro WIFI
~ $260
Gigabyte B550 Aorus Master
$279.99
Gigabyte X570 Aorus Ultra
~ $300
MSI
MSI MAG B550 Tomahawk
$179.99
MSI X570-A Pro
~ $160
MPG B550 Gaming Edge WiFi
$189.99
MSI MPG X570 Gaming Plus
~ $170
MSI MPG B550I Gaming Edge WiFi
$199.99
MSI MPG X570 Gaming Edge WIFI
~ $210
MSI MPG B550 Gaming Carbon WiFi
$219.99
MSI MAG X570 Tomahawk WIFI
~ $235
Chipset PCIe connectivity
PCIe4.0 is the next generation in connectivity between motherboard components. X570 motherboards can make use of PCIe 4.0. The B550 motherboard has minimal use of PCIe 4.0 connectivity (more information below). The B550 motherboard's limited PCIe 4 connectivity improves the B450 motherboards, which do not have any PCIe 4 connectivity.
B550 vs X570 Performance and Overclocking
The X570 motherboard has more Voltage Regulator Modules (VRMs) to ensure a more controlled power supply to your CPU. This allows for stable overclocking and better performance compared to the b550 motherboard.
Nvidia SLI/NVLink Support
A motherboard that supports Nvidia SLI/NVLink technology is required if you want to use a dual-GPU configuration. They are supported by most X570 chipsets, while the B550 models have this option.
10 Gbps USB connectivity and SATA connectivity
The B550 chipset supports less than 10 Gbps high-speed USB lanes and SATA ports compared to the X570. This results in fewer USB 3.0 ports than the X570. This isn't a problem, as USB 2.0 ports work just fine with your peripherals.
PCIe 4.0 Support
PCIe 4.0 support allows for maximum bandwidth up to 16 GT/s per lane, which is half the speed of PCIe 3.0. This means that you will need half as many lanes to run your SSD or GPU. There will be more lanes available for additional SSD slots and Nvidia's SLI/NVLink certification.
The B550 chipset connects with the processor via a four-lane PCIe 3.0 connection, while the X570 uses a PCIe 4.0 connection. AMD can now add 16 PCIe 4.0 lanes for the X570, while the B550 does not.
The B550 chipset will have PCIe4.0 connectivity. This means that B550 motherboards can support PCIe4.0 up to two devices. The manufacturer can use these PCIe 4.0 lanes to offer a range of features, including extra PCIe 4.0M.2 slots. This makes the X570 a more attractive buy, but it comes at a higher cost.
Connectivity
The X570 has more ports than the B550 (which has fewer PCIe 4.0 lanes), and the X570 can accommodate 8 USB (3.0-10 Gbps) ports. This means that many ports on your computer can use faster data transfer speeds than the B550.
If you're looking for a motherboard that offers more storage options than the B550, the X570 has eight additional reconfigurable SATA ports. However, this will need to be configured by the manufacturer.
VRM Power Phases
Your motherboard's VRMs regulate the power that is delivered to your CPU. This is done by splitting the total energy. There are more VRMs than there are CPUs. This allows you to control the power and decreases the load on individual VRMs. It also reduces the chance of failure.
Although X570 motherboards have more VRMs than their B550 counterparts (although some premium boards offer more), they still have the same number. This allows you to overclock Ryzen 9 processors while still maintaining stability, allowing you to get more performance.
Price
When making a purchase decision, it is essential to consider the price. The motherboards equipped with the X570 offer more features and premium options than the B550 boards.
If you want to build your rig around a powerful processor such as Ryzen 9, then the X570 will be a great choice. The B550 motherboards, on the other hand, are a good option for those who want a mid-range and cheap option.
FAQs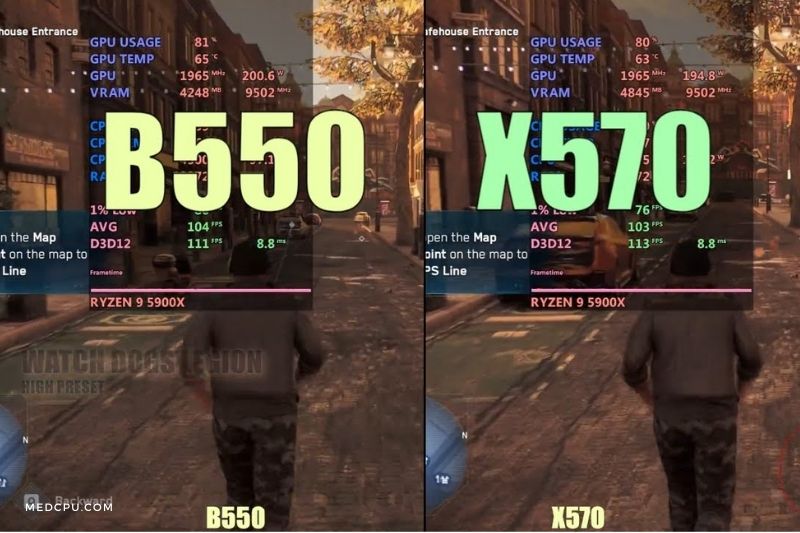 Does AMD B550 Work with Ryzen 3000 Series?
AMD designed the B550 chipset to be more future-proof and durable. It is compatible with Ryzen 3000 and Gen 3 Ryzen motherboards.
Is The B550 a Better VRM Setup than X570?
The VRM and cooling systems of the b550 and x570 are similar. This makes it ideal for smooth running, faster CPUs, and higher processing speeds. B550 is slightly different from than X570, but it has noiseless operations that make it enjoyable to use.
Why is X570 more future-proof than B550?
The main feature that makes X570 future-proof is the support for PCIe 4.0. This makes it compatible with nearly all Ryzen models with higher and more supportive memory.
It also features multiple M.2.0 expansion SSD slots and USB 3.0 Gen2 ports. This makes it compatible with both GPU and CPU.
Conclusion: Which chipset is better B550 or X570?
Investing in your PC's motherboard now can save you money in the future. If you plan on overclocking your CPU or using multiple graphics cards, you should invest in a more expensive B570 or X570 motherboard. However, if you're using your PC for work or basic games, the difference in cost isn't worth it.
I think this article on x570 and b550 differences has been helpful to most of you, but if you have any questions, feel free to comment below. Thanks for visiting our website www.medcpu.com.
Video: