As your processor operates, it might become quite hot. When it reaches a certain temperature, it will reduce its performance levels to cool down. You must keep your gaming PC adequately cooled for it to perform to its full potential. A decent CPU cooler keeps your processor cool for extended periods, allowing it to perform at its maximum rates as much as possible. Some may even keep your processor cool while creating very little noise. So, MedCPU has chosen the top five best CPU coolers for gaming 2022.
What is the CPU cooler for gaming?
A CPU cooler is a device to remove heat from the system CPU and other components in the enclosure. Lowering CPU temperatures with a CPU cooler increases system efficiency and stability. However, adding a cooling device can raise the total noise level of the system.
Air CPU cooler
A heat sink (a component designed to lower the temperature of an electrical device by dispersing heat into the surrounding air) or a combination of a heat sink and a fan may be used as the CPU cooler. These cooling systems are commonly referred to as air cooling, and they are frequently used in conjunction with systems meant to enhance airflow.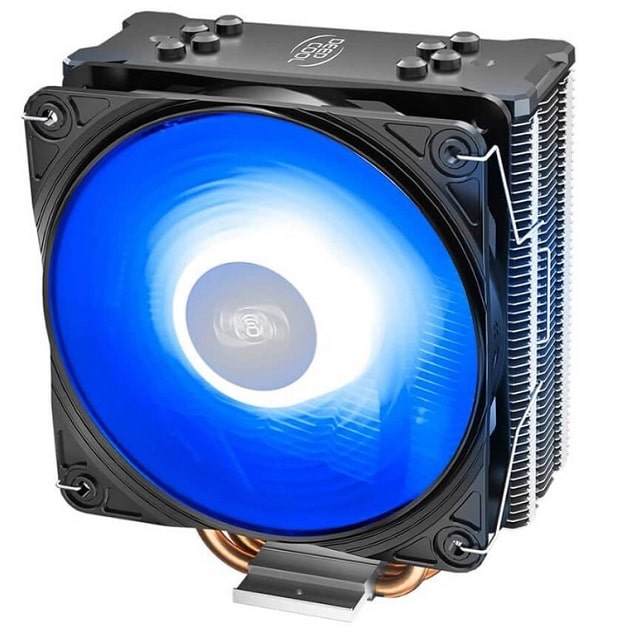 Liquid CPU cooling
Another kind of CPU cooling is liquid cooling, which involves the circulation of liquid through small pipes in a heat sink, taking heat from the CPU to a dedicated radiator positioned on the system case or enclosure, where it is released into the ambient air outside the system. The cooled liquid returns to the CPU via the system to complete the process.
How to choose the best cpu cooler for gaming?
Keep in mind all of these criteria, you will be able to select the best and most economical CPU cooler for a smooth gaming experience.
1. Aesthetics
The aesthetics of the cooler are also vital factors to consider because they provide life to the complete system. Some purchasers favor slim and low-profile AIO coolers, while others prefer custom liquid cooling coolers and huge high-end air coolers. If you are unsure about any of these designs and styles, look at some images of all of the systems installed and choose the one that best suits your taste and style.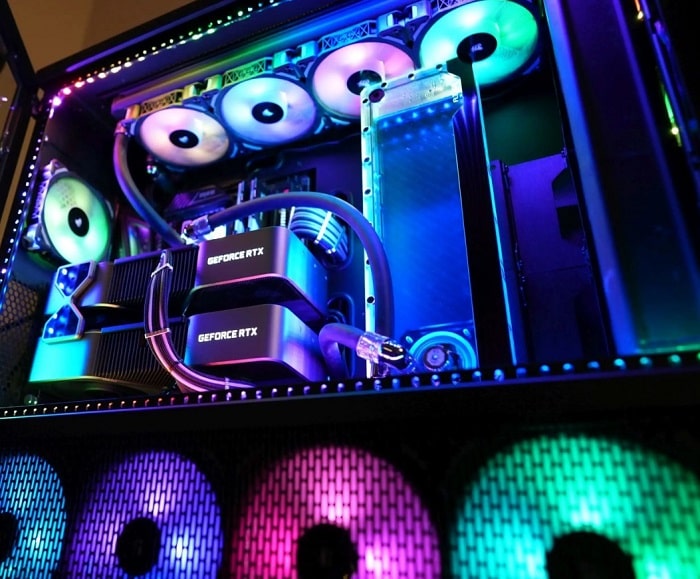 2. Noise Level
The cooler, particularly the fan associated with the cooler, is the noisiest component of the computer system. Some coolers include both large and tiny fans. Large fans are often quieter than small fans since they do not have to spin as fast to provide the same amount of cooling as small fans. Choose CPU coolers with 140mm fan diameters so even the cooler has many fans rotating at high speeds. It would not make much noise in the background, allowing you to enjoy your gaming in peace.
3. Compatibility of sockets
The majority of CPU coolers are designed to fit into CPU sockets. Certain CPU coolers, however, will only work with a specific type of socket. As a result, make certain that the cooler you purchase is compatible with the motherboard or processor.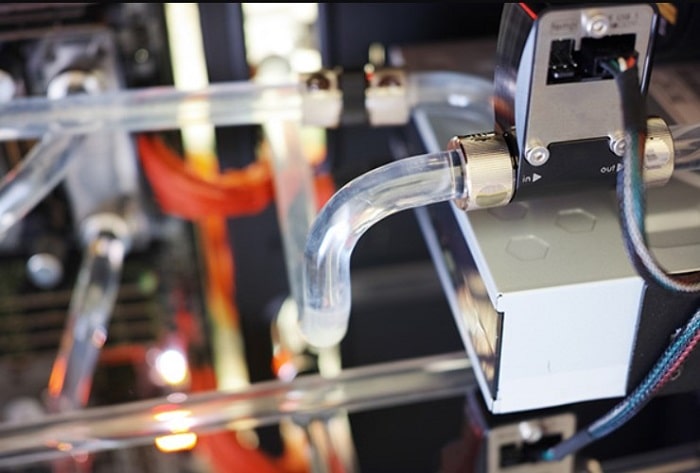 4. Budget
The price of a CPU cooler is also determined by the size of the radiator, the brand, the size of the RGB lights, the length of the fans, and other factors. Air coolers are the most affordable, with prices ranging from $25 to $100. AIOs, on the other hand, can cost anywhere from $60 to $150 or more. So, do extensive research on the cooler sorts so you will not regret it later.
What is the best cooling system for a gaming PC?
1. Cooler Master Hyper 212
The renowned Hyper air cooler has returned, and it is much better than before. The Hyper 212 RGB Black Edition provides easier installation and superior performance, making it one of the best air conditioning solutions available. The Hyper 212 RGB Black Edition has a premium aesthetic appeal thanks to its aluminum top cover and nickel-plated jet black fins. The sleek jet black finish not only looks excellent but also improves cooling performance.
The current Black Edition coolers, like all Hyper 212 models, have a direct-contact, quad-heatpipe tower design with minimum flair. The heat sink base and heat pipes themselves are plated in a gorgeous "dark chrome" that provides a decreased, reflecting sheen while still offering a hint of black shimmer.
The installation of a cooler is relatively straightforward. Once the Hyper 212 is secured, the fan is detached from the cooling tower and simply snapped into position. The RGB version may be combined with the RGB controls of a certified compatible motherboard from Asus, ASRock, Gigabyte, or MSI, or it may use the accompanying Molex-powered lighting controller.
Pros
Installation is simple.

The look has improved.

Added RGB LED
Cons
The performance of heat dissipation has not increased over the previous generation.
2. ASUS TUF Gaming LC 240 ARGB
TUF Gaming LC ARGB is a line of long-lasting liquid CPU coolers that provide the performance and functionality required to maximize the performance of mid-sized gaming systems. Each cooler has Aura Sync-enabled ARGB components that illuminate the radiator fans and the TUF Gaming logo on the pump lid, adding style to power.
Each radiator fan is custom-tuned to work with TUF Gaming LC series radiators, providing 67 CFM / 3.0 mm H2O for greater cooling efficiency. And radiator fan's blades are strengthened with a precision-engineered groove on the blade tip, which enhances airflow and reduces fan noise. TUF Gaming LC series radiator fans have an International Protection (IP) Code of IP5X for dust resistance.
Pros
Excellent levels of acoustic and thermal management

The aesthetics are strong.

Provides a variety of features coolers that are less expensive do not

A truly viable overclocked cooling alternative

Reinforced, sleeved tubing for increased durability

TUF Gaming radiator fans include a fan blade groove design that improves airflow and reduces fan noise.
Cons
3. Vetroo V5 White CPU Air Cooler
Overall, the design is straightforward. With a high-quality white frame and a transparent acrylic fan blade, the lighting is effectively reflected, making it brighter and gentler. The aesthetic matches the gaming PC chassis and radiator perfectly.
It includes AMD and Intel brackets, as well as an Intel backplate. Its PWM function automatically adjusts the fan speed between 800 and 1700 rpm in response to CPU temperature. At full power, it produces a remarkable 52 cfm of airflow while emitting only 30.8 dBa of noise. The Vetroo V5 White CPU Air Cooler contains five heat pipes with proprietary direct contact technology that allow fast heat transmission while maintaining the CPU's exceptional performance.
Products with electrical plugs are intended for usage in the United States. Because outlet and voltage standards vary from country to country, this device may require an adapter or converter for use in your location. So, please double-check compatibility before making a purchase.
Pros
Great design and aesthetics

Best thermal solution.

5x heat pipe

Great quality
Cons
Does not come with an RGB controller.
4. ASUS TUF Gaming LC 240 RGB
TUF Gaming LC RGB is a line of long-lasting CPU liquid coolers built for mid-sized gaming PCs. Each cooler provides the performance, features, and design that are required to be an integral component of your gaming system. The classic TUF Gaming emblems on the pump housing and radiator fans flash with Aura Sync RGB lighting that can be tweaked to match your system's colors and effects. As a result, you can create a unified style that is completely unique to you.
These liquid cooling kits come with a single loop and are ready to install right away. However, please check that your motherboard supports a 4-pin RGB header(s) to connect the pump RGB lighting and supply RGB FAN before purchasing TUF Gaming LC RGB AIO cooler goods (s).
Each radiator fan is carefully optimized to give peak performance with TUF Gaming LC series radiators, providing 67 CFM / 3.0 mm H2O / 29dB(A) for maximum cooling efficiency. The TUF Gaming LC RGB series is compatible with a wide selection of Intel and AMD motherboard platforms, allowing you to connect it with your preferred processor. It also includes 38 cm of tubing to make mounting and routing easier.
Pros
Radiator fans include a fan blade groove design that improves airflow and reduces fan noise.

Tubing that has been reinforced and sleeved for greater durability

The NCVM-coated pump cover adds to the robust, modern appearance.
Cons
Motherboard must have supports a 4-pin RGB header(s)
5. ID-Cooling PinkFlow 240 CPU Water Cooler
PINKFLOW 240 CPU Water Cooler is an RGB liquid CPU cooler with a 240mm radiator designed for CPU cooling. The flexible tubing comes with a 240mm radiator to ensure excellent heat dissipation. The superior sleeved tubing makes it robust while still flexible, giving it a premium appearance. The remote RGB Controller includes a Color option that can be controlled through the RGB controller in the package.
It includes an RGB LED pump head and two RGB cooling fans that can sync with the motherboard. Dynamic multicolor RGB lighting combined with a colorful RGB led pump and fans creates vibrant lighting effects to fit your PC design. Two 120mm RGB fans when used, the dual 120mm PWM fans provide better airflow while producing 16.3 33.5 dB (A) of noise.
Pros
Better heat dissipation

Has RGB lighting

Fantastic two-way RGB Control
Cons
Have not found any defects
Note
When deciding on the best CPU cooler for your needs, keep the following points in mind:
Larger coolers will typically outperform smaller coolers. But keep in mind that larger coolers may cause clearance issues with your graphics card, RAM, and possibly even the side panel of your case.

If the size and price are the same, tower-style coolers outperform downdraft coolers.

Coolers taller than 160mm will most likely not fit in a mid-size enclosure.

Larger fans are less noisy than smaller fans since they run at a lower RPM to have the same cooling effect.
FAQs
How can I pick the best CPU cooler for me?
If you are not sure whether you need an air cooler or a liquid cooler, the decision comes down to cost and compatibility. Those on a restricted budget no longer have to contemplate an aftermarket air cooler. If you have a bit of extra money to spend, liquid coolers can provide a lot more.
How does liquid cooling work anyway?
The coolant circulates in a closed-loop via a plate attached to your CPU, and it cools the CPU in conjunction with the attached radiator and fan. It is easy and a hundred times easier to set up than a full water-cooling loop.
How do you test CPU coolers?
Choosing the best CPU cooler is influenced by many factors, including performance needs, case compatibility, price constraints, and aesthetics. Our best picks were determined by thermal performance, noise, value, and overall feature sets.
How many types of CPU coolers?
There are 3 major types of CPU coolers but they can be further categorized.
Air Coolers

Water Coolers

AIO/Liquid Coolers
Is Water Cooling Better Than Air Cooling?
The choice between liquid cooling and air cooling is more of a personal preference that will be determined by how much money you have to spend, compatibility and clearance limits (or lack thereof), and your aesthetic preferences. If you do not have a lot of money to spend on a CPU cooler, you will probably have to settle for a low-cost air cooler. If you have a larger budget, you can choose between an air cooler and a liquid cooler.
Conclusion
CPU coolers function by absorbing and dissipating heat away from the processor. The type and quality of the cooler can have a significant impact on the temperature, performance, and even noise of the hardware. So, MedCPU hopes that the top CPU coolers of the 2022 buyers guide will assist you in making a perfect choice.